Fresh or frozen semen: Which to choose?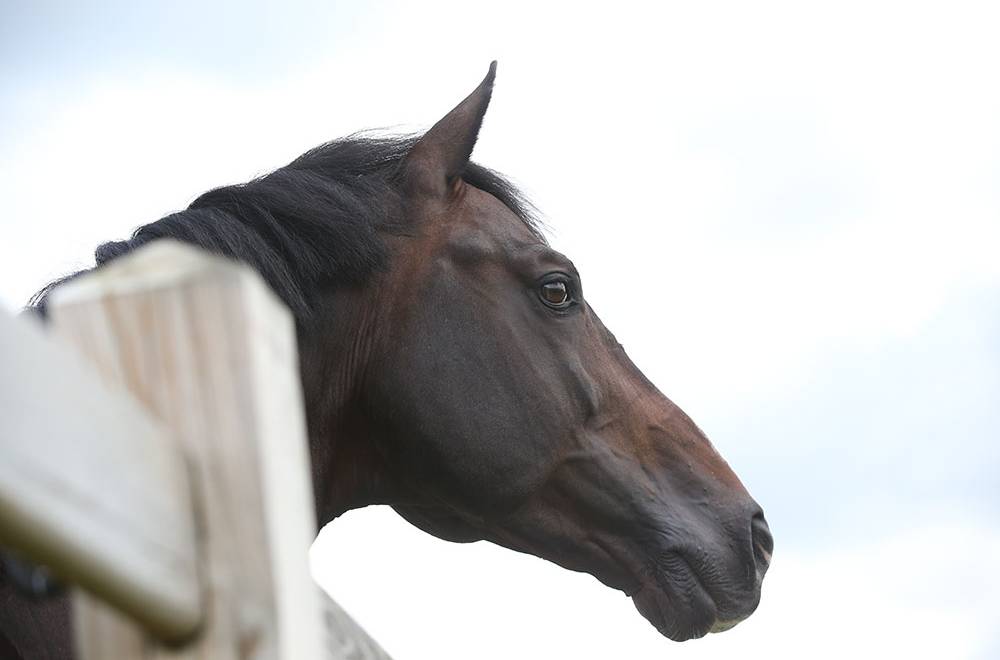 12 January 2021
While winter is in full swing, it's time for breeders' favorite discussion: Which stallion to use for next season? It's a tough question, especially since there's plenty of choice. However, the first question before deciding is often to find out if he's available via fresh semen or only via frozen semen!
A stallion's career is the result of many management choices that have been made by their owner and rider. These are tough choices because a stallion that only favors sport can quickly lose value because he has produced too few progeny to claim a place on the market and in the stallion rankings, whereas a stallion that has favored breeding can not only find himself with too few sporting results, but sometimes he can be physically worn out prematurely.
Eric Levallois, the winner of the 2002 World Championship with Diamant de Sémilly, is a breeder with a star like Cornet du Lys in his stables; Gilles Botton, a rider and trainer of many stallions, including Conrad de Hus and the young Chacco White who was one of the stallions to have covered the most mares in Belgium in 2020; and Luc Tilleman, a breeder who has knowledge of the careers of Toulon, Lys de Darmen and Halifax, look back with us on their management where everyone tries to find the best possible balance according to their objectives. It's the Question of the Month!
Chacco White (Chacoon Blue x Spartacus), one of the most popular 3-year-old stallions in Belgium in 2020.
Gilles Botton has already experienced some different situations, especially as the son of a former breeder, it's a subject that has always fascinated him: "80% of breeders prefer to use fresh semen. The remaining 20% are often supervised by good veterinarians. Obviously, fresh semen is simpler and more convenient, and above all, it reduces costs because it allows us to leave the mare at home, but then we must be able to count on a reliable veterinarian. Of course, there are always exceptions. Frozen didn't prevent Dollar du Rouet from getting 250 mares in France and abroad in foal during his 6-year-old year, but we must admit that he has exceptional semen quality. For a stallion with such quality and genetics, it's not an obstacle when breeders have no choice. From the rider's or stallion's point of view, this implies rather particular management. Engaging in various activities at the same time isn't a good thing. It was done with Conrad de Hus in his early years and it didn't prevent him from reaching the highest level later on, but it requires excellent management. In Belgium, they have created a stallion circuit that takes place in the winter with just a few competitions at the beginning of the year. This is a good idea and allows young stallions to serve mares in the right part of the season. In France, it's more complicated. Selle Français approved stallions are only allowed to do a few competitions. The CIR (inter-regional competition board) can open the finals in Fontainebleau to them directly at the age of four; it's a good idea, but it gets complicated after that age and we have realized that many stallions, even from big breeders, are only available via frozen very soon after that. Doing both is doomed to failure.
In 2020, we chose to offer the stallion Chacco White (Chacoon Blue x Spartacus) for breeding in Belgium. This is a stallion that was bought for sport, but we quickly had a lot of requests to use him for breeding and I'm convinced that this is a horse that is well above normal, so I decided to make him available to serve mares for just his 3-year-old season because I wanted to give him a real chance to show his quality as a stallion. In the end, we were pleasantly surprised by the enthusiasm of the breeders around him. This winter, I picked him up and started to ride him. I was fascinated by his kindness and simplicity. I also put the videos of each of his jumping sessions online because I really wanted to be transparent with the breeders who trusted him. However, I was faced with a dilemma: What should I do with a 4-year-old horse who can already read and write? Of course, I can do the show season, but what would be the point if I didn't get to enjoy riding such a horse? Therefore, I decided to start the season here in France and to do two or three competitions before he goes back to Belgium for his second and final breeding season. At the age of five, things become more serious, and it's important that he gains experience because our goal is still to turn him into a sport horse. He's meant to become an athlete. He will therefore be available via frozen only. We know, even though we've already had very good results with frozen, that he will be used less, but we will have already given him a chance for two years and I think that's important. I wouldn't have done this if I had considered him a 'good' horse, but here I think we are dealing with an exceptional horse."
After a brilliant career under the saddle of José Larocca, Cornet du Lys (Cornet Obolensky x Champion de Lys) is the spearhead of the Haras de Beaufour.
As a son and brother of a stallion breeder, Eric Levallois started his career at the Haras de Beaufour late in life, having ridden many stallions throughout his career such as Le Tot de Sémilly and then of course his son, the iconic Diamant de Sémilly: "Diamant was very quickly offered via frozen in his early years. Our luck was that he had exceptional frozen semen quality. With him, it would have been very complicated to manage his sport and breeding careers simultaneously. When you try winning on all fronts, you risk losing everything. I may be a member of the Zangersheide approval commission, but I personally don't use young stallions. I prefer to wait until they are five or six years old. However, I understand very well that some breeders do, and I might be wrong, but it is a deliberate choice of mine. I only present my own for breeding stallions when they are five or six years old because I want to present performers who already have results. I'm delighted to have two stallions at home who have proven themselves at the highest level, such as Cornet du Lys and Cabachon. It's obvious that having two former performers available via fresh semen at the stud is a considerable asset because breeders prefer fresh. There can be a risk with stallions who have only covered a few mares during their career, but Cornet du Lys (Cornet Obolensky) has only been available for three breeding seasons in France, and he has already covered quite a lot of mares in Germany during his career and the quality of his offspring is quite incredible. I already have some feedback on him. His dam has competed to 1.60m and his granddam has also competed to 1.50m. Cornet du Lys' offspring have great minds, and I'm happy that I have 20 mares in foal to him this year. I'm also happy to have managed to secure Cabachon (Casall) for our stables because he too has turned out well and his offspring are already starting to compete at the Grand Prix level. I don't want people to think that I'm turning my back on the Selle Français breed, but I needed outside blood to change our bloodlines a bit and I think these two stallions have great qualities.
Obviously, deciding to have our young stallions only available via frozen may be frightening. We're conscious of the fact that this deprives them of certain mares, but I want to make sure that things are done this way. It's not possible for me to have them do both if I want things to be done right. We have to make choices and it's up to us to promote our young stallions so that they get enough mares to prove themselves. I think that French breeders prefer fresh semen to frozen semen also because for several years, they have tried to cover their mares with foreign frozen semen, and we have realized that the quality requirement we had in France was not the same as in a large part of Europe where they are satisfied with inferior quality. Then by having these empty mares, the breeders lost confidence and preferred to use fresh. Nevertheless, we must admit that often, it's still the same veterinarians who get the mares in foal year after year, and the same ones that have empty mares... In France we can congratulate ourselves on having very qualified breeding personnel!"
Burbery DK Z (By Cera d'Ick x For Pleasure) is a maternal half-brother to three Grand Prix horses: Go Easy de Muze, Hocus Pocus de Muze & Iceman de Muze, from the famous Qerly Chin line.
Luc Tilleman took over from his father-in-law Louis Lenaerts many years ago. Toulon, Halifax vh Kluizebos and recently, Thank God van T&L and Corydon van T&L, are some of the successful horses he has bred. Today, young promises such as Amadeao van 't Vossenhof Z and Burbery DK Z are some of the company's great hopes: "Our policy is clearly to offer breeders the possibility to use fresh semen for as long as possible with our stallions. This makes working with our stallions easier and we get better results. We make our stallions available via fresh semen for up to eight years. However, from the age of nine, that's no longer possible. The stallions go to international competitions, take long trips, and are not in the stable enough for that. We then only distribute them via frozen semen. We didn't always do that. For horses like Halifax and Houston, we focused them on sport early on. Halifax won the 6-year-old Belgian Championship, but today, the stallion competition has reshuffled the cards. I like that competition a lot because it allows the stallions to tour in the winter and to be able to concentrate on their breeding work during the breeding season. This year unfortunately, with Covid-19, I don't quite agree with the decisions that have been made about it. I would have preferred to opt for dates earlier in the week which would favor broadcast on Clipmyhorse, which would then have allowed the breeders to follow the horses despite the health situation. However, here, the final will take place outdoors, but a little too late since the breeding season will have already started. I also think that in the future, now that this competition is well established and very successful, it should be limited to the stallions that have been admitted to the three Belgian studbooks. This would be a great publicity for them.
I think a lot of people today are going too fast with stallions. Personally, our stallions are only starting to do a few ranking events in their ninth year, so that they are ready for the big events when they turn 10. That's early enough for me. You have to remember that a horse grows until they're 6 or 7 years old. Before, horses used to compete once or twice a month, now with the multiplication of young horse events, it is possible to compete them three days every week, and all year round! Today, I'm very proud to see that breeders trust us and don't hesitate to use our young stallions any more than 10 years ago. They have seen the way we operate. They know that I'm not fond of young horse shows, and that my vision is to train our stallions quietly. They know that if a stallion disappoints me, he's removed from the catalog. I only want to keep the good ones and they have seen that afterwards the horses are sold to good stables or showcased in sport. Only natural talent is useful for breeding. It can be improved by training, but, even if it's good quality training, you can't pass it on through breeding!"