French success at the Royal Welsh Show!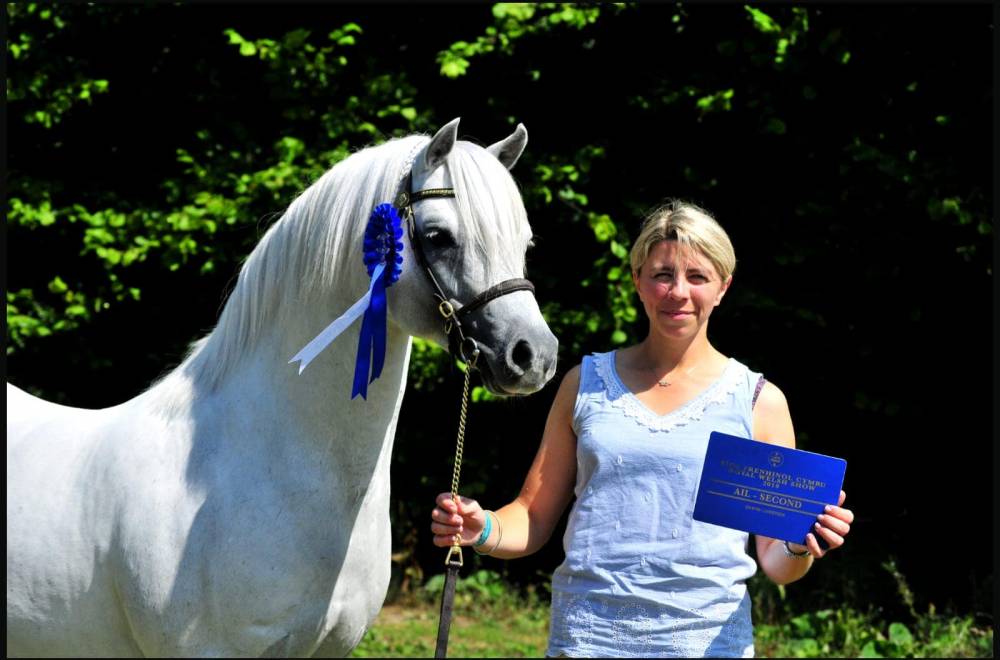 31 July 2019
Every year, the Royal Welsh Show is a must-attend event for Welsh enthusiasts. In the breed's heartland, Wales, in front of spectators from the Netherlands, Sweden, Denmark and even Australia, a little French woman has managed to make her mark for several years, and has returned to Normandy with a victory and a second place that were seemingly still out of reach just a few years ago. The current President of the Welsh Breed in France, Ingrid Delaitre, is above all a passionate sport pony breeder based in Bourville (76), using the suffix "De l'Aurore".
Tea Time de l'Aurore, winner of the RWS at 1- and 2 years old.
"A few years ago, I would never have imagined placing at the Royal Welsh Show with one of my ponies ... and last year, I had one of the best moments of my life as a breeder with Tea Time de l'Aurore (Heniarth Tintagel x Rhoson Shem) who is also a homebred as I owned both of his parents. This year, she confirmed last year's victory, showing that it wasn't just luck... but if I'm really honest, I have to admit that I was hoping for a little more this year, as I was hoping that my homebred stallion Adagio de l'Aurore (Heniarth Wood-Wind x Kirby Cane Statecraft) would win. He had already come in third as a yearling, then second at 5 in the Stallions aged 4 and over class, and that year he came in behind the Welsh Section B Supreme Champion, as he did again this year! At 3 years old, Adagio has won everything in Great Britain... but he couldn't participate in the Royal Welsh Show because his Sire's breeder was a judge, so he had that year at home. The regulations prohibit that kind of situation from happening. It remains a small regret of mine. Adagio turned his hoof to jumping with a young rider this year, which is very important to me because just producing ponies for the show that are of no use makes no sense to me. But the fitness of a sport pony and a show pony is not the same, both are compatible but not at the same time. There's a 100 pound difference between the two... and Adagio was still missing a few pounds.
Adagio de l'Aurore, third at the RWS as a yearling, and second in 2015 and 2019 in the Welsh B Stallion's aged 4 and over class.
One of my other ponies, Rhoson Kizzie (Heniarth Wood-Wind x Cottrell Fabergé) was more show-ready than Adagio, and I keep telling myself that I should have brought her... but he has breeding commitments until late April and it's very difficult to predict the development of horses over this period of time. On the other hand, although I think it's really important for ponies to be able to compete, it's even more rewarding seeing them progress with children. I think it's important for breeders to keep the Welsh standard in mind. It's to focus solely on sport, just as breeder's of French saddle ponies do. By choosing the Welsh breed, you are choosing a culture that has a lot of value, as is the case for Connemara breeders who hear the song of Michel Sardou. For me, Copelia de l'Aurore (Heniarth Wood-Wind x Cottrell Artiste), who was the French Supreme Champion before progressing onto pony competitions with children is the most beautiful example of what a breeder can hope for. This year, I also presented Eyarth Hermes (Cwrtycadno Cymro), who qualified for the 2-year-old French Pony Championship final in Saumur. This weekend, Adagio was shown in a show ring for the very last time. He has nothing left to prove, and next year, he will have the privilege of standing at stud at a top stud in Wales, which is the highest honor for me as a breeder. He will return to the competition field thereafter, but the priority next year will be his stallion career.
Copelia de l'Aurore, Supreme Champion of the French National Welsh Show 2014 is now in training with child riders.
Bringing home results like these from the Royal Welsh Show is extremely positive for all of us. Personally, it highlights my breeding program, which is attracting international interest, but in addition, it shows French breeders that we also have high quality ponies and that they can also try their luck at showing. For too long in France, we've had a culture where we've thought we were nothing, that we had no chance... but that all changes today. The Royal Welsh Show is the driving force, because 80,000 people are there to applaud Welsh ponies, that's just inconceivable in France. Here, there are 1500 ponies competing in three arenas. Obviously, it's cultural, but there's no reason that it can't happen at home. In three years, we've gone from 350 to 550 births last year and we should be on track to do better again this year. Today, we must provoke competition, it's by moving forward that we are able to develop. We haven't communicated this enough in the past but we're working on that now and we're already seeing the fruits of that," concludes Ingrid Delaitre.
photos: Ylva Lindh, Kimberley Karsdorp and PSV.