Frédéric Busquet, the high-level horse trainer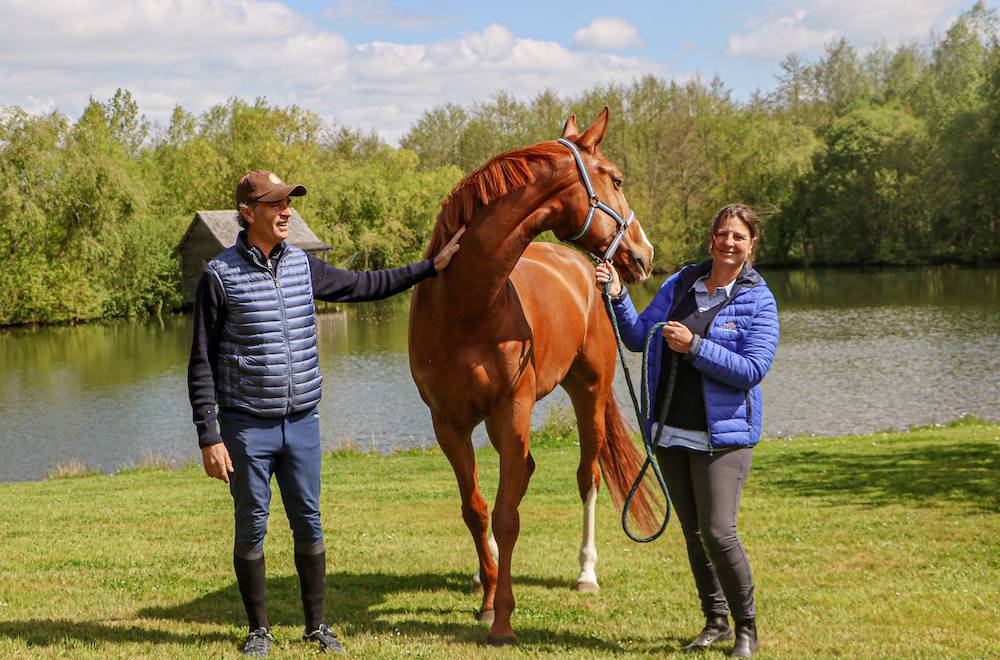 04 June 2021
Frédéric Busquet was not meant for high-level sport, yet definitive encounters have opened the doors to the most beautiful arenas in the world for him. At one time, he was the showpiece of his stables, but this hard-working and passionate man has now handed the reins over to his rider, Robin Le Squeren, to devote himself to the development of his organisation and agriculture. At the beginning of the spring season, Studforlife went to the Ellipse stables in the Loire-Atlantique region, managed by Frédéric Busquet and his wife Marie. Read our fascinating three-part report below!
Sitting down, with a breathtaking view of the young horses' flower-covered paddocks and the garden in full spring bloom, the French trainer takes us back to where he began and reflects on his sporting career in this first part of the report.
His family was not involved in the equestrian world, so it was rather by chance that Frédéric Busquet crossed paths with horses. "My parents directed me towards studying, and I also wanted to focus on that, so I turned to journalism. On weekends, I used to ride horses." After graduating, Frédéric did freelance work for the sports media. "As time went by, I was entrusted with more and more horses: and it became less and less pleasant for me to go to Paris to work." However, he wasn't convinced that he could become a high-level rider, but Frédéric Busquet tried hard and climbed the ladder. He ended up "…coming back and renting a place near Guérande."
The years went by and the French rider continued to become a professional in the equestrian world before meeting Marie, now his wife of more than 20 years, a few years later. She is the daughter of a dynamic entrepreneur, and she had already settled here in Malville with her pleasure horses. "So I settled here. Gradually, we developed this complex, starting with 40 boxes, and today we have 80," explains Frédéric. At that time, the Frenchman describes himself as a "second-level rider" who was competing in 1.35-40m classes. It's only because of particular encounters that have allowed him to reach the high level, notably "thanks to Pierre Jarry, Florian Angot, and even today Jean-Jacques Boisson and Jean-Maurice Bonneau, who are really there to supervise us. Thanks to them and my perseverance, I was able to compete in some very nice competitions and be the showpiece of the stables."
If there was one competition that Frédéric dreamed of doing, it was the CSIO5* in La Baule, "…the one where I spent my time in the stands as a child." In 2011, the rider from La Baule participated as a regional rider with Plume de la Roque and Bjussica T. The wheels were set in motion! Each year, Frédéric was on the starting list of the Loire competition, and also at other top-level competitions. Notably, the Parma 3* Grand Prix - which he won - and Liège, or in the Wellington Nations Cup in 2015. The Ellipse stables' representative has also seen himself ride some very good horses such as Celine and Prestigio LS La Silla, Trafalgar Kervec and Silvana de la Bride – who was renamed Cayetana - "I still have some regrets, because we had to sell those horses to keep our organisation going and to keep developing. To compete, you have to keep them: it's a strategic choice. Each time I reached the top level, we sold them and then started again with the young horses. There is a saying that has stayed with me: "For some people, the high level is a sport, for others it's a profession. When it's a sport, you need partners and sponsors. We decided to make it our profession. Of course, once you've had a taste of a CSI5*, you want to do two, three or four more, but it's complicated, especially since the competition in France is tough and you need a good number of horses."
There is one mare that Frédéric has kept, and which is always present in his fields: Freia des Isles (Tarzan Moussure). "She is 28 years old and was my first mare, which I never managed to sell, although she always performed well. She was very good in the CSI5* opening rounds. Today, she no longer has that dream body (laughs)!" Marie, Frédéric's wife, says: "She was our first competition mare. She was 7 years old at the time, and we competed her up to the 5* level."
Having been absent from the international scene for two years, Frédéric Busquet continues to experience the high level in another way. "I have partnerships with Philippe Rozier and Pénelope Leprevost, who rides our horse Galak d'Ellipse (Untouchable) for example." If today he has been able to step back from this level, it has been because he has well-functioning stables with a trusted stable rider, Robin Le Squeren, who has taken up the torch, and whom we'll meet in the next part of this report. "But times change, especially now I have a family. To continue at the top level, you have to travel and devote a lot of time to it. I have so many things I'm interested in, so I'm opening up to focusing on other areas."
Tomorrow, we will dedicate the second part of this report to the facilities and the Ellipse stables' team and development.
Photo credit: Léa Tchilinguirian