Frédéric Aylies, from eventing grooming to show jumping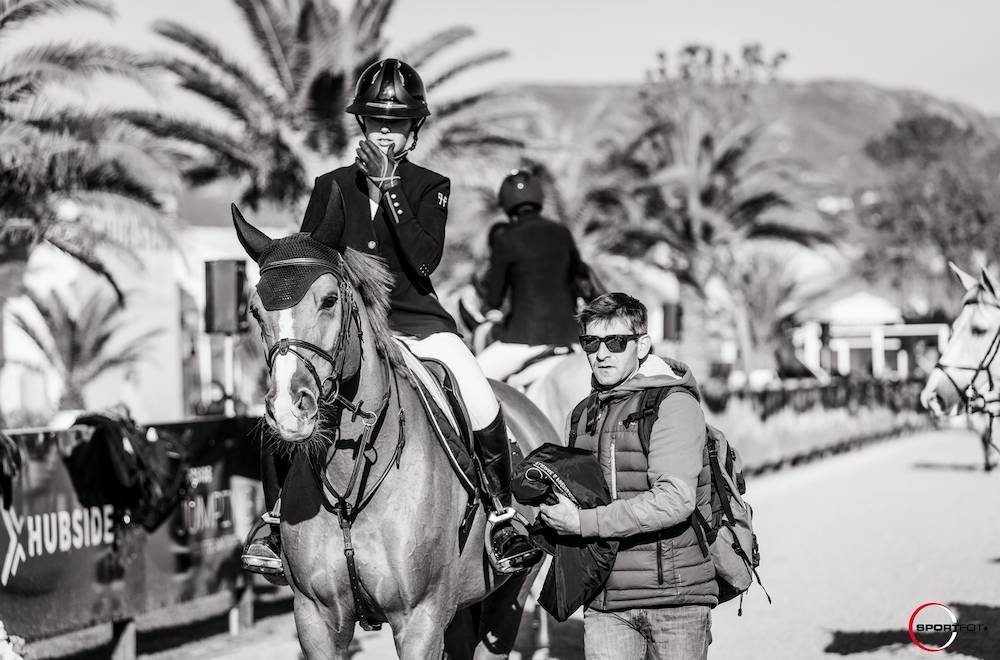 29 August 2021
Passionate about racing since his teenage years, Frédéric Aylies, nicknamed Fred, in search of experience and speed, discovered eventing alongside William Fox-Pitt in 2011. Today, having been a a groom for the past ten years, he juggles between eventing and jumping riders, two disciplines united by the horse yet both very different. Meet with Fred Aylies.
Was turning to eventing horses a matter of choice or opportunity?
"It was a choice! After being in the racing world, I wanted to be in a discipline where speed is the key word. I was advised to try eventing, something I had no idea about. At the same time, I had passed my instructor's diploma instructor in a stables that practiced this discipline. This is when I began to take a serious interest in it. I gradually began to realize where I wanted to go in order to gain experience and so I applied to several high level riders. I was accepted by William Fox-Pitt, the World No. 1 at the time in England. I really learned everything there is to know about high-level sport, competition, training and horse care. Later, I had the opportunity to work with Gonzalo Busca Roca, a rider located close to the Spanish border. It was through him that I discovered show jumping. At that time, I came into contact with the highest level because he was competing in some Nations Cups. By word of mouth, I had several requests, but I didn't very much about this environment at all. I had only been in it for four years, while I continued to groom eventers like Karim Laghouag, whom I accompanied for nearly two years. Since then, I've gained experiences with Aurélien Leroy, Nina Mallevaey and more recently Eric Lamaze."
What are the differences and similarities between the two disciplines in competition?
"Jumping competitions are more elegant. The facilities are more polished, even though there have been significant improvements in eventing today. Eventing competitions take place in the countryside and require a lot of space for cross country, dressage and jumping courses. It was quite rudimentary to begin with, but the organizers now seem to have looked elsewhere. I'm thinking about the horse boxes which are practically no longer in the mud. They have electrical outlets or the trucks are located closer to the horses. Nowadays, eventing competitions have become more pleasant and convenient for everyone.
Regarding the similarities, whether it is one discipline or another, horses are worth a certain amount of money and have to endure over time. Whatever the competition, the comfort of the arenas has been improved everywhere. Take the example of the Haras du Pin, in France, which hosts the Grand National eventing competition, as well as show jumping events. The cross-country arena allows the horses to gallop well in all weathers, and the working arenas where there is nothing really to be said."
What about care for the athletes?
"The two worlds are divided by the number of competitions and the financial resources. First of all, an eventer competes much less than a jumper. He has more time to recover naturally after the effort, in comparison with other riders who accumulate hours spent in trucks and competitions. For them, the winter season is synonymous with rest, whereas show jumping horses are busy with the indoor season, tours in southern Europe or in Wellington. Their grooms take much more care, not because of injuries, but in terms of preventative care. I really feel a sense of fear in these stables, since the riders are more valuable. The basis is the same, the grooms work with ice packs and clay. Afterwards, each one has his own habits adapted to each horse. Nevertheless, the goal of the sport horse is to compete, and it is normal that the good groom does everything to enable good recovery and excellent performance. It is the same reasoning for eventing horses but I would say that they live more in the reality of the "animal". If they are injured, they will rest naturally and graze. In show jumping, grooms will provide much less natural care to get the horse back into competition quickly.

Secondly, there are those who have the financial resources to possess machines, and there are those who have less and give more time for natural recovery. In show jumping, there is a greater use of algae, lasers or shock waves. The grooms regularly have such devices in their trucks. Some of the competition riders have all this equipment at home, but in competition, we see an increasing presence of equine masseurs. It's a service that is very typical for England and is starting to appear in France. I think it's a really good way of preparing the horses before their event and then for recovery after the cross country. It helps them a lot for the trot-up just before the last obstacle test. Speaking of masseurs, there's a lot a groom can do, but you need some qualifications! You can't do anything at that level because you might end up doing more harm than good."
As someone who regularly juggles the two disciplines, is it easy to bring new methods of care which you have discovered in show jumping to eventing?
"In eventing, the rider does a lot and leaves less freedom to his groom who is more often his companion. Not everyone can afford to have a full-time professional groom. These are two different worlds. It's not always easy to change the way things work when it suits the horse, but when I try certain methods I've learned from jumpers or bring in new products, they let me try as long as it's only beneficial, and as long as I know how to do it well. Eventers remain open to what is being done elsewhere but they can still be held back by the financial costs."
This winter, you had the opportunity to go to the United States to work in Eric Lamaze's commercial stables. Is horse care on the other side of the Atlantic different from what we are used to in Europe?
"It is not so much the care that is different over there, but the mentality! I find that the grooms are not so much concerned with prevention but avoiding abuse, like it is in America. Their reasoning is more akin to: "Let's do this, let's do that, just in case". The methods are the same as in Europe but, for my taste, far too repetitive. A lot of riders come to Wellington to do business, the horses have to jump and jump again, to be seen and to show themselves in good shape. I don't like this sport and this animal culture so much, but everyone has their own system and their own job to do. However, it's still nice to work with horses from there. The stalls are air-conditioned, in beautiful stables that are practical for everyone."
Photo credit: Sportfot.com