François Mathy, a legend made of passion and pleasure (3/3)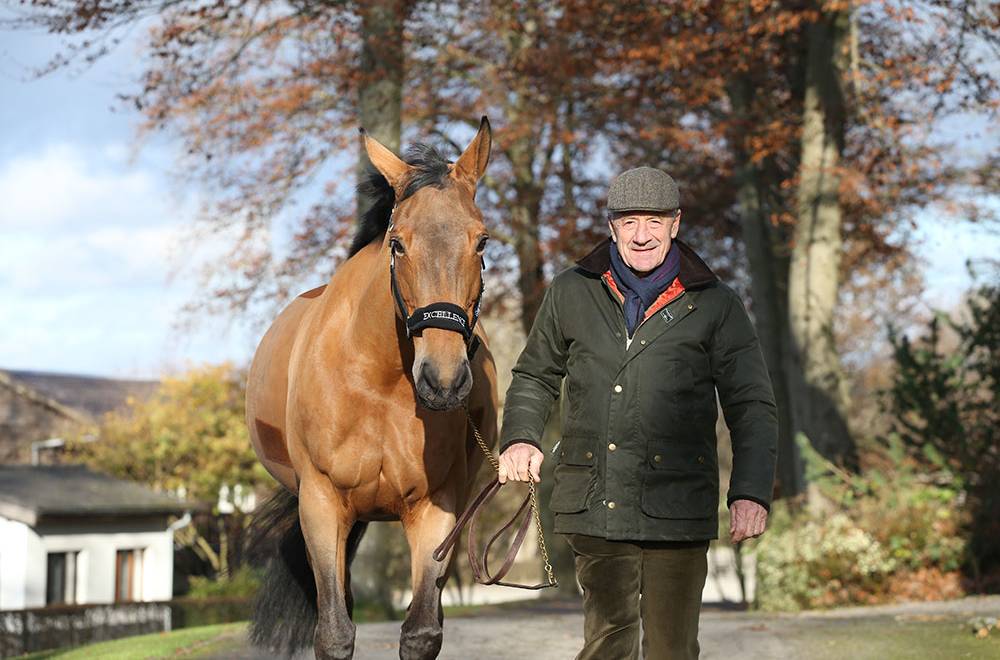 09 December 2021
While Belgium has just won a second team bronze medal in Tokyo, 45 years after the one in Montreal, we remember an athlete who came back from Canada with two bronze medals! Accompanied by team members Stany van Paeschen, Edgar Henri Cuepper and the late Eric Wauters, Fifi, as he is known in the business, is still the only Belgian individual medalist in equestrian sport! Since then, the man has distinguished himself by being one of the most renowned and respected dealers in the field. It's difficult to count the number of stars who have passed through his stables. A man of taste and class, as evidenced by his facilities, he is nevertheless a man accessible to all, who is in contact with people and the land.
When did you decide to stop riding to devote your time exclusively to trade?
F.M.: "I stopped riding a few years ago... I don't know exactly when. In fact, I didn't feel like traveling anymore and attending shows every week for 3 or 4 days. I wasn't passionate about it anymore; I had done enough. I continued to ride a little bit because for a while I was trying out the horses I was going to buy and then at a certain point I said to myself that there was a time for everything, and I let it go. It was very pleasant, and I could have continued to go for a ride in the woods, but I soon had other things to do. You have to be realistic; you get hurt easier and it's a bit of a risk with age and I don't feel like doing it enough to take the risk."
François Mathy and the 4* Grand Prix winner, Raia d'Helby
You've never really tried to build a high-level stable at home. Was it always your goal to detect new gems and to put them in touch with clients?
F.M.: "I've had very good riders at home like Marc Bettinger, Diego Bilbao, and Charlotte Bettendorf today. I also have very good commercial relationships with people like Pénélope Leprévost. Nevertheless, it's true that I've never kept horses for the highest level, and I don't really know why. It just happened that way. In fact, it is very difficult for riders of a certain level to keep horses because it always becomes a problem when you sell them! I never wanted to be in that situation where selling becomes a drama."
Marc Bettinger with Oh d'Eole before she was sold to the Haras de Hus
How did your relationship with McLain Ward begin?
F.M.: "I met McLain's father at a show in South Africa in 1976. We have always had a business relationship and I've followed McLain's development since he was a child riding ponies in Florida. In general, I have always kept my clients for a long time, both business and friendly relationships. I've always tried to work with people I liked to work with. In fact, my problem is mostly that I have a lot of trouble keeping in touch with people I don't like. What I built, I was able to because it was my sport, my business, and my pleasure at the same time. I was lucky enough to be able to do that without forcing myself to do it with people I didn't like. Today, it's more difficult because there are people coming in from all over who are not necessarily horsemen. It's more difficult to work with people like that because they don't know what we're talking about! It's not pleasant for me and I have to admit it's hard."
HH Azur is one of the few horses in which François Mathy has remained a co-owner at the highest level
On the other hand, even today, despite the number of active traders, one regularly hears that during a big trade: 'François Mathy is behind it!'
F.M.: "Aah good! (laughs) I know most of the people who buy horses in the world, and I keep up to date with everything that's going on everywhere, so that I'm among the first to know when a horse is for sale, and people believe me when I say that a horse is good! It's relationships and trust that get you into deals that are of some importance."
After having collaborated for many years with Guido Bruyninx, you're now being supported by Pedro Renault. Is it important to have people you can trust around you?
F.M.: "Yes, of course. I've worked with Guido Bruyninx all my life. We did some very good business together and it was very pleasant. Guido was a great trader himself who knew horses very well. He had his business, but we would also buy together. He was very rarely wrong; he was a good partner. Guido has now decided to stop devoting so much time to horses and to enjoy life in a different way. Personally, I can't imagine doing the same, even though I obviously do less than before. I don't see what else I would do though. I don't feel like playing golf. I'm comfortable at home, I don't want to travel more because I love my region. So there's no reason for me to deprive myself of things I like to do as long as I can do them. Activity is important. There's always something new, it's fun. I'll have plenty of time to stop when I have no choice and it's mandatory. The partnership that I've formed today with Pedro is very important. We've worked together for many years. He can inform me in a valuable way: he's young and in great shape. He travels much more than I do."
François Mathy & Pedro Renault with their homebred gelding Kartoon d'Ayrifagne, son of a former mount of Laura Mathy and No. 1 in the Excellence Auction catalog.
Among the horses you have sold, are there any that make you particularly proud?
F.M.: "It's certain that we have sold some very good horses. Five or six of them won the Aachen Grand Prix! There was Deister to Paul Schockemoehle, Boomerang, La Ina to Peter Charles, Sapphire and McLain Ward, Amai and Michael Whitaker... There are so many horses.
We bought Kannan when he was 5 with Guido Bruyninx! We also bought Amai at the same age. When he was 7, we went to the Sunshine Tour with Amai, Carlina, Bridgit and all of them participated in championships later. It's nice of course when you see the career they go on to have afterwards... But there was no surprise either, we knew that they were good horses and that they had the potential to do great things! Today, it's much more difficult. Horses are more expensive, and people are more aware of everything. As soon as a horse stands out a bit, people get excited very quickly."
Kannan at the European Championships in San Patrignano with Michel Hécart
Today, you have decided to take a new step with the organization of online sales: the Excellence Auction by François Mathy. What is your motivation?
F.M.: "Online sales are something very new that have developed strongly with the health crisis we're going through. It's a time of change. There are many more riders but also more traders. Contact between people is much faster and more efficient. This has changed trade. There is an added value that is very present in the way the horses are worked, how they are presented, where they go. I always say: To breed a good horse, you need a good mare, and to have good results in competition, you need a good rider! That's the difference, it's the rider who gives the value to the horse because as soon as a horse has won a competition, people are interested in it, even if it's the same horse as the day before! Marketing has also become very important. The work of Paul Schockemoehle today in this field is very impressive. It can very well be discreet marketing. I find that the ratio of good horses by Chacco Blue is quite low compared to other stallions, but in the mass of horses, good ones stand out. His principle is that out of quantity comes quality which advertises all the others. At the young horse finals in Gesves, Fontainebleau, and Lanaken, there were almost none... But there are 3,000 frozen embryos by Chacco Blue in Italy! Trade has a very psychological side."
You say you're not passionate about breeding but you follow it very closely!
F.M.: "Yes, I don't have the patience for breeding, keeping, and waiting, but I'm very interested in breeding in Belgium, Germany, France and Holland! I know a lot about young horses and their origins."
Daughter of the Grand Prix mare Miss d'Helby, herself a Grand Prix winner and sister to several Grand Prix horses, Raia will be represented by an embryo at the Excellence Auction
When one listens to you, you'd think that you only have horses in your life, whereas you like art and culture a lot also.
F.M.: "Yes, I like nature, and everything related to it, whether it's gardening or the woods. I also like art a lot and particularly Liège art as well as architecture. I also have a taste for travel. I also enjoy fishing and the mountains... I never have time to do everything I want to do, there's no doubt about that."
How do you see your next steps going?
F.M.: "You know, often, life has an imagination that you didn't even imagine yourself!"