François Mathy, a legend made of passion and pleasure (1/3)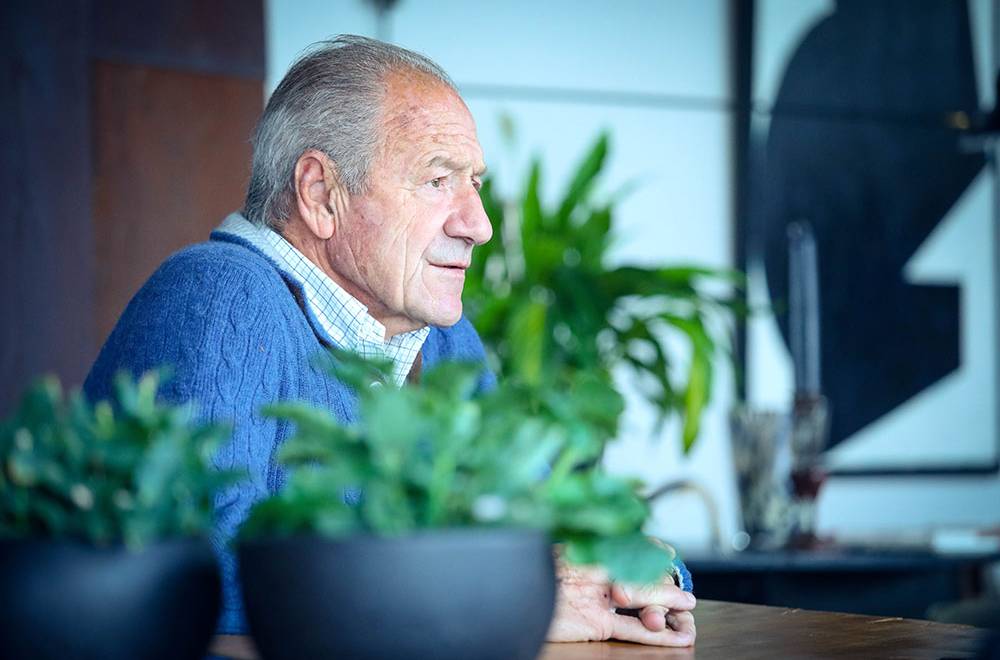 07 December 2021
While Belgium has just won a second team bronze medal in Tokyo, 45 years after the one in Montreal, we remember an athlete who came back from Canada with two bronze medals! Accompanied by team members Stany van Paeschen, Edgar Henri Cuepper and the late Eric Wauters, Fifi, as he is known in the business, is still the only Belgian individual medalist in equestrian sport! Since then, the man has distinguished himself by being one of the most renowned and respected dealers in the field. It's difficult to count the number of stars who have passed through his stables. A man of taste and class, as evidenced by his facilities, he is nevertheless a man accessible to all, who is in contact with people and the land.
Always keen to be at the forefront of innovation, just before the end of the year, our man organized his first online sale: the Excellence Auction by François Mathy, or the art of always challenging yourself to continue to move forward.
However, if the name François Mathy sounds like a legend in the microcosm of horse riding, the character himself remains an enigma for many.
François Mathy: "It's not a desire on my part... but I don't like to make noise. I am a great believer in the saying: "A private life is a happy life". I don't see the point of exposing myself unnecessarily. We have had regular customers for many years with whom we have built a relationship. Even if my brother organizes the Jumping de Liège, personally, I am not part of the federation and I don't have a role as team leader or anything else. I do my job with the people I like... and fortunately, I've been able to do that my whole life."
François Mathy with Marc Bettinger and the stallion Quannan R (Kannan)
You quickly focused yourself on a career as a rider and a horse dealer. Did you think you'd have to choose between the two?
F.M.: "I have always loved animals and when I was young, I was mostly drawn to farming, livestock and animals in general. My father was very fond of horses, so a little before I turned 18, we would go for rides in the woods, and we started to do little competitions. We were led directly to developing a little business to find solutions for horses that didn't suit us or to find better horses. It came naturally and I enjoyed it. When I was 18, I started to meet foreign riders. At that time, there was much less trade in Belgium. Belgians were more likely to buy horses abroad. I soon found this strange because to me we had such good horses in Belgium. So, I thought that instead of buying horses from abroad, we could also sell our horses abroad. That's when international trade started. I soon had good contacts with Alwin and Paul Schockemöhle. I developed trade with Germany and France."
Was your passion more as a rider or as a horse trader?
F.M.: "I had more of a passion for business than for horse shows. I often entered shows with the goal of selling. As a result, I regularly came back from a show without the horses I had taken because I had sold them at the show. Today, it's true that I do kind of regret that I didn't allow myself to keep one or two horses for a bit more time for showing by going further and doing a bit more... but at that time, I enjoyed trading and I had fun selling them and then seeing them compete with their new rider."
François Mathy and Pedro Renault with Canadian customers
So, is there a little regret on the sporting side?
F.M.: "No, I have no regrets. I tell myself that I could have ridden the very good horses that came to me a little longer, like Talisman, that I sold to Paul Schockemöhle after winning only one or two Grands Prix, and Gai Luron, and so many others who had a career after me. I have no regrets about selling them, but I just think I could have gone a little further in competition with them."
What do you think when you see riders crying in the press when they have a horse sold?
F.M.: "We find that there are a lot of riders who only think about riding. There are very few riders who are both traders and riders. When a rider's spirit dominates, they want to win, to go to competitions, it's their passion. I understand that. The problem is that horses have reached prices where owners don't want to keep horses at such prices. It's therefore very difficult for a category of riders to prevent a horse from being sold. I think it's normal that riders want to compete. This has always existed. A rider like Hugo Simon always answered when asked why he didn't sell his horses that he had never seen anyone riding on a wad of cash and that he wanted to ride! He didn't care how much someone offered for his horses, there was no question of selling them. In my day, the business side was much less important. There were fewer shows, fewer riders and fewer competitive horses. In the last 20-30 years, the horse world has changed a lot. In the last few years, horse prices have risen dramatically, there are more competitions, more riders. In my time, the military finished riding horses and there were still a lot of amateurs. It was reserved moreso for a certain class of people. Today, everything has changed: the number of buyers, riders, dealers. Everything has become huge."
At that time, there were still very few professional riders.
F.M.: "The Montreal Olympic Games were still reserved for amateurs according to the rules in force. Today, anyone who wants to be a rider must be a professional and devote all their time to it, thinking about it day and night. A successful rider doesn't happen by chance. You have to be rigorous in your training and in the way you manage your stable. The competition is too tough to leave room for improvisation."
Looking back, do you feel that your two Olympic medals gave you real added value?
F.M.: "These medals allowed me to meet people from all over the world. It was not as publicized as today but for the time, it was a very important event, especially two bronze medals for a country like Belgium, it was a great publicity and a great pleasure. The whole population participates in the Olympic Games. The World Championships, the European Championships, the World Cups: it's personal. There are riders who win big championships without anyone knowing it, whereas for the Games, people say "we won". Everyone has won a medal and is participating. It's a huge difference that makes people much more aware. An Olympic medal is about 8 and 10 million people saying, 'We won a medal'. The performance impact isn't the same."
Sapphire, under the saddle of McLain Ward, is part of François Mathy's numerous references.
Were these medals more important as a sportsman or as a trader?
F.M.: "Sports-wise, it was good, especially since you need a bit of luck to win two medals and when you compete, it's the best you can do. I was already a trader, but it was good and allowed me to meet new people with whom I still have contact today."
Read the second part of our interview with François Mathy tomorrow!