François Bossu's great week!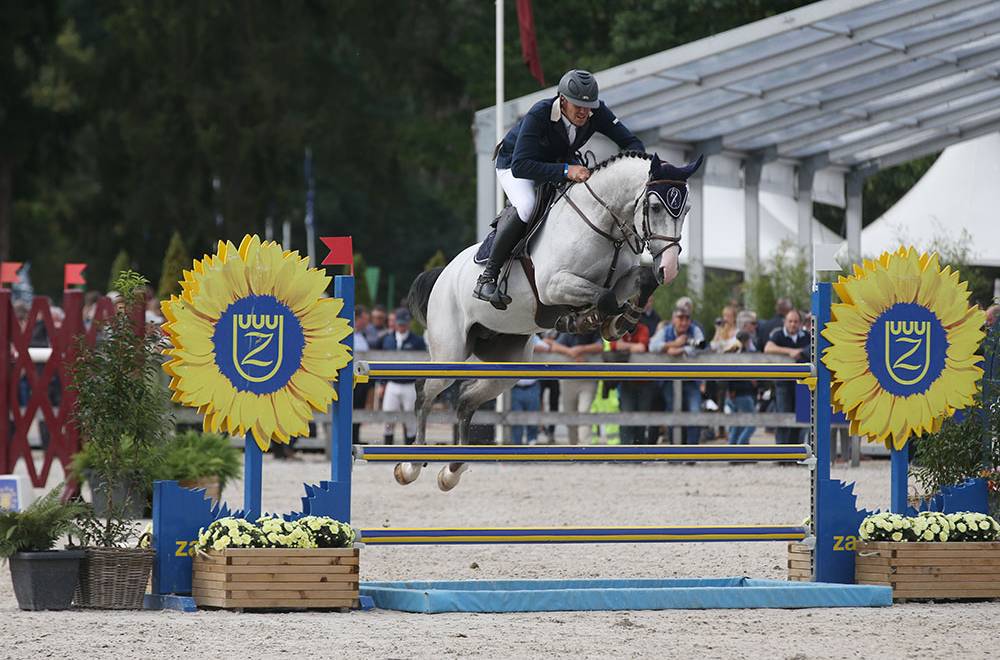 16 June 2021
Last weekend in La Baule, François Bossu had the pleasure of meeting his former accomplice Barachiel d'Ouilly (Lando x Cheers Cassini). Under the name Romeo, the Selle Français achieved a marvelous double clear round in the Nations Cup for Mexico with Federico Fernandez. Sold for €35,500 in 2014 to Mexico at the Big Apple sale held in Deauville by the Haras de Brullemail, the gray had remained in Europe under the management of his breeder, Alexandra Lebon. She decided to entrust the Selle Français stallion to the Belgian rider, François Bossu. The pair quickly adapted to each other and the clear rounds soon started coming. They were finalists in the Belgian Championships for 6YO in Gesves and that same year reached the doors of the final of the World Championships of Lanaken. His owner wanted to sell him, so he was offered to several dealers but none of them seized the opportunity.
Roméo (former Barachiel d'Ouilly) with his owner Federico Fernandez.
His owner then decided to ask Frederico Fernandez, his best friend, for advice. His wife, Paola Amilibia, then visited François Bossu to try the horse and decided to take him to the Sunshine Tour so she could form her own opinion. It was so positive that the horse changed hands, with Federico Fernandez receiving the grey from his friend as a gift ... and renaming him Romeo. And no ordinary Romeo at that, since his father is none other than the Olympic Lando while his dam, Sothis d'Ouilly, was a finalist at the World Championships for 7YO before leaving to join McLain Ward in the United States. Maternal half-sister to the international Shou d'Ouilly, Sothis was herself out of a maternal half-sister to Jubilée and Kronos d'Ouilly.
Barachiel d'Ouilly (aka Roméo) with François Bossu at 6 years old
"I always loved this horse. He was a golden horse. It's easy to say that today when you see him achieve a double clear round in La Baule. Honestly, I couldn't have said how far he would go but I knew he was a very good horse. Everything we asked him to jump, he always did. When I offered him to several dealers, I often got the same answer: not enough resource. I didn't agree and I thought it was unfair to the horse who was always jumping clear. I had a few courses with Paola at the beginning of his seventh year, and then I lost track of him. So to find him demonstrating such form at the Nations Cup is obviously a huge pleasure, especially when it's a horse we liked.", said François Bossu, who was still not over the surprises.
Indeed, yesterday, at the closing of the "Young Horse Auction" in Zangersheide, it was another horse working in his stables that stole the show. The price rocketed up to €140,000 to reach Holland and Suus Kuyten's stables. I'm the Best des Guy (Emerald van't Ruytershof x Corofino) was entrusted to BD Horse, also known for owning the currently very popular stallion Chacco White (Chacoon Blue x Spartacus). "You never expect prices like this. We knew we had a good horse and that's the most important thing. I'm even happier because on the day of the selection for the sale, I was also riding in a competition in Gesves. I hesitated for a long time, but I wanted to go and present him myself. We left at four o'clock in the morning to get to Lanaken to be first. When I arrived, there was still no one there and I was wondering if I hadn't got the selection day wrong. He jumped very well and when we received the video, I was really happy with the work. I would be lying if I didn't say that I watched it over and over again because I thought it was so perfect. Obviously, we had a great night last night and I'm very happy because we have already jumped with the horse and the quality's still the same. It's beautiful weeks like this that make us forget a lot of things and keep us motivated.", concluded the rider from Montpellier who celebrates his birthday today.
I'm the Best des Guy, Top price at €140,000
The Zangersheide sale has made other people in Hainaut happy, since the Zangersheide-approved stallion Hip Hop de Hus (Eldorado de Hus x Calido I) was acquired by the American Sarah Orr for €62,000. This maternal half-brother to Meredith Michaels-Beerbaum's star, Bella Donna, had been acquired by the Maillet breeding as a foal at the Haras de Hus. His dam Orlis is a regular at the sales, since her sons have already set the auction on fire at the Elite Fences sales. First Geronimo de Hus (Baloubet du Rouet) in 2016 who was sold for €36,000 as a foal, and then Empereur de Hus (L'arc de Triomphe) who was sold for €160,000 the following year.
Hip Hop de Hus, Bella Donna 66's maternal half-brother, by Eldorado de Hus