For the Future: Domino van de Valhoeve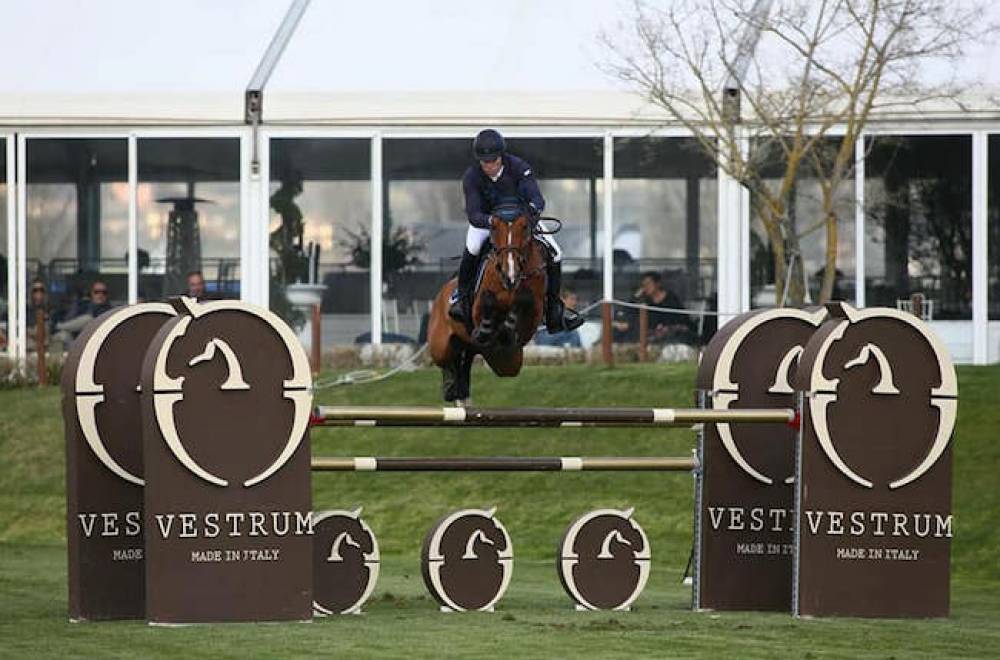 14 May 2018
What do you get when you combine a freaky good jumper with a rider that has big-time stickability? At the moment, that combination describes Conor Swail and Domino van de Valhoeve.

The Irish rider paired with Domino, a 10-year-old KWPN gelding (Lord Z x Concorde), last fall after seeing him with Emma Augier de Moussac of the Czech Republic. Swail and his business partner Vanessa Mannix inquired with de Moussac's trainer Vincent Voorn if the bay gelding was available, and from the minute Swail tried Domino, he felt something special.

"He's a big unorthodox and tricky to ride, a little bit the same as Flower," Swail mentions of the 13-year-old BWP mare (Bon Ami) that Swail earned over half a dozen international wins with last year.

"With having Flower, it made it a good transition [to Domino]," Swail adds. "He's such a freaky jumper, and so careful. His results have been amazing."

While Swail caught a lot of attention over the winter season for pulling off a massive save when Domino slipped behind while turning a corner in a jumpoff at Oliva Nova, that has been far from their most notable moment of the past few months.

Jumping seven clear rounds on the January and February circuit at MET Oliva were just a start. This spring on the CSI3* and 4* circuit in Arezzo, Swail and Domino rode a streak of 11, first round clears. Of those, he won the March 25 CSI3* Grand Prix (pictured above) and placed equal 2nd in the final, CSI4* Grand Prix of the circuit on April 8th.

The spectacular results place Domino van de Valhoeve squarely into focus as a horse to watch as Swail legs him back up at CSI2* Caledon this coming week, and CSIO5* Langley at the end of May.

"With how he is jumping, some of the rounds are a little not so nice to watch, but when we go through the finish timers it's 0, and 0 again, and 0 again," Swail says. "There are some fancy rounds and some not so good ones, but the score is always 0. When you know that going in, it's funny how it makes it ok. It might not be perfect, in fact it probably won't be perfect, but more than likely it's going to be 0 when we're done. I think that helps both of us. Even though he's doing funky things around the course, and I know something might happen that I might not expect, at the same time I don't override or get in his way."

Swail's current focus is honing the connection with Domino, so that, as he says "we can get better so we're both on the 0 we're looking for."

With Domino, Flower (who is also owned in partnership with Mannix and coming back from time off), and the very successful Ruben LS La Silla to count among his string, Swail is looking forward to what the summer might bring. He's even allowing himself to dream—a little.

"With Flower, she is a top top winner, but would she go to the Olympics and World Cup and things like that—I think that'd be a little bit unfair for her. However with Domino, I haven't reached that top out," Swail explains. "I still don't know where he'll finish up, so we do have that dream that he could make it to the top level. He has unbelievable ability and fight. He hasn't told me yet that there's anything he can't jump. So, I do feel that he could possibly get there."

Time will tell! Either way, Domino van de Valhoeve and Swail could be one of the best combinations to watch this summer.