Follow in the footsteps of tomorrow's champions! Auction open!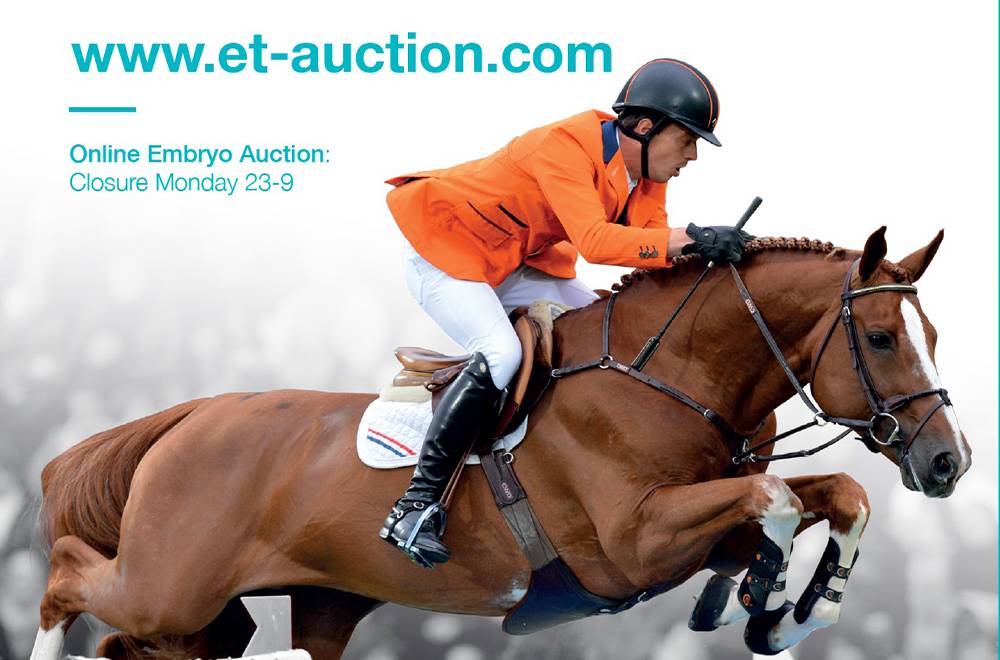 20 September 2019
World Champion level: Comilfo Plus Z, Kerswin van't Roosakker, Emerald, Dominator 2000 Z, Foncetti vd Heffinck…. They have all played a determining role or can play that role this weekend at the highlight of the breeding season of the year! They are all directly represented in the current World Champion Edition of ET Auction!
Take a look at the collection and ensure your participation within a few years!
Everything you need to know in a nutshell:
- Exclusive embryo collection - the embryos are in the surrogate mare for at least 45 days!
- High class pregnant broodmares - an excellent (re)start for your breeding!
- One by one breeding combinations to dream of!
The World Champion Collection will be auctioned online during the weekend of the World Championship of Young Horses in Zangersheide - Lanaken. Questions or uncertainties do not hesitate and contact us, we will certainly be present at the competition site in Lanaken!
Closing of the auction Monday 23 September from 8 pm, all via www.et-auction.com.
Brief summary of the embryos:
- Brother or sister of EMERALD by CHACCO BLUE
- Brother or sister of World Champion 5y old horses KERSWIN van't Roosakker by CHACCO BLUE
- Emerald x Taloubet Z x Ratina Alpha Z, the modern top sires united with RATINA Z
- Best of the world combined, COMME IL FAUT and FRAGANCE de Chalus
- Proven CORNET Obolensky and upcoming damline of Grand Prix horses CANNONBALL du Toultia Z, DAYTONA du Toultia, MADONA PK…
- A beautiful skewbald closely related to Aachen revelation CRISTY
- Promising talent by FOR PLEASURE with 160 dam DELIA VDL
- Powerful DOMINATOR 2000 Z and certainty FRAGANCE de Chalus
- TOBAGO and PEBBLES Z / ARISTO Z comes together
- The new VIGO d'Arsouilles by COMILFO Plus Z and TOULON
- Get the new FASTHER: BAMBAKO de Muze directly related to FASTHER, BARDESTHER and RALVESTHER
- Young QERLY CHIN star (145 level) with CICERO Z
- Former world's nr1, HALIFAX van't Kluizenbos, and EMERALD's full sister
- Classic USHA with the best to get, CORNET Obolensky
4 Breeding mares for a solid breeding start:
- Lugana VG – Sister of HIDALGO VG Z out of 155 mare ALASKA VG and in foal of KASANOVA de la Pomme
- Notre Dame de Muze – Mare by Vigo d'Arsouilles out of the full sister of BIG STAR in foal of EMERALD
- Evangelie vd Lentamel – skewbald from direct sportline in foal of TANGELO vd Zuuthoeve
- Jolente-A van't Merelsnest – damline of SAPHIRE and in foal of KASANOVA de la Pomme