The first 4* Grand Prix of the year goes to Jos Verlooy!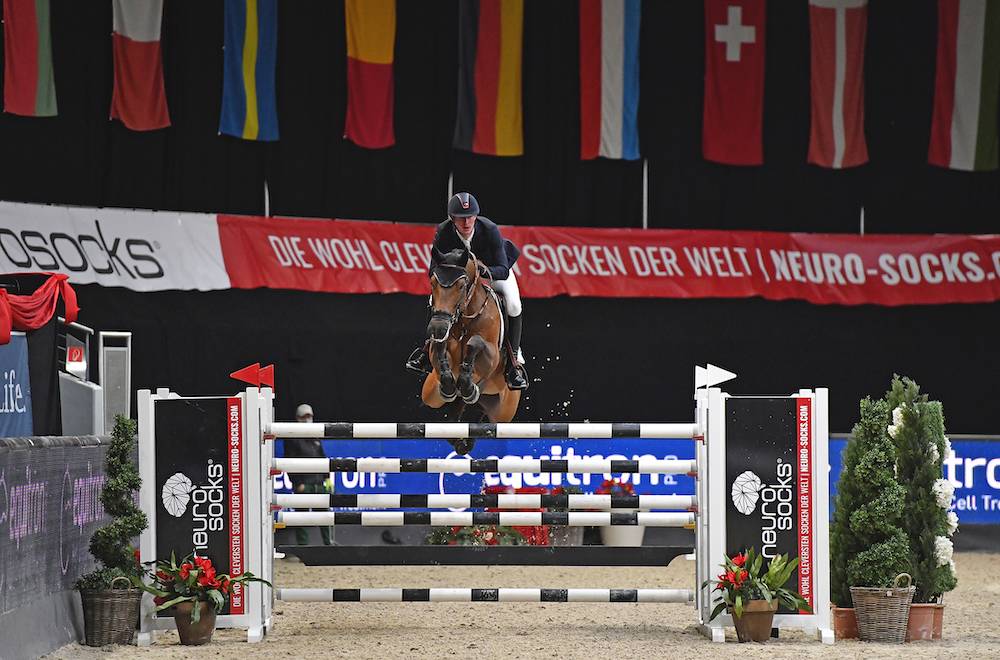 25 January 2021
While the list of competitions is growing every weekend, it is still far from the calendar we knew from before the pandemic. Could we almost be happy that a CSI4* was on the list? The first one of the year took place this weekend and it was in Europe! During this time, Oliva and Wellington stepped up in difficulty by hosting CSI3*'s, and of course we can't forget Azehlof's CSI2* event. Let's look back at the weekend's victories!
Salzburg CSI4* and CSI-U25

Europe hosted the most important CSI of the weekend, and it was even a 4*! On this occasion, many riders made the trip to Austria to resume their season, and this Grand Prix's podium was mostly Belgian as the event was won by the reigning Belgian Championship combination; Jos Verlooy and Varoune (Verdi), who achieved the fastest double clear round. "I really wanted to win today, and I'm all the happier that it worked out," said Verlooy in a press release. Germany's Christian Ahlmann took 2nd place at the reins of his 10-year-old Solid Gold Z (Stakkato Gold).
Third place went to Belgian Arnaud Doem and Edgard de Prefontaine (Contact van de Heffinck)! "It is a great pleasure to have been able to find this level of competition, with this quality of riders, horses, heights and widths of obstacles. Despite the situation, the organizers created a very nice competition, according to the rules. In fact, this was the first time I have been! I had the feeling that each rider was motivated and energized as though it were a World Cup stage, and the rider line-up was there! Nothing was done at random, everyone was there to win," he said, before adding, "Edgard jumped very well and has now gotten his first result in a 1.60m event here. He hasn't touched a rail throughout the whole weekend. All my horses were in good shape, which bodes well for the future and especially for the beginning of the season. I'm very happy!" he concluded.
The Salzburg Arena also hosted the final of the European Youngster Cup. On Saturday, Swiss hopeful Bryan Balsiger won with his nine-year-old Everest v 't Hof V Eversem Z (Epleaser van 't Heike) ahead of Poland's Andrzej Oplatek on Diaroubet (Baloubet du Rouet). German rider, Simon Widmann, closed out the podium with CMS Compliant (Luidam).
Grand Prix Results
European Youngster Cup Final Results
Winter Equestrian Festival's CSI3* and CSI-U25
On the other side of the Atlantic, the second week of the WEF was in full swing! The $137,000 Grand Prix ended in victory for Britain's Ben Maher and his stallion Tic Tac (Clinton). "It was my lucky day, and sometimes that's how it goes! Eric Lamaze is one of the fastest riders in the world, and he was on a big horse, so I think I got a lucky draw. I was also on an experienced horse. Tic Tac is 18 years old and doesn't go out very often, but he gives me a lot of confidence," said Ben Maher in a statement. Eric Lamaze, who was accompanied by his faithful mount Fine Lady 5 (Forsyth), placed second in the event, ahead of Ireland's Conor Swail and GK Coco Chanel (Clarimo).
Following the day's flagship event, under 25-year-old riders were able to take over the Palm Beach arena to compete in their Grand Prix event. The podium was entirely American, with the victory going to Ashley Vogel and Bellissimo Z (Bamako de Muze), who was Thibault Spits' former partner at the 2019 European Junior Championships. Lucy Deslauriers followed her very closely, achieving a fast double clear with her stallion Billy de Beaufour (Allegreto), ahead of Tanner Korotkin and Deauville S (Diamant de Semilly), Laura Kraut's former horse!
3* Grand Prix Results
CSI-U25 Grand Prix Results
Tonight, French rider Marie Hécart will be our guest from 6pm on our Instagram account for our live series "Welcome to the USA", where we will find out about the American showjumping events.
Oliva CSI3*
If riders weren't in Wellington or Austria, many of them were meeting at Oliva's Spanish tour. For the second week's program, there was a CSI3* with a Grand Prix event set at 1.50m! Only four combinations found the key to the clear round to reach the jump-off. The victory went to Germany! Christian Kukuk and Checker 47 (Comme Il Faut 5) managed to get ahead of World No. 1 Steve Guerdat on Jonka-A (Cardento 933), his wife's mare. Janne Friederike Meyer-Zimmermann took third place on Chesmu KJ (Cornet Obolensky). The fit German rider had already shown how good her form was in the CSI2* Grand Prix in the same arena last week with her other mount, Buettner's Minimax (Cornado NRW).
Azelhof CSI2*
Finally, Azelhof hosted a CSI2* with a 100% Holsteiner podium in the Grand Prix. Ireland won thanks to Jonathan Gordon and Dorotheental's Classica (Classe). Second place went to Sanne Thijssen and Con Quidam RB (Quinar), while Italy's Antonio Alfonso and Charmie (Connor 48) closed out this winning trio.
Photo credit: © Sibil Slejko