Fernando Martinez Sommer, will and determination rewarded (1/2)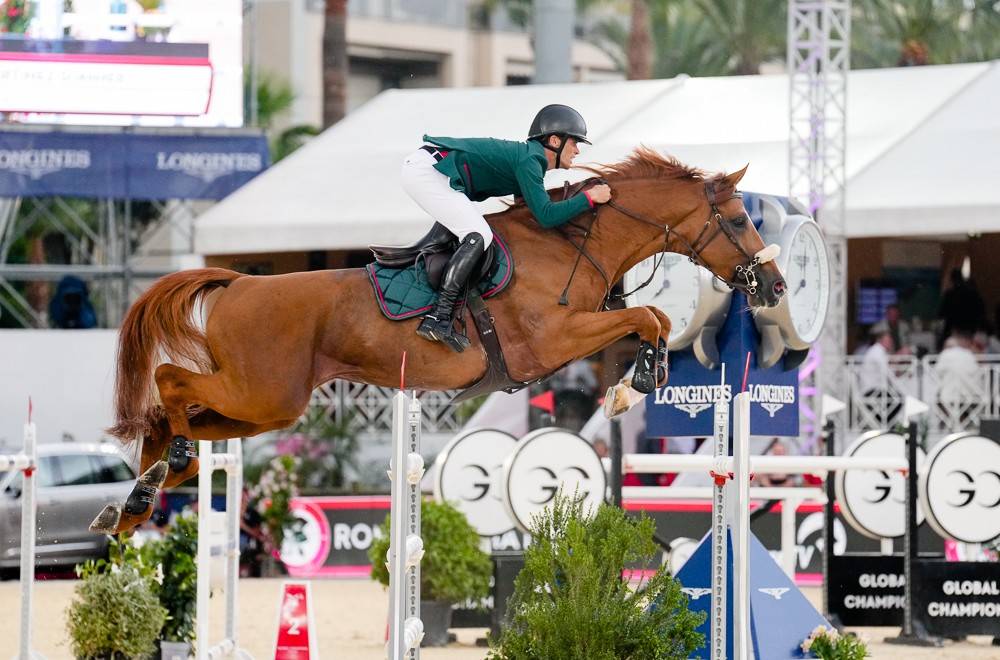 22 June 2022
Author : Mélina Massias
His name may not ring a bell to the most novice of jumping fans. However, the story of Fernando Martinez Sommer is worth telling. Life, or perhaps even more so his iron will and unlimited determination, led him to win his first 5* class at the beginning of June in Cannes. From Mexico, where he tasted the joys and pleasures of riding before implementing a plan full of tenacity to reach his dreams, through the United States, where he evolved for a couple of years, up to Europe, the smiling thirty-year-old has never given up, forging a self-taught career. Far from believing he has reached his full potential, the Mexican still has many ambitions, which he intends to embrace as he has always done up to now. With a solid system, a fulfilled life and a true love of horses, Fernando Martinez Sommer could well make himself even more talked about in the coming months.
"As far as I can remember, I have always been interested in horses," tells Fernando Martinez Sommer without hesitation. "My family doesn't come from the professional equestrian world, but my father has always loved horses. He told me that when I was two or three years old, I would keep repeating the word 'horses'. I would ask if I could go and see them: it's been an obsession since I was very young." The stage was set. At thirty-two, this Mexican rider, as happy as a child on Christmas Eve, is touching his lifelong dream: to ride among the best show jumpers in the world. And Fernando, who lives in the Netherlands with his wife, Mariel Victoria Aguirre, has a lot to be happy about. From the age of five, and his first proper pony lessons, to his first 5* victory on 4 June in Cannes, in the South of France, the man has travelled the world and a long, long way. "I always dreamed of doing this sport and I spent my time watching the big competitions that I could see on television. In those days it wasn't that easy, and we had these big tapes. From Mexico, we were quite far from the big sport. But I aspired to be among the best in Europe one day. Realistically, that goal was pretty far away, so I had to study accounting. In high school I started riding horses for other people. I had always wondered how I was going to achieve my ambitions. I made a plan and imagined the clients I needed to have, so I could go to shows, progress and hopefully one day compete in the United States and put myself on the map. When I was twenty years old, a great Mexican rider - the best in my eyes - Gerardo Tazzer (four-time Mexican Olympic rider between 1980 and 2004, collective bronze medallist in Moscow and multi award winner at the Pan American Games, editor's note) had an accident. He found himself in a wheelchair. He called me and offered me to come and work for him. It was a win-win situation: I had horses to show in Mexico and he could continue his business. I stayed with him for five years. After that I rode for a couple of years in Wellington and New York. My family has always been able to support me with a horse, but getting to the top level costs a fortune. I had to make my own way to achieve my dreams. And not all of them have come true yet (laughs)", sums up the rider.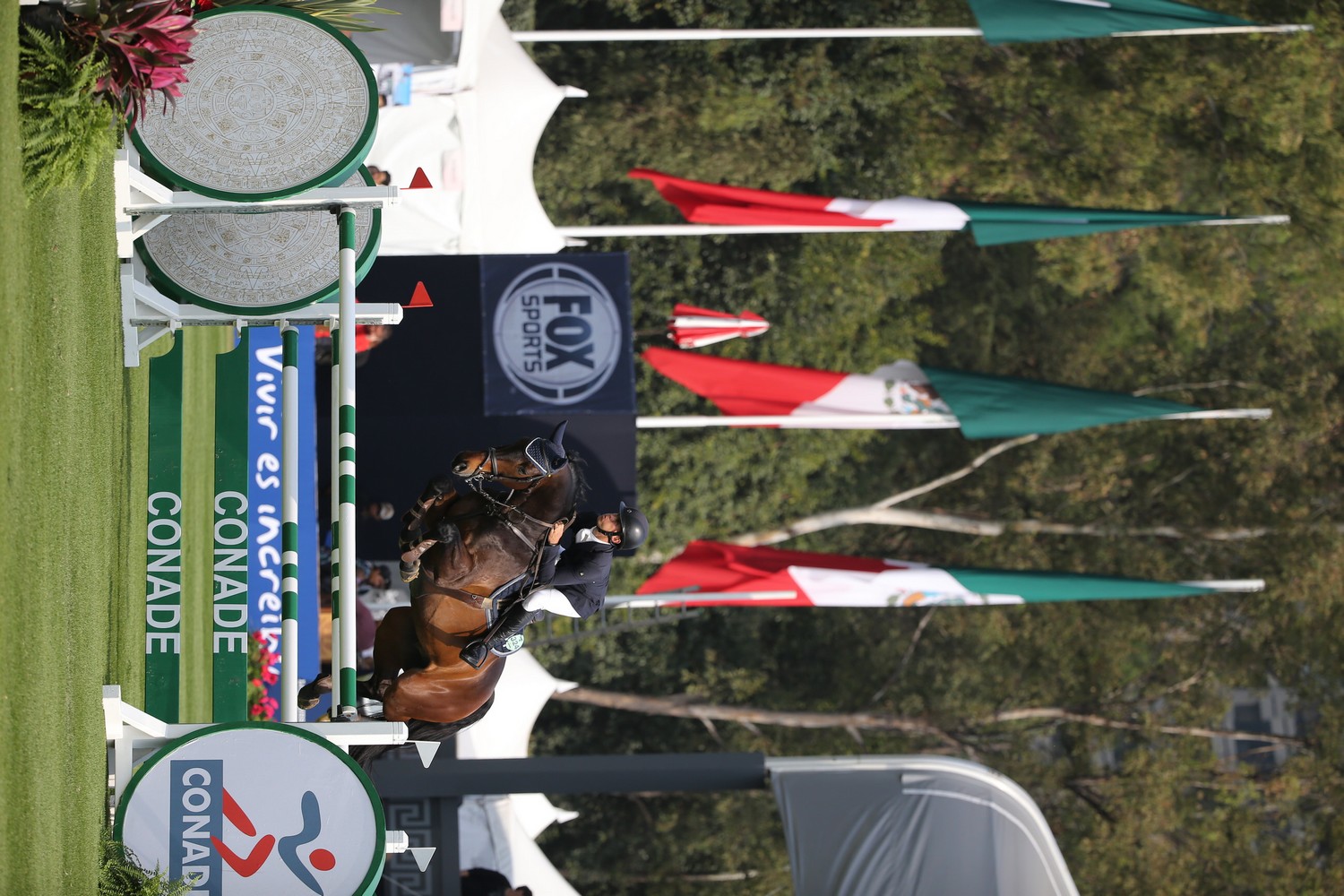 Fernando and Cor Bakker on the beautiful ring of Mexico City in 2017. © Sportfot
A well-thought project

Far from feeling complacent, Fernando is aware of how far he still must go to achieve his goals. "I've learned a lot since I arrived in Europe. Now I have access to everything, live and in real life; I don't have to struggle to find warm-up videos on Youtube (laughs). When I first came here, I was looking at what kind of coffee Marcus Ehning was drinking, and what pair of sneakers this rider was wearing. I was a huge fan of these riders, and it was the first time I saw them this close. It was quite an adventure. There was a lot of frustration and excitement along the way. Because of that, I think I enjoy the good days more. Maybe the not so good ones also come with more disappointment for me than for someone born in the sport. I think I'm only at 50 or 60% of my capacity. I can improve and learn a lot. Even though it's been a long road, I think this is just the beginning in the real sport," he insists.
"I was so frustrated with spending years looking for a way to get into the big sport, that I started dissecting the list of riders who were riding 5*. I came up with four or five scenarios. One is that these riders were born into horses and are the second or third generation of their family, like the Philippaerts, Fuchs, van der Vleuten, etc. Another scenario includes people with significant financial means, which allow them to buy horses, pay trainers and make their dream possible. The third possibility includes a few individuals who have taken advantage of good clients or owners in a way that is not always very orthodox. And then I have spotted a few riders who work for dealing stables. Only few of them, like Lorenzo de Luca or Daniel Deusser, manage to reach the top level; most of them stay in the shadow because their horses are sold", the Mexican details. "Finally, I noticed that there was a very small percentage of people who followed their own path. It takes much, much longer. You have to find someone who is willing to support you. So, I started knocking on some doors to see who would be interested in investing in horses with me, and who might have an eye for helping me choose them. Then you have to find out how to train them, and then get into the competitions. But that was my only solution. In eight years, I found three people who were more or less on board. Only one was ready to get involved for the passion of the horses more than for the money: Juan Carlos Franco. Today he is my partner."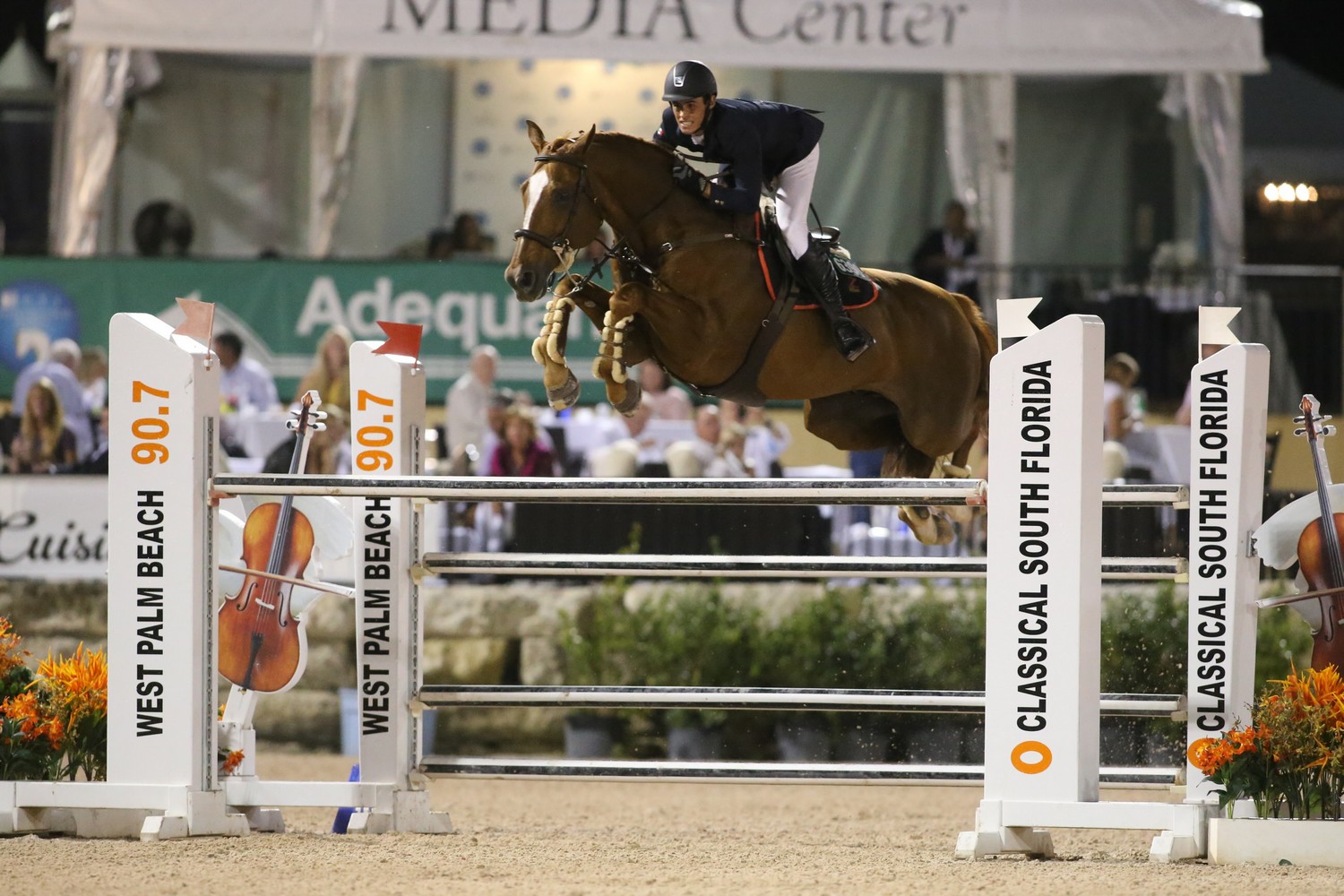 Fernando in Wellington. © Sportfot
Together, the two partners, who started talking nine years ago, founded Fair Play Stables and invested in a string of horse. "It's been a long road. I'm 32 years old, and as far back as I can remember I had planned this. We know how many disappointments there are. Owners sell the horses, then you have to start from scratch, etc. After a few years, I decided that I needed to own at least part of my horses, so that I could be in control and choose when to sale them, or not. Suddenly this project with my partner came up. It's great. We try to mix business and sport, but Juan Carlos is the first one who doesn't want to sell the horses. He really loves the sport. He used to be a rider himself, but with his work and family life it has not been easy for him. He comes more and more to the shows and really enjoys it. He is very positive about everything, and I owe him the dream that I am living today in Europe," says Fernando.
A leap into the unknown coming to Europe
If he attributes a big part of his arrival in Europe in 2019 to his brilliant Cor Bakker (KWPN, Colandro x Quattro B), bought as a young horse in Mexico and taken to the World Equestrian Games in Tryon in 2018, after great performances up to 5* Grand Prix - including a ranking on the historic Calgary track -, the decision was huge for Fernando. Leaving his stability in America was almost a crazy risk. "I had my clients in Mexico and everything was going really well, but I decided to start from zero here. Everything I've ever done was for this dream of top-level sport and, unfortunately, in Mexico it's not the same," admits the smiling rider. "It's not the same sport as here. It was the right time to make this decision. If it didn't work out, I could always go back to my country, but I really wanted to try my luck. I left everything I had and came to Europe, with this project in partnership with Juan Carlos. So far, I think it was the right choice. After a year and a half here, I met my wife in Belgium, and two years after we met, we got married. We are now settled in the Netherlands, and we have a great place for our horses. We do everything together as she also rides. It's really nice to be able to share the love of horses with her and it makes everyday life a bit easier (laughs)."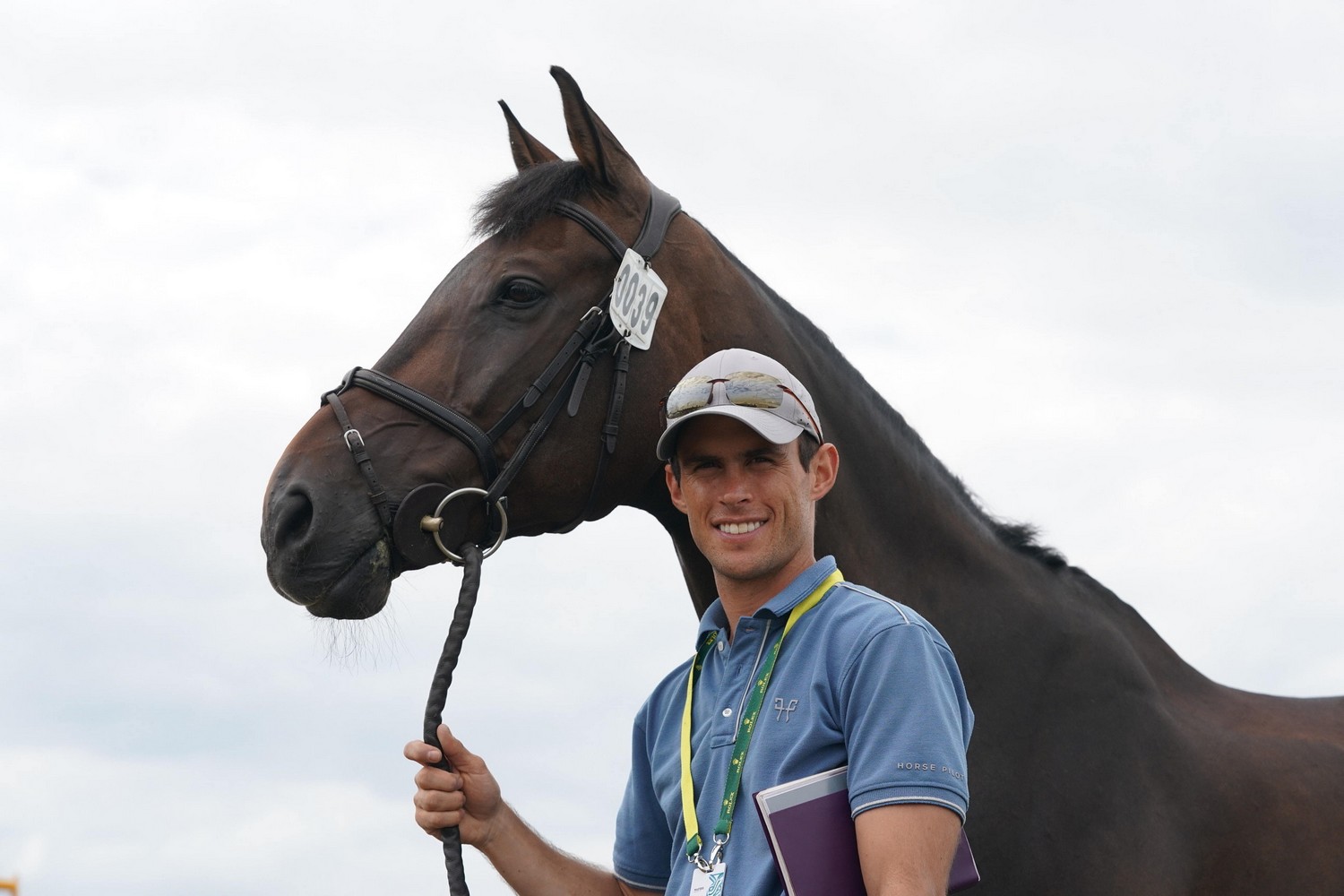 Fernando, alongside his loyal Cor Bakker, in Chantilly. © Sportfot
After a timid start, Fernando took off in 2022 on the lucrative Longines Global Champions Tour (LGCT) and its League. This was a boon for the determined rider. "Once I got to Europe, I was there, but finding a place to compete was extremely hard for me. I had no contacts. Thanks to the Nations Cups and my national team, I was able to participate in a few top events. I also did Chantilly and Dinard, for example. Some doors opened, but I wrote a lot of letters to the organisers. So being part of a Global team this year is a huge opportunity for me," he says. "It happened out of the blue, because I was contacted a week before the deadline to form the teams. Eric (Lamaze, editor's note) called me and offered me a place in his team (the Rome Gladiators, editor's note). It was incredible for me, because it gives me a lot of options in 5*. To be at the heart of this level, around these riders and horses every week is great. I've always trained on my own, since I was a kid. I've probably learned more in the last six months than I have in my whole life, just by watching others. I always pay a lot of attention when I'm competing: to the warm-up, to the good riders. Now I have an open window to ask questions and talk to these great athletes."
And the Canadian Olympic champion, who recently hung up his boots, should not regret his decision for a second, as his new member's performances have been so solid since the beginning of the year. As proof, Fernando won the second round of the Global Champions League in Cannes in early June. Riding the excellent Luettinghofs Charlie Harper (Westph, Comme Il Faut x Salinator), owned by his wife, the Mexican finished at the top of the result list. "It was his first course at this height. Charlie Harper is a very fast horse, who likes to be ridden this way. He needs to be motivated a bit because of his many qualities. I was just thinking about doing a good, smooth round. But he is so fast that it led me to victory," he said. "Sometimes I think I'm going to wake up and find myself driving my car, in Mexico, to my old job (laughs)."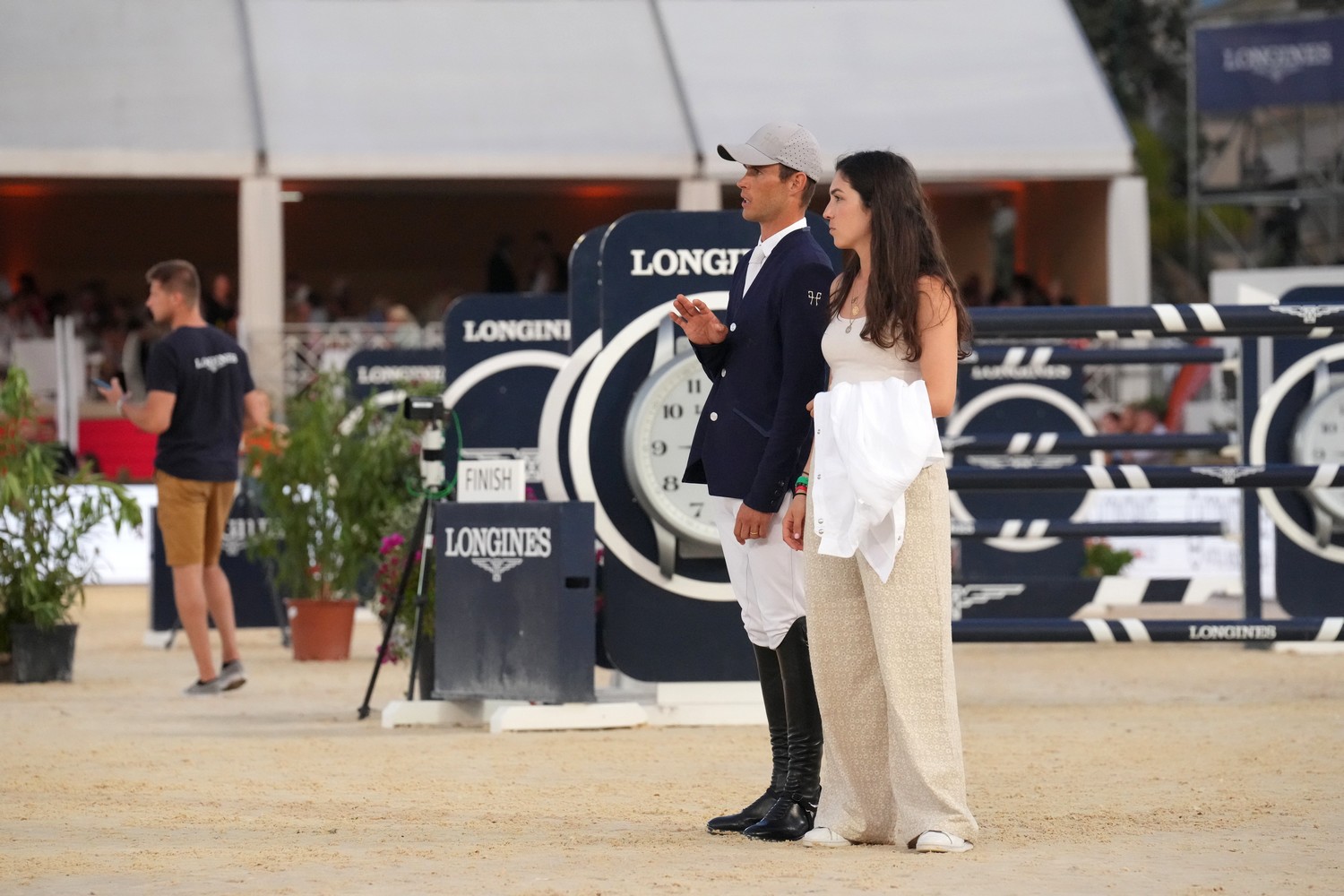 Fernando and his wife, Mariel, walking the course in Cannes. © Sportfot
The second part of this article will be available soon....
Main picture : Fernando Martinez Sommer, under Rome Gladiators' colors, on his way to his win in Cannes with Charlie Harper. © Sportfot