Félicie Bertrand: Passion First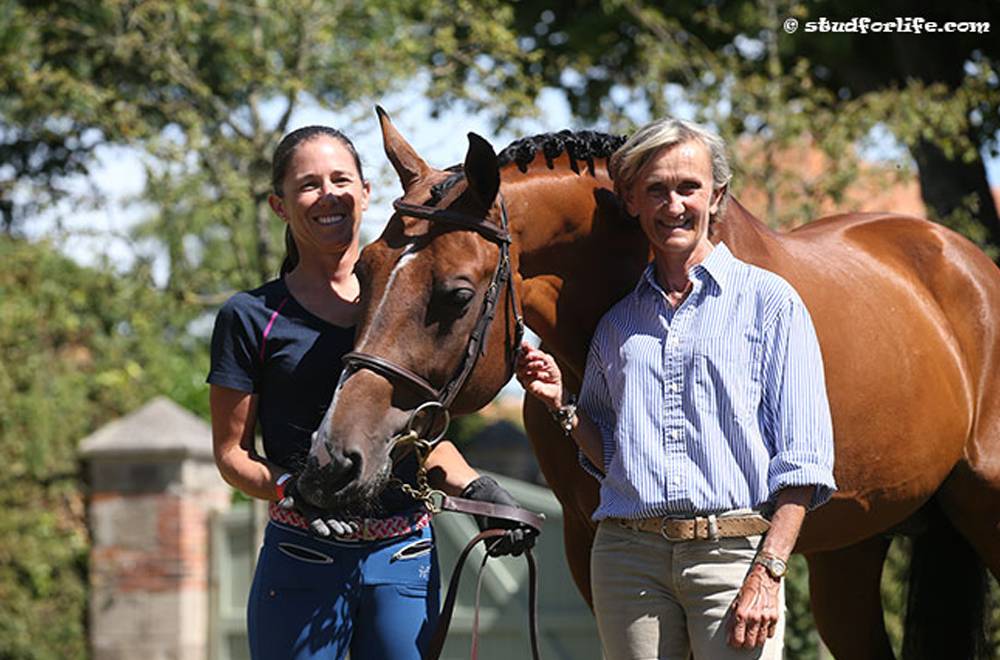 13 September 2018
Last episode of our trilogy on the rider Félicie Bertrand.
We've seen you several times on rather energetic little horses. Is that how you like them?
F.B.: "Yes, it's certainly what suits me the best. But I'd like to avoid clichés like "I have a little hot chestnut, I'm going to put her with Félicie" (laughs)... Because in fact I ride Chacco Rouge, who is already a little stronger, Balsano, who is still a good galloping horse, and I like much more to ride different horses correctly – that's what's interesting, I think. Indeed, on paper, there are small mares with a little blood, and considering how I am made that's easier for me, but what I find interesting is to be able to ride a lot of different horses."
Is that what has always motivated you?
F.B.: "Yes, that's what I think, but I already feel like I've ridden so many of them: small, big, heavy, hot … Thanks to my father when I worked with him. He has 100 horses from owners at home, so he has a wide range of horses. And yes, I think that's still what I like about it – to be able to evolve and understand and ride a lot of different horses but without making them work to my method, actually. I want to be able to adapt to them rather than make them do it my way. It is true that I often say that I have no method. I don't like having them like this, like that... In fact, what I like is trying to have them come with me. Or at least I'll go with them. That's more like how I ride. That's how I think."
Today, with your increased status, do you have people around who help you?
F.B.: "Not too much, no (laughs). It takes a little organization because I have my 10-year-old daughter with me. Her father, Axel (editor's note: van Colen), lives a little far away now and so it takes some organizing, in addition to the cost. This is not completely true because I have great friends. I have my brother if I need him, too. He's at the Pôle in Deauville, where he manages the restaurant. He helps me a lot when I am down. He comes to get her, he'll take care of her. I have great friends: I have Mimie who works at the Pôle, I have François-Xavier Boudant's wife, Rudy Cok's wife, we all live quite close to each other. So they give me a hand, they pick her up at school, they take her home, they bring her back (laughs). It's pretty easy thanks to them, otherwise it wouldn't be as easy. It takes organization, but I can do it thanks to this."
Is she happy for her mommy?
F.B.: "Yes, of course. She loves it. In addition, in summer, when she is on holiday, I take her everywhere to competitions. She loves it, and I must say it's convenient, too."
As far as the work is concerned, do you have people you work with to help you move forward or do you really cope by yourself?
F.B.: "I haven't taken the time to bring someone in, because when you're in the fast lane you don't have the time to do it... at least I don't, but I should. After competitions, my partner Timothée Anciaume really helps me whenever I need it. He's at the paddock, he knows all my horses, he knows me well and I'd say that having him in the paddock is really important. Already just having someone standing by... I don't see how anyone can manage without another pair of eyes, actually. He knows my way of riding and it helps. When he's around, things often get better."
For the rest, however, the fact that you started again with the Mégret family, didn't you worry that it would scare other customers away?
F.B.: "Yes, of course. It's like when I started riding at Christian Hermon's. There are always people who will say or think that Clarbec is now the only thing that matters, but I think we just have to say it the way it is. I mean, yes, I ride for the Mégret family, but I also have horses at the Pôle. People still need to know that these are choices for now, but today I'm so happy to be doing this that even if I have a little less next time, it's not really an issue either."
What can we hope for next?
F.B.: "Let's keep going this way (laughs)! Let's keep going the way it's started (laughs)!"
THE END.