Félicie Bertrand: Passion First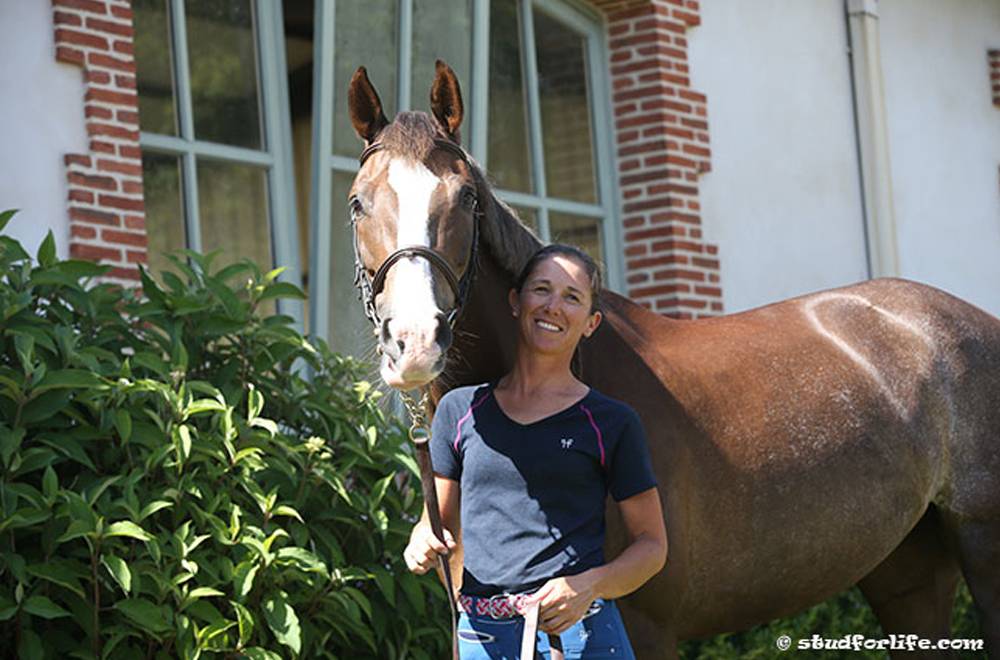 12 September 2018
Second part of our interview dedicated to the individual gold and silver medalist team of the Mediterranean Games 2018.
Were you not used to trading with your parents?
F.B.: "Yes, there was business, because there were a lot of customers, and so my father had to find them horses... but I never dealt with that..."
But when you decided to make it your job, how did you see it? Was it with the hope of reaching this level? How did you see the profitability of your work?
F.B.: "Actually, I hadn't thought much about it, because what I like is riding (laughs). Of course, today, I have started to structure it a little, because at some point you have to earn a living. In fact, I think that... Until I left the stud farm in Clarbec, what I wanted to do was riding, to earn just enough to have enough to eat, enough to have a roof over my head, but I never really had big ambitions otherwise. Business really came to me with Christian because I liked the principle of having young horses, developing them, then selling them. It is the result of the work you do. It's quite nice to be able to do that, but it came late really (laughs) and a little bit on the job."
At one point, weren't you afraid of being labeled as a "rider of young horses"?
F.B.: "A bit like everyone else, I think. It is true that at one point I was entrusted with many young horses in order to sell them. It was the commercial side, that's for sure, but I liked it, too. I wasn't experiencing it in a bad way. In fact, I had always told myself that the top level is not really an end in itself for me. If one day I get the chance to do it, of course, I won't throw it away, because that would be stupid, but it's never been the top level or nothing for me. But certainly, now that I'm starting to participate in some events like this, it makes me want to continue (laughs)."
So, now things are starting to open up, does it make you want to do everything you can to get there or have you kept the same philosophy?
F.B.: "Take it easy, that's my basic principle. Now, obviously, things are moving very quickly. I came back to Clarbec for the first time in August last year. It's just been a year... Then, of course, I was given horses that were ready, and that had never happened to me. Until then I was given horses to train for commercial purposes. So, I've built my experience in that area, too. It is true that today I have amassed experience, because I am already 36 years old and I have been in it for a while. They bring me horses that already know the job, so I'd say it's a godsend. All we have to do now is have fun, really."
Your grandparents were breeders, your uncle is a breeder... Is breeding something that interested you, too?
F.B.: "Not at all... I was never interested. I'm unable to say: "Well, this mare should be put with such-and-such a stallion. It doesn't tell me anything at all. And if she's small, we'll put her with something big. I like to see the little foals, but that's all it is. I think it's long, risky (laughs). It's clear that there must be someone doing it and I think it's very good, but it's not my thing. If one day I have a mare of my own, I'll be happy to let her have some foals, but I'm not going to get into a thing with ten foals for myself. I would never do that. Now breeding, I think you mustn't need to live off it, because it's so long, so expensive... It has to be an asset, you see. If you can do that, so much the better. When I see Elise [editor's note: Mégret], she has a great time. I think it's great, but it's not my thing. I mean, when she says to me, "Shall we go see the foals?" Okay, they're cute, but from there to say: "This one's made like this or that and it's going to..." No, I can't."
To be continued here tomorrow!