Félicie Bertrand: Passion First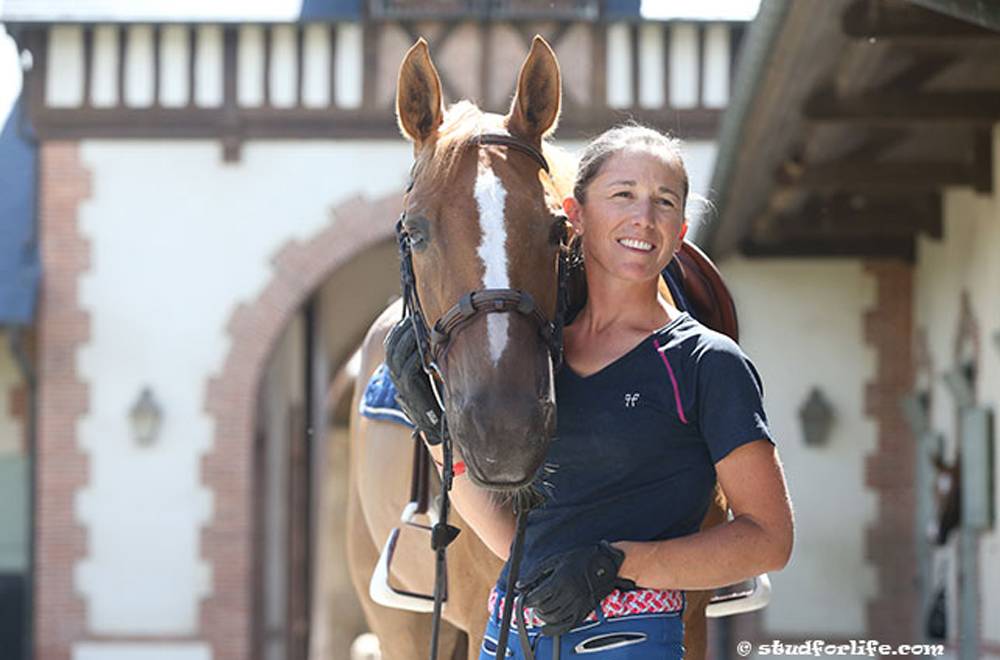 11 September 2018
Félicie Bertrand, a Parisian who has lived in Normandy for many years, is one of the revelations of 2018. Her arrival at the top has coincided with her return to the Clarbec stud farm. Her greatrelationship with the Mégret family's little bomb, Sultane des Ibis, is one of the season's nicest surprises, with the mare performing at a level she had never reached before. Since then, this diminutive woman has also taken over the reins of Nice Stephanie and Chacco Rouge, and participated at Gijon in her first five-star Nations Cup. It's a great time to be meeting Félicie Bertrand.
What were your first experiences with horses?
Félicie Bertrand: "My family, my maternal grandparents who were Royal Feu's breeders and my father who had a big stable, a big owner in the Paris region. I must have been put on horseback when I was 2 ½ years old maybe (laughs). However, they never forced anything. I even think that at one point when they understood I wanted to make it my job, they slowed me down more than they pushed me."
Why? Because it was difficult for them?
F.B.: "Yes, because I think it's a bit of a difficult job and they wanted to see me do something else and keep this more as a hobby than on the professional side."
So, was it about competitions for you from the beginning?
F.B.: "Yes, I have always had this competitive side to me. Then I decided to make it my job, because in fact I always rode with my dad: he taught me to ride, to ride the customers' horses, and he tried to get me one from time to time to compete on. That's how I was able to do some competition, and when I told him that I wanted to make it my job, he said: "Okay, but you do that elsewhere." I was 19 years old when I had my first experience with Miguel Faria Leal for a year. In fact, I passed my BAC first because it was a little bit of a prerequisite. I cheated a bit by saying "I'll pass my BAC and then I'll try, and if it doesn't work out I'll go back to school," knowing very well that studying wasn't for me. After my year with Miguel, I spent a year with Daniel Biancamaria and then, I don't know quite how it happened, I found myself in Normandy. And that what was when I met the Mégret family, for whom I worked for four-and-a-half years... After that, for different reasons, I wanted to do something else, to see something else, to start my own business, and then I started to struggle a little (laughs). I rented some boxes here and there. I had some horses and then, little by little, people started to trust me a little more, people paid me a little more attention. I worked a lot with Jean-Christophe Lecorneur and with the M stud farm at one point. I also have an uncle, Pierre Lecuyer, with whom I work regularly, and for whom I also ride horses. I've had a fairly loyal core of customers for a number of years. And now here I am, living at the Pôle hippique de Deauville for three years. I feel great there, it's cool. I like it there, it's convenient. On the logistics side, I have my boxes and I don't have to take care of anything else. They take care of the floors, the boxes are cleaned once a week... There's really a practical side to being there. In the meantime, I worked for Christian Hermon for three years, which was a good experience. Particularly on the business side, which I didn't really know about. I learned a lot. It was really nice to spend three years there and it was also there that I started to ride Creta La Silla. The Mégret family then bought her when I rode her as a six-year-old, and when they picked her up at home last year, they asked me if I could come back and make her jump and that's how we started to work together again."
To be continued here tomorrow!