Fée de Caryan and Fave d'Authuit, 5-year-old Champions!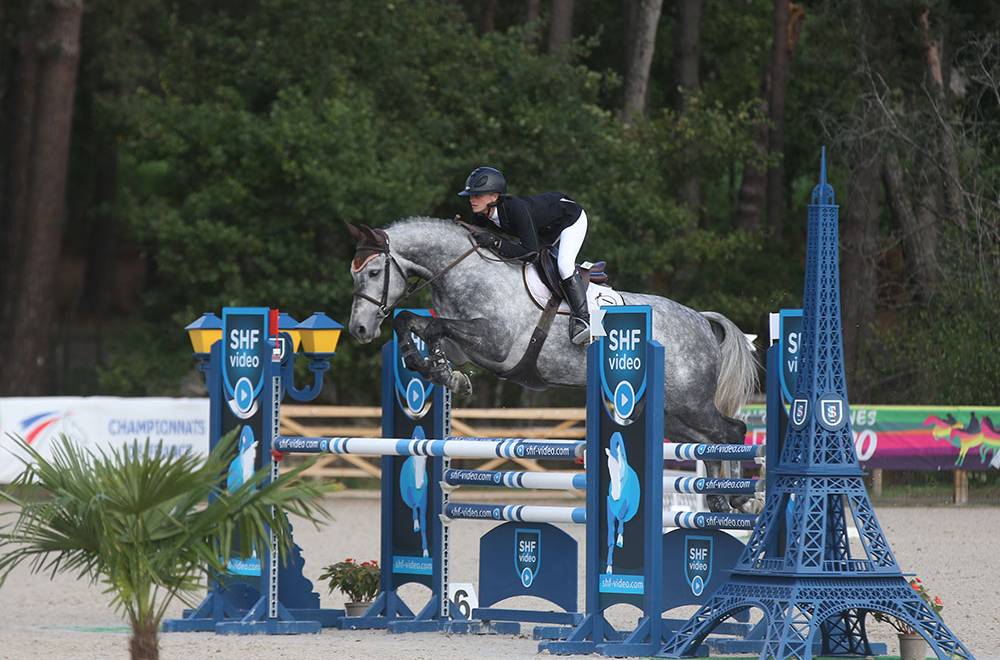 05 October 2020
There was an icy wind and some big clouds, but there were very good horses in the 5-year-old category.
Five elite mares vied for the title, with 5th place going to the very notable Fandi (Cornet Obolensky x Baloubet du Rouet), under the saddle of Clément Mernier.
Enzo Chiarotto took 4th place with Flurry du Ziel (L'Arc de Triomphe x King Size AA), to the pleasure of his breeders and owners who show that by doing things well, even with only one breeding mare, you can also get some very nice results.
Valentin Besnard was everywhere during this Great Week. He could have strived for more... but he nevertheless made it onto the podium thanks to Fantasia de Beaufour (Contendro x Diamant de Sémilly).
Edgar Paillousse and Furioso Raye (Montender x Calvaro) secured a nice second place, while Bruno Rocuet's stables took the victory with Fée de Caryan (Vigo d'Arsouilles x Lamm de Fétan), with her new rider, Alexandre Bosc.
"It's my first Great Week, so starting out by winning a title is a good start. Up until now, I'd never ridden too many young horses, so I'd never had the opportunity to come here. In a rider's life, it's always good to come here and get another title. I'm 22 years old and I ride for Bruno Rocuet. I came to Bruno as a trainee, I left... and came back again. He's a really great trainer of riders as well as young horses, even though he doesn't put any pressure on us. We're lucky that we have some very good horses so that helps us a lot too. I'm not a very emotional person, but I can assure you that I'm really very happy. Fée de Caryan already had plenty of clear rounds as a 4-year-old, and when I arrived at Bruno's at the beginning of the year, he entrusted her to me. We haven't hit a rail all season and we've done it again here. She's a great mare and very easy to ride. It's really nice to ride horses like this," explained the new 5-year-old mares' title winner.
Five elites also competed on the males' category, with exactly the same cross as in the mares securing 5th place, an equally nice Flambusard d'Albain (Cornet Obolensky x Baloubet du Rouet) under the saddle of Alexis Bouillot.
In 4th place after a clean and fluid ride in Régis Bouguenec's final, we find Falcao de Beaufour (Contendro x Allegretto).
Arthur Le Vot paid tribute to Berdenn de Kergane (Quaprice Bois Margot x Flipper d'Elle) who died a few days earlier, by stepping onto the podium with his son, Fancy de Kergane (out of a Cor de Hus dam).
"We acquired a half share of Fancy along with investors during the season, and we now co-own him with his breeder Louis Menier. He's a horse that has showed great ability already with his former rider. He has an extraordinary bascule and suppleness with a lot of strength. He's a stallion that was approved at the age of 3 and we intend to market him. He's an interesting horse, many breeders have told me about him. He's a young horse who has a lot of quality to bring to breeding, with interesting bloodlines and a sire who unfortunately died this week. So we can only hope that he will be in sufficient demand. Our objective would be to keep him for as long as possible," said his rider.
Samuel Lepagneul also put in a magnificent performance taking 2nd place with Figo de Cordrac (Diamant de Sémilly x Epsom Gesmeray).
But in front, Fave d'Authuit (Cornet Obolensky x Kannan) was just untouchable. With impressive ease, the gray didn't miss a thing. A son of Queen d'Authuit, who distinguished herself internationally under the saddle of Hervé Godignon before returning to breeding, the gelding could still count on Faustine Laferrerie who didn't miss anything this Great Week as, in addition to her second place in the 6-year-old mare category yesterday, she also placed 9th in the 5-year-old mare category with Fachoda de Hus (Balou du Rouet). Her riding is always very clean; she's as discreet in her riding as in her everyday life, Axel van Colen's spouse is also one of the revelations of this Great Week.
"It's true that the years follow one after the other and start to look bit alike. I'm lucky to have an extraordinary quality of horses this year and I'm happy that this is happening because the horses deserve to be showcased. I only started this job 5 years ago. I did a Master's degree in business law and then the opportunities and encounters made me start because I had the right conditions to do so. I started with young horses like everyone else. I'm lucky that I have a good system with the Haras d'Authuit. We have a good team and so there was no reason for it to go wrong. Queen was one of the first mares at the stud and after her competitive career, you can see today that she's producing well too. Our only regret with Fave is that we gelded him. He was a bit delicate when he was young... but considering the quality he shows today, we think we'll have to clone him and keep that one entire this time. Our objective is to keep him for sport. In our system, it's Axel who starts riding them at 7 years old. I can't say I don't feel the pressure during these championships. There's a lot of pressure on me and I wanted to do well because the horse deserved to win. I wanted to ride him as well as I could to get him do it. I have confidence in my horse and when I'm on course, I get less stressed as soon as I feel my horses are in tune with me. The pressure didn't affect our performance that much and I'm happy about that," said Faustine Laferrerie.