Fais Toi Belle du Seigneur to go to the Haras de Pléville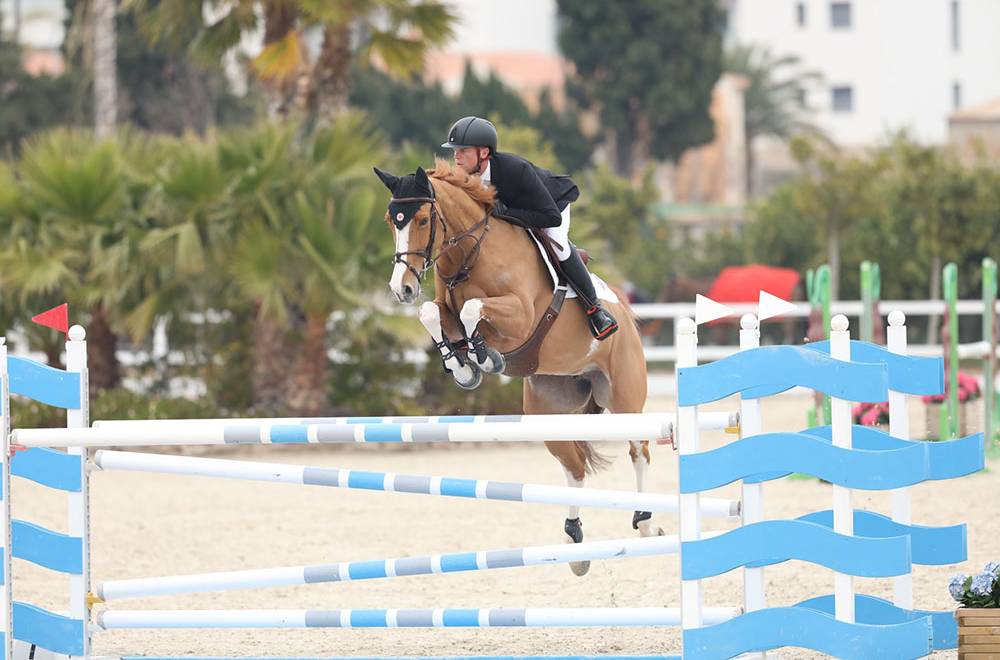 08 December 2020
Last weekend, while Mélanie Cloarec was riding Chidame Z (Chipendale Z), the latest recruit of the Haras de Pléville, her owner Valérie Allix came towards her with a horse in hand. It didn't take her long to recognize the mare she had tried the week before: Fais Toi Belle du Seigneur (Baltik Sitte x Heartbreaker). A nice surprise for the young rider, who within one month was able to renew her Grand Prix ambitions.
Acquired at the age of two by Luc Henry of the Hero breeding farm and Jérôme Guery, she followed the same route as many of the horses with which the duo made progress over the last fifteen years. The Brabant rider gradually brought the chestnut to the top level. At the age of nine, she had integrated his lead string and won two events at the most recent St Tropez CSI4*. No one could have felt indifferent about such a performance, especially since behind her high socks, Fais Toi Belle hides a strong and attractive genetic make-up. With the decision of the Liège breeder to put all his livestock up for sale, this sale became inevitable. Fais toi belle is a maternal half-sister to Oak Grove Americana (former Anabelle Hero) who follows in her dam's footsteps, Verybelle du Seigneur (aka Oak's Grove Heartfelt). She herself performed at the highest level under the saddle of Rolf Goran Bengtsson and Harm Lahde. She has produced no less than six Grand Prix horses in addition to being herself a daughter to the famous Quasibelle du Seigneur, Z sales top price in 2018. She is none other than the dam of many internationals including Arac du Seigneur but also the performer stallion Vivald'Ick (Vivaldi du Seigneur). This is the strain of Ta Belle van Sombeke (Chin Chin Chin) who in addition to a brilliant career under the saddle of Jos Lansink is also the dam of the star horse London (aka Carembar de Muze) as well as Taran de la Pomme, Golden Hawk (former Figo de Muze), Dabelle and many others!
"Valerie gave me a wonderful surprise. We went to try some horses and Chidame was really my favorite but then I really liked Fais Toi Belle too. They are two very different horses but both of them have a lot of quality. This year we sold Umea de Pléville (Casall) and then I decided to retire my mare Ondine de Belmanière (Timorrak des Iles). As a result, within a few months I found myself with only young horses. I love training young horses, I find it rewarding and very promising for the future ... but when you only have horses between four and six years of age and only two seven-year-olds, it's not the same thing. Here with Chidame and Fais Toi Belle, I really hope to be able to compete again at Grand Prix on the Grand National circuit, as well as in two and three star Grand Prix. Obviously to get mares like this is an added pressure but there is always pressure, no matter what happens. I think it's a positive pressure. Obviously I want this to be a good match for all the people who made it possible. I can only thank Valerie for everything she does for me. When I came here, she made me no promises. I was just allowed to ride the horses that were still at the breeding... then, as I went along, Valérie entrusted me with a little more and today, she has offered me such a nice gift. I will do my best to return the trust she has placed in me. I hope that in the future, we will be able to bring some "made in Pléville" offspring again to Grand Prix. That is our objective" explained Mélanie Cloarec.
Photo: Julien Counet