The European Pony Championships and The Winners of the Weekend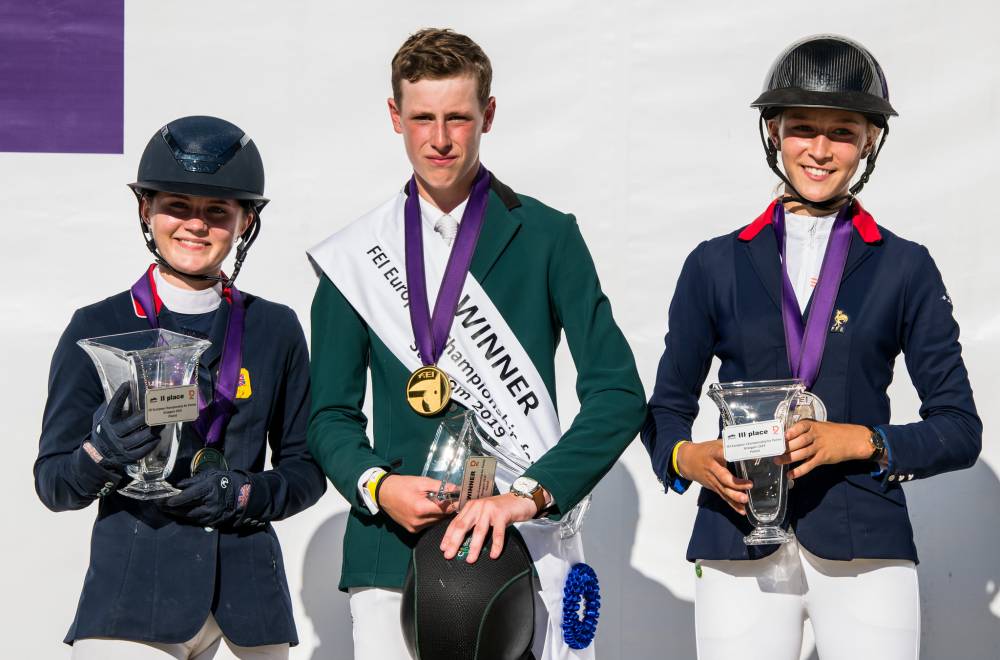 18 August 2019
The European Pony Championships: Gold for Max Wachman
A pupil of Cian O'Connor for the past 2 years, Irish rider Max Wachman, who was the European Reserve Champion in 2018, won brilliantly at the European Pony Championships in Strzegom, Poland. Riding Cuffesgrange Cavalidam (Luidam), the new rider of Atlantic du Seigneur (Schilling) - the former mount of Gudrun Patteet - didn't have the slightest fault at the Championship. Max Wachmann and his compatriots had already won Team Gold two days earlier. In the Irish team, Max's younger brother, Tom Wachman, was riding Ocean des As (Vert et Rouge), who was competing in his 7th European Championships, with 4 medals to his credit already!
In the Individual category, the podium was completed by British rider Holly Truelove with the famous Rexter d'Or (Dexter Leam Pondi) taking the Silver, and French rider Ilona Mezzadri and Callas Rezidal Z (Campione Z) in Bronze. They had to compete in a jump-off to determine the color of their medal.
In the team category, the Irish team were accompanied by the British in Silver and the French in Bronze.
Donaueschingen CSI3*
A double for brothers Lucas and Wilton Porter in the CSI 3* Grand Prix in Donaueschingen. The two young Americans, pupils of Jeroen Dubbeldam, turned in top performances with C Hunter (Cassini II) and Caletto Caban (San Patrignano Cassini). 3rd place went to Brazilian rider Francisco José Mesquita Musa on Catch Me Imperio Egipcio (Contagio). Next to come were a trio of German riders with Hans-Dieter Dreher in 4th with Prinz 1293 (Perigueux), Felix Hassmann in 5th with Cayenne WZ (Claudio), and Holger Hetzel in 6th with Legioner 2 (Limbus). Great success for the Dubbeldam clan as Jeroen's partner, Annelies Vorsselmans was also 7th with Wilandro 3 (Unistar).
Longines Deauville Classic
In the Longines Deauville Classic CSI 3* Grand Prix, the American anthem was played thanks to Margie Goldstein-Engle and Dicas (Diarado). The US rider came in ahead of Jérôme Hurel on As de Mai (Apache d'Adriers), and Celine Schoonbroodt-de Azevedo on Cheppetta (Chepetto). 7th went to Briton Tiffany Foster, who led the lap of honor in the first big event on the Thursday.
Arnas Champburcy CSI 2*
Frenchman Romain Lavigne was the fastest of the double clear rounds in the Arnas Champburcy CSI 2* Grand Prix, teaming up with Pharaon Belle Menée (Trésor du Renom) to win. 2nd place went to Cyril Bouvard and Victoria d'Argent (Nabab de Rêve), who were 6th in the Megève GP a few weeks ago. The top three was completed by British rider Julie Andrews on Ayrton IV (Cantos), she was faster, but was penalized by 4 faults.
Wiener Neustadt CSI 2*
Pius Schwizer won the CSI 2* Grand Prix of Wiener Neustadt with Lamborghini 91 (Lord Pezi), ahead of two German riders: Manfred Schied who was 2nd with Chesmu KJ (Cornet Obolensky), and Jörne Sprehe on Bankimoon (Burberry).
Lier CSI 2*
Bernardo Alves won the CSI 2* Grand Prix in Lier with El Torreo de Muze (Taran de la Pomme). The Brazilian, who has competed in two Olympiads and three World Championships, put in another great performance with the stallion who he has been riding since 2017. Bruno Selva took second place with Vif de la Fontaine (Dollar du Murier), and Juan Carlos Perez Sendi took third with Jaloubet van de Oosthoeve (Berlin).
Millstreet CSI 2*
The Millstreet CSI 2* Grand Prix was contested by a large contingent of Irish riders, and it was one of them, Kenneth Graham, who won with George (Touchdown), ahead of his compatriots Kevin Gallagher riding Ballypatrick Flamenco (Je T'aime Flamenco), and Harry Marshall riding Flambeau (Carambole).
In addition to the Young Horse Championships in Great Britain, a CSI 2* was held at Bolesworth, north of Liverpool. In the Grand Prix, Annabel Shields won with Creevagh Carisma (Camiro de Haar Z). 2nd place went to Anthony Condon, the Irish rider for Arko's owners - who still live at their stables not far from Liverpool - and who also rides Aristio (Arko) in the Nations Cup. Anthony Condon rode a Zurich son, Zira vh Kapelhof Z in this Grand Prix. Louise Simpson finished third on Jenson 55 (Verdi TN).
Photo: © FEI/Łukasz Kowalski