"Eric Lamaze is an incredible mentor." - Kara Chad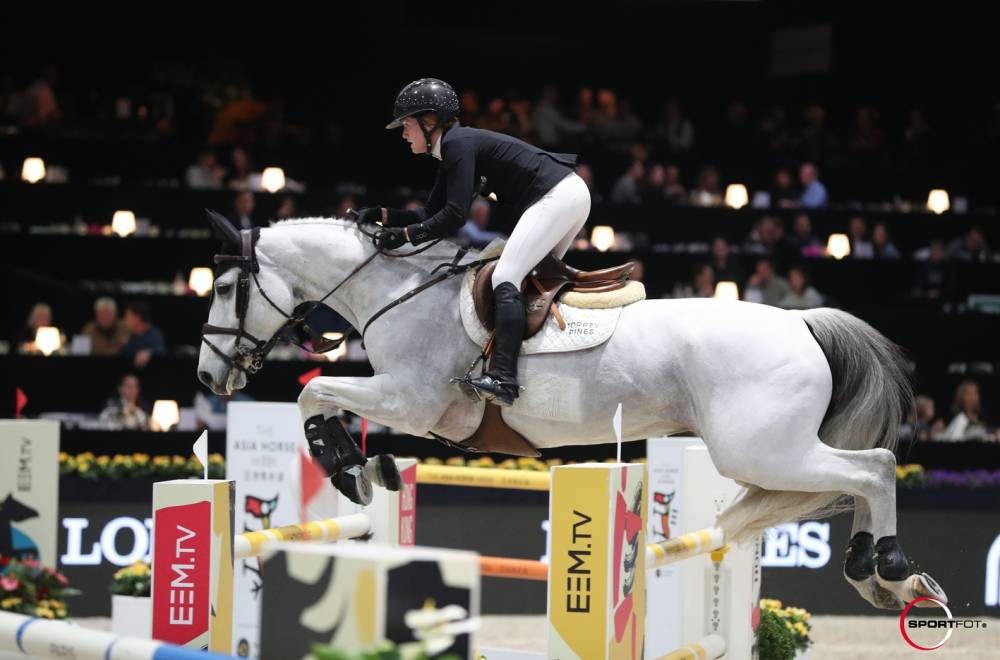 08 July 2019
At twenty-three years old, Kara Chad has already had the chance to compete in many of the beautiful arenas of the world. Coached by Eric Lamaze, the young Canadian rider, a member of the team at the last World Equestrian Games, was also a reserve rider at the Rio Olympic Games at just twenty years old. Meet this sparkling young woman full of ambition.
TELL US ABOUT YOUR BEGINNINGS.
"I started riding because my parents enrolled me in a pony club, like many people, simply as a hobby. I played a lot of sport when I was younger, including tennis, and then there came a time when I had to make a decision and I preferred horses to the tennis racket! I lived in Canada, and Spruce Meadows is actually in my hometown, so I grew up watching this competition which was a real inspiration to me.
In North America, the so-called equitation and hunter-jumper classes are quite popular among young people. It provides a very good foundation: you learn technique, to be precise, to have a good position... It's an excellent way to progress. I started in those disciplines, then I turned to show jumping and did the Young Riders events before I got to the higher-level sport."
HOW DID YOU MEET ERIC LAMAZE?
"Being Canadian obviously helps (laughs)! He has always been my idol. He is not only an incredible rider, but also a great person and I grew up watching him ride. As I grew up, I had many opportunities to meet him and get to know him at competitions. Things then happened naturally. I started working for him about three years ago; it's been a great experience. He's an incredible mentor; I'm very lucky to work with him."
HOW DID YOU MANAGE RIDING AND STUDYING AT THE SAME TIME?
"During middle school, high school and university I did both and there was clearly a balance to be found. You have to make some sacrifices, especially in your social life, but the horses are worth it. We're lucky to be part of this special world. Once I started working for Eric, I put university aside after two years of graduate school to pursue riding 100%, because that's what I want to do."
DO YOUR PARENTS SUPPORT YOU AND YOUR SPORT?
"My parents are very supportive and have been behind me since I started, and still are! They watch me in the live competitions that are broadcast online and always ask me how I'm doing. They're really involved!"
YOU MOVED TO EUROPE FOR SPORT, WAS IT A DIFICULT DECISION?
"I grew up travelling and therefore I was often away from my family and friends. Moving to Europe seemed like a natural thing to do. Eric is based in Belgium and the top level of sport is really in Europe, so you have to be here to progress and do things properly, and I'm very happy about that."
CAN YOU TELL US ABOUT CARONA, YOUR LEADING MARE?
"Carona is great, I've been riding her for about two years and she's still owned by Eric. We've both progressed because she was a bit slower than the other horses. I did my first 1.40m event with her and then our first 1.45m until we became a real combination. I'm very lucky to be able to ride her and she amazes us in everything she does! Her first 5* Grand Prix was at the beginning of 2018 and she hasn't stopped impressing us since. She's an incredible animal, she does everything we ask her to do, is so athletic, so sweet, she has the biggest heart and wants to do everything she can for me! We knew she was special but to see such a progression in just one year... She took me to the Worlds in Tryon, the Masters in Spruce Meadows, the Nations Cup Final in Barcelona, and all those big competitions... I have a lot to thank her for."
YOU ALSO HAVE ANOTHER VERY GOOD MARE, VIVA.
"Viva also belongs to Eric and is 10 years old. She comes from Poland, and just like Carona, we have progressed well together. She's a real speed mare, she's very hot-blooded, very competitive. I think it's important for a rider to have a horse like that in their string to do those events that are a wee bit smaller. She's a great second horse for all these big competitions."
YOU'RE A SPRUCE MEADOWS REGULAR, AREN'T YOU?
"Spruce Meadows is by far my favorite competition, although I may be a little biased because it's my home also. Being able to ride at home is incredible. The organizers are doing something huge with the Masters and the Rolex Grand Slam in September, it's really high-level sport. All my friends and family come so it's always very special."
CAN YOU TELL US MORE ABOUT YOUR EXPERIENCE IN RIO AND TRYON?
"I owe a lot to Eric: he gave me so many opportunities. He allowed me to grow up in the sport and I was able to attend big competitions at a very young age thanks to him. To have this experience at my age is great and very precious. At the Rio Olympic Games, I was a reserve rider with Belinda and to be able to go there, to see my team compete without necessarily having to participate, to understand the format and the pressure: the stakes. It was crazy. You can't prepare at home for that, you have to be there to understand it and I think it was very useful for me when I was at the World Equestrian Games two years later. I already knew a little bit about how this kind of championship worked; how to prepare yourself and your horse and I was very lucky to have had the experience of Rio going into that.
The team events are different, and I love them; that's what I prefer! You "truly" ride for your country alongside people you've ridden with all your life. The mentality is different because you pay attention to your teammates and focus on that team result. It's extremely important and I love it! I have great teammates who are very good riders and have taken care of me. They cheered me up when I wasn't doing well and I hope that one day I can repay them."
YOU OFTEN WENT TO PARIS FOR THE LONGINES MASTERS. WHAT DO YOU THINK OF THIS CIRCUIT?
"The competitions become real shows, like the Longines Masters for example: it's elegant, spectacular. It's really fantastic and to be able to get horses jump in an atmosphere like that is incredible. Christophe Ameeuw does a great job with these competitions and to do that for ten years with such success is remarkable. The Longines Masters events are always one of the favorite competitions for riders and grooms; really for everyone."
Interview by Marie-Juliette MICHEL. Featured photo: © Sportfot.com