Elektra du Val Henry & Elios de la Lie in the 6YO category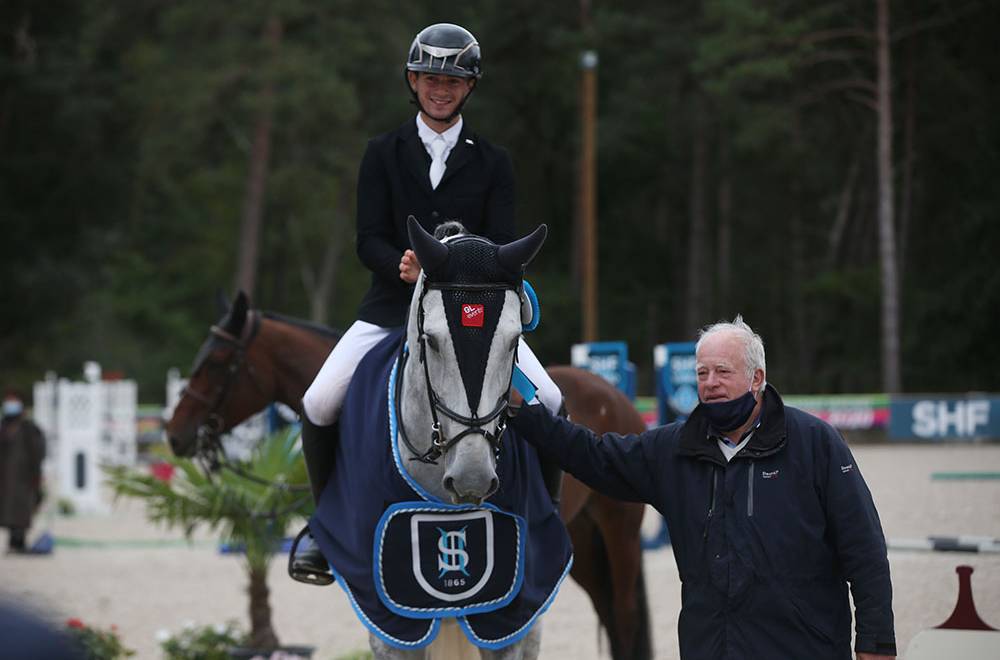 06 October 2020
Fontainebleau wasn't spared the heavy rainfalls these last few days which sometimes even drowned the alleyways. In fact, the organizers had decided at the beginning of the week to reorganize the entire week's program to do without the mythical Grand Parquet. A wise decision because the Grand Parquet would not have been able to handle the quantity of water that fell, while the quality of the new sand base of the small parquet floor was much better suited to the weather conditions.
Adrien Trouiller won the still controversial "other studbooks" category with the Holsteiner Curacao Island (Casalito x Quidam de Revel). A category that is supposed to include "foreign" horses but where we also find many horses that are born in France but registered in Zangersheide... or of "Proven Origin", as happened with the winner of the category last year which has now become... a Selle Français... which is still as efficient as ever! Europe d'Authuit (Kannan x L'arc de Triomphe) took second place this time in the Selle Français' mare's category with Faustine Laferrerie.
In front, Jérôme Hurel was unshakeable with Elektra du Val Henry (President x Diamant de Sémilly). In the lead before the final, he didn't waver and won himself a new French Champion title.
"She's a mare that arrived in my stables in the winter of her 4 to 5-year-old year. My rider rode her last year as a finalist, then she went back to her owners to enjoy a little rest and I picked her up at the beginning of the year. I rode her myself this season. I have a very good feeling about her and I think she's really a mare for the future. She's only done 11 courses this year, but she's been clear almost every time, and then I took her out once jumping here and doing some 1.30-1.35m events. I may have been pigeonholed as a rider who prefers horses with great action and big ability... but people forget that for my debut at the top level, I rode Kho de Presle, who was a very sporty mare. I think I can ride everything, big and small... I like it when they're good! This one is not especially for sale, we're going to give her some time", said Jérôme Hurel.
Victor Laudet also had a double clear round also and managed to reach the podium with Etadam du Breche (Ustinov x Nabab de Rêve) by making a nice comeback in the rankings, as did Benoit Mariller on Elfira des Salines (Kannan x Calvaro), who placed 4th.
The last Elite mention went to Paul Delforge on Energika des Neyes (Quick Star x Totoche du Banney).
Parity was also respected in the males with 5 Elite mentions... but there was a lot more suspense and surprises than in the mare's category.
The two favorites totally stepped aside. Marc Dilasser hit a rail at the beginning of his round at the entry to the combination with Eureka de Joan (Air jordan x Mr Blue), while the big favorite, Valentin Besnard, rectified his approach at the first, but extinguished Eiffel de Hus' (Con Air x Argentinus) chance when he had a stop, losing all hope of victory to end up in an anonymous 14th place.
It was an unexpected outcome that delighted the young Antoine Ermann, who won the title in the male category with his homebred Elios de la Lie (Air Jordan x Mr Blue), even though it was his very first time participating in Great Week.
"Elios is the first foal from his dam, who was a small mare. So I decided to use Air Jordan to give him a bit of type and height... but I didn't think I'd make such a big deal out of that even though the cross has obviously been successful. The dam has several foals on the ground now that are also of good quality. A friend of mine had her but she injured herself and he told me that it would be a pleasure for him to not see her in the arena again… just when I wanted to get started. I bought her without seeing her. Her half-sister, Funny de la Lie (Jarnac), is very different in terms of type. The dam rather stamps them with her temperament and this way of doing the job with respect but without being too demonstrative. My son wanted to do Fontainebleau with the young horses to perfect his rider training, so we left with our three qualified horses without any pressure on us. I'm very happy with this title, I didn't believe it at first... but I think that the boy still has some surprises in store for us", says Jean Yves Ermann, a very proud breeder... of horses and rider!
"I tried to stay focused in my bubble and to repeat what we did in the first run. My horse was great and he went even better in the second round. Afterwards, it's a bit sad to say... but I waited and watched. I have to spare a thought for the rider who started in last position and who had to deal with a stop at the first fence before going clear the whole rest of the round! That's the way it is, that's the sport and that's what makes us so happy today: my father, myself and all those around us. Until now, I was at school and so, even though I've been riding young horses, I couldn't take part in Great Week. I passed my baccalaureate last year before settling down with my father who already had a good set-up as a rider. I could have gone abroad; I think it would have been nice... but it's not too late. For the moment, everything is fine as it is and it's even more wonderful with the horses we've bred," explains young Antoine Ermann.
There was a lot of movement on the podium with the impressive Execo Camara (Ucello Massuere x Voltaire) securing second place under Jeremy Le Roy's saddle, ahead of Enarque Dam (Brekka Labrador x Richebourg) under Alexandra Hinard's saddle. Two Selle Français stallions who have performed at a high level but haven't aroused much interest from breeders despite their very interesting progeny, while we find in these Great Week rankings have more European bloodlines than ever as well as many well-bred Selle Français horses... obviously that's one more reason to end this "other studbooks" category.
Eiffel du Baccon (L'Arc de Triomphe x Allegreto) took 4th place and was labelled Elite with Laura Rayjasse, just like the magnificent jumping stallion, Eclat du Cerisier (Kannan x Loyalty du Cerisier).