The Ekestrian Elite September Auction is open!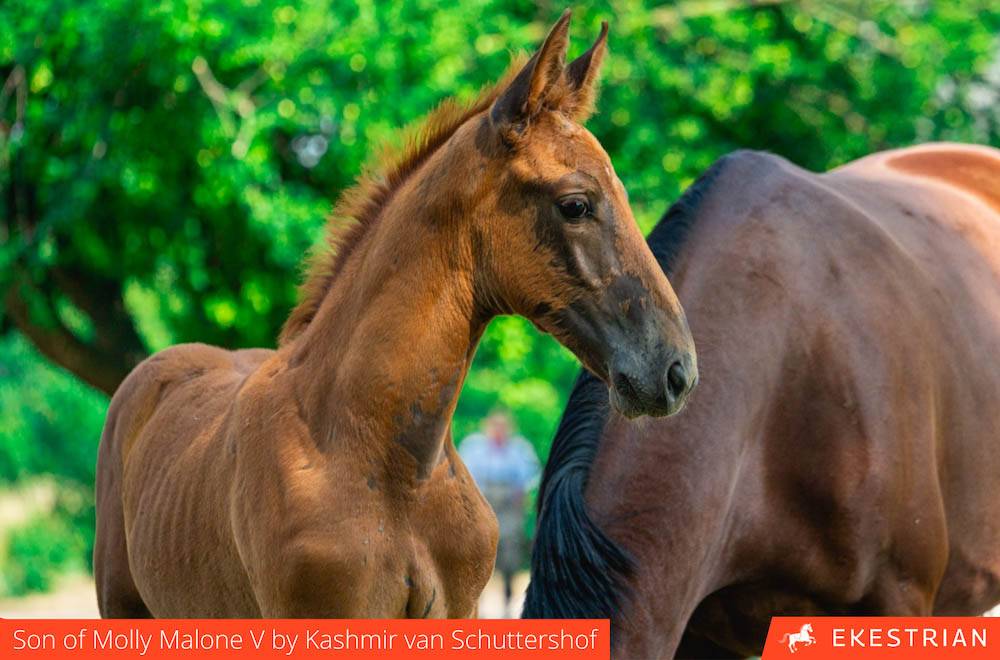 14 September 2021
The auction is on! New champions are waiting for you for the next Elite Ekestrian Showjumping Auction on 14 & 15 September.
The auction takes place 100% online and will close lot by lot, minute by minute tomorrow, Wednesday 15 September at 9pm (Paris time).
Access the catalogue here: https://bit.ly/3hpVn0U
Discover now the new exceptional lots including an exceptional colt, son of Molly Malone by Kashmir van Schuttershof!
Lot 32 - Foal to be born - Brother/sister of Dustin and Big Brother CSI5* 1.60m! I'm Special de Muze out of the sister of 2 performers 1.60m*!
Lot 33 - Foal to be born - For Pleasure x Diamant de Sémilly out of Emerald's full sister! Also full sister of Diamanthina winner CSI 1.60m and L'Innocence ranked CSI 1.50m, and sister of Ilusionata van't Meulenhof 3rd in CSI5* 1.60m
Lot 34 - Frozen embryo - Baloubet du Rouet x Carthago Z x Quidam de Revel out of Priscilla di Valmarina CSI 1.45m*, dam of Vanessa di Valmarina 1.40m*, Damline of Ma Pomme, and many performers 1.50m-1.60m including Fuego du Prelet 1.60m with Dirk Demmersman
Lot 35 - Colt - Son of the amazing Molly Malone out of the fantastic Molly Malone V, winner in Grand Prix CSI5* and CSIO5* 1.60m with Bertram Allen, by Kashmir van Schuttershof! https://youtu.be/phT6DIG9oys
Don't miss the female foal to be born by Carthago Z x Vigo d'Arsouilles x For Pleasure, direct damline of Usha van't Roosakker! Dam winner in CSI 6yo in 2021, niece of Isaac vd Bisschop CSI 1.60m and Jackson vd Bisschop clear in CSI 1.55m and another female foal to be born, niece of Levis de Muze, Riesenbeck 2021' star, by Cumano x Nabab de Rêve out of Narcotique de Muze II's direct damline, out of Kentucky Gold de Muze, dam of Diamante 1.45m* and winner in CSIYH 1.35m, sister of 4 perfomers 1.50m-1.60m!
As for broodmares, 2 are for auction including a broodmare in foal, aunt of Embassy II, winner in CSI5* and CSIO5* 1.60m with Hans Dieter Dreher! Already dam of Lyndon CSI 1.40m and approved stallion, and of 2 winners 1.35m, and sister of 2 performers 1.60m*! https://youtu.be/5QvIDMO9xaA
Don't forget to create your account and/or update your details on the website to be able to access the catalogue and bid during the auction: https://bit.ly/3hsQ8gU
For more information and price estimates, please contact the Ekestrian team at +33.7.86.32.75.17 or [email protected]