Ekestrian Elite & No-Reserve Auction is open! Exceptional 3 years old male not to be missed!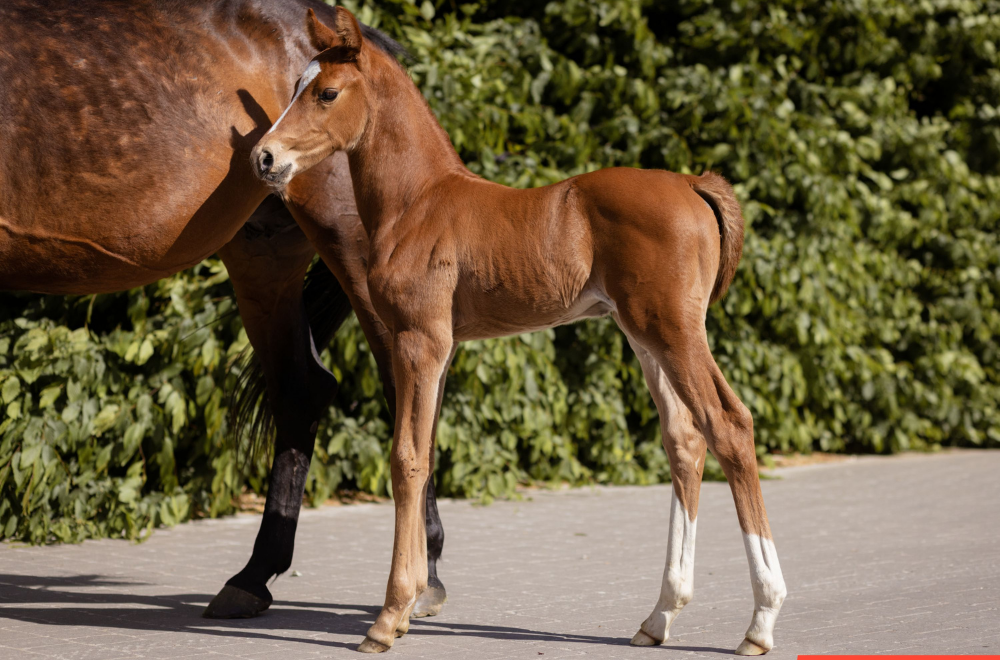 24 May 2022
Bid now on the 39 exceptional lots presented by Ekestrian!
The auction is NOW LIVE! New champions are waiting for you for the next Ekestrian Elite Jumping Auction on May 24 & 25. The auction is 100% online and closes lot by lot, minute by minute tomorrow, Wednesday, May 25th at 9pm (Paris time).
Access the catalog here.
3 years old male by CasagoLot 19 - STALLION PROSPECT! 3 years old male by Casago out of the sister of Cracky Z, CSI 1.60m, and Botero de Hus, 1.55m! Damline of Robin I and II Z and many 1.60m performers!
- Lot 1 - Filly born on May 20, 2022 - Daughter of the exceptional Funky Music, CSI 1.60m and dam of CSI 1.60m performers El Torreo de Muze and Bretling du Paradis Z! By the Zangersheide prodigy, Dominator 2000 Z
- Lot 22 - 6 years old female, clear in YH! Président x Parco x Diamant de Sémilly, out of Octavia de Beaufour, clear in CSI 1.50m
- Lot 4 - To be born in 2022 - 48h Live Foal Guarantee - Brother/sister to Deuxcatsix d'Eglefin, 2nd in Grand Prix 1.50m at 8 and CSI5* with B. Cernin at 9! By Quel Homme de Hus with a performing dam in Grand Prix 1.35m, 2nd performing dam 1.45m
- Lot 3 - Female to be born in 2022 - Full sister of Scuderia 1918 Tobago Z! Also sister of HH Donnatella ranked in CSI 1.60m and Beijing Z CSI 1.50m! By Tangelo vd Zuuthoeve with Whoopie C, 1.60m and sister of Aga-Khan-C 1.60m!
- Lot 2 - To be born in 2023 - Rare damline of Ta Belle van Sombeke! Chacco Blue x Fa Belle van't Roosakker, ranked in CSI4* 1.50m, dam of Kendy Belle CSI 1.45m with M. Fuchs & only sister of VDL Groep Eureka CSI5* 1.60m with M. van der Vleuten! Damline of Mumbai
- Lot 8 - Foal male, nephew of Aganix du Seigneur & Arsouille du Seigneur ! Brother of two approved stallions including Hellix du Seigneur 1.45m, by Romeo 88, 4th of the World Cup Final with H. Charles, with the sister of Aganix du Seigneur 1.60m, Arsouille du Seigneur 1.60m
- Lot 18 - Filly, sister of Daedalus van T&L CSI 1.60m and Its Lotto 111 ranked in World Cup 1.40m-1.60m, by Emerald x Heartbreaker, with the full sister of Souvenir vd Heffinck CSI 1.60m, also sister of 3 performers in CSI 1.50m to 1.60m
Don't forget to create your account and/or to update your details on the website to be able to access the catalog and bid during the auction.
For more information and price estimates, please contact the Ekestrian team at +33.7.86.32.75.17 or [email protected].