Ekestrian Elite Ekestrian Showjumping Auction catalog available now! May 24th and 25th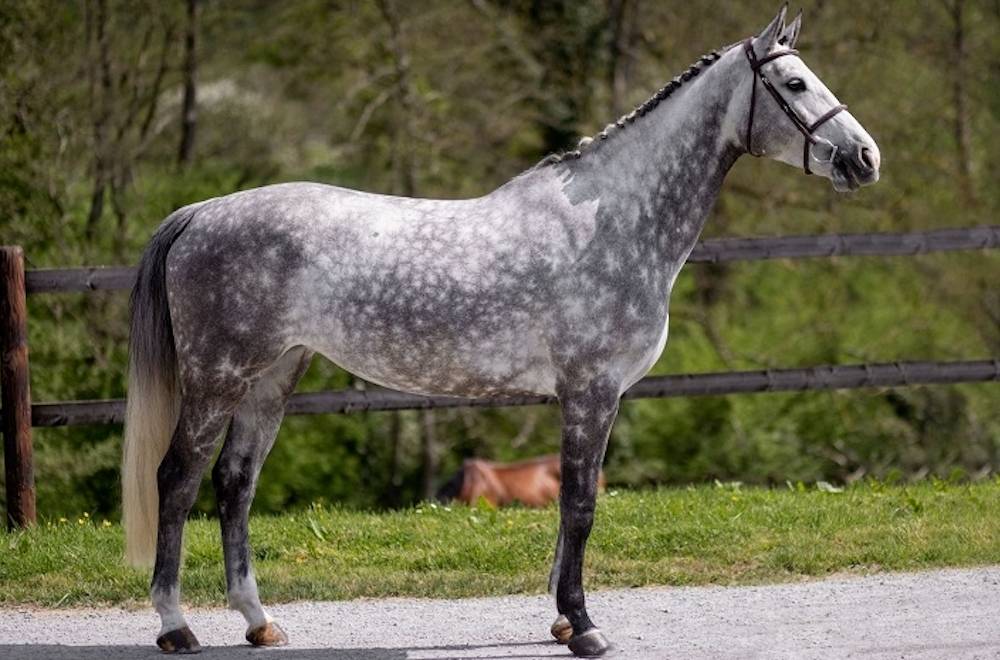 19 May 2022
39 lots, 10 of which are presented with no-reserve price: 11 females, including a 6-year-old female by Président, a full sister to Tobago Z, 7 foals to be born in 2022 and 2023, 16 frozen embryos, 11 foals, 4 young horses from 3 to 6 years old, and 1 broodmare.
Discover the best European bloodlines:
- Usha van't Roosakker, Fragance de Chalus, Ta Belle van Sombeke, Qerly Chin, Funky Music, Fein Cera associated with the star stallions Chacco Blue, Emerald, Darco, Cornet Obolensky, Quel Homme de Hus, Baloubet du Rouet, Aganix du Seigneur, Pegase van't Ruytershof, Tangelo vd Zuuthoeve and many more.
Catalog overview:
- Foal Male - Nephew of Aganix du Seigneur & Arsouille du Seigneur! Brother of two approved stallions including Hellix du Seigneur 1.45m, by Romeo 88, 4th of the World Cup Final with H. Charles, with the sister of Aganix du Seigneur 1.60m, Arsouille du Seigneur 1.60m
- Foal to be born in 2022 - Full sister to Scuderia 1918 Tobago Z ! Also sister to HH Donnatella ranked in CSI 1.60m and Beijing Z CSI 1.50m! By Tangelo vd Zuuthoeve with Whoopie C, 1.60m and sister to Aga-Khan-C 1.60m, line of performers!
- Filly - Sister to Daedalus van T&L CSI 1.60m and Its Lotto 111 ranked World Cup 1.40m-1.60m, by Emerald x Heartbreaker, with the full sister to Souvenir vd Heffinck CSI 1.60m, also sister to 3 performers CSI 1.50m-1.60m
- To be born in 2023 - Rare damline of Ta Belle van Sombeke! Chacco Blue x Fa Belle van't Roosakker, ranked in CSI4* 1.50m, dam of Kendy Belle CSI 1.45m with M. Fuchs & only sister of VDL Groep Eureka CSI5* 1.60m with M. van der Vleuten! Damline of Mumbai, 4th
- To be born in 2022 - Son/daughter of the exceptional Funky Music, CSI 1.60m and dam of CSI 1.60m performers El Torreo de Muze and Bretling du Paradis Z! By the Zangersheide prodigy, Dominator 2000 Z
- Frozen embryo - Crack Balou with Cocoshynsky, winner in CSIO5* 1.60m with Emanuele Gaudiano! Sister to Lishynsky Grand Prix 1.50m-1.60m
- Foal Male - Rare grandson of Usha van't Roosakker! Brother of Athena aka Femken van't Roosakker CSI 1.60m, by Aganix du Seigneur and Britt van't Roosakker CSI 1.45m
- Frozen embryo - Full brother/sister to H&M Chacco Dia, CSI5* 1.60m and clear CSIO5* 1.55m with Malin Baryard-Johnsson in 2021! By Diarado x Chacco Blue x Baloubet du Rouet with the sister of Casper 2nd in CSI5* 1.60m, JEM de Tryon and Cabanus Grand Prix CSI 1.55m
And many others, to discover here.
The auction will take place 100% online, starting on Tuesday 24th, May at 11am (French time) and will close lot by lot, minute by minute on Wednesday 25th, May at 9pm (French time).
Don't forget to create your account and/or update your details on the website to be able to access the catalog and bid during the auction.
Information and price estimates from the Ekestrian team at +33.6.86.49.60.06 or at [email protected].