The Ekestrian 3-in-1 Showjumping and Dressage Auction is open, your next champion is just a click away!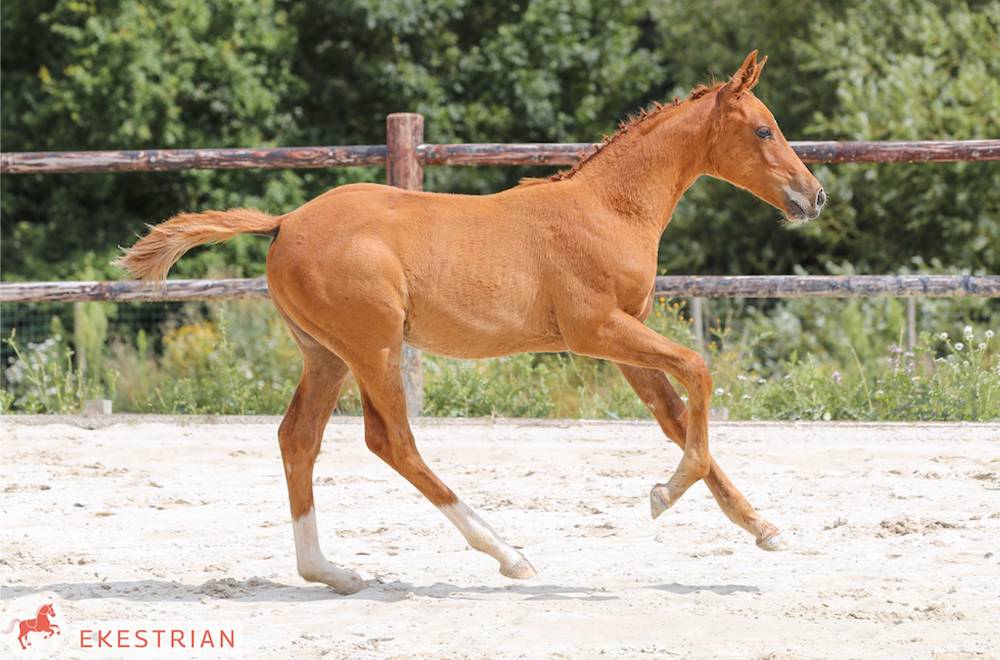 24 August 2021
The Ekestrian 3-in-1 Jumping and Dressage auction is online and will close lot by lot, minute by minute tomorrow, Wednesday 25 August at 9pm (Paris time).
3 auction are waiting for you on Ekestrian.com:
- The Elite Showjumping Auction, featuring foals, foals to be born in 2022, broodmares, young horses and frozen embryos from exceptional damlines such as Molly Malone V, Baby Fee des Hazalles, Kashmir van't Schuttershof, combined with the most renowned stallions, such as Chacco Blue, Quick Star, Cornet Obolensky, Diamant de Sémilly, Comme Il Faut, and many more.
- The Ekestrian Summer Sale, bid on your next champion at the best quality/price ratio, the lots being available with NO RESERVE PRICE (the first bid will be a winner if not exceeded).
- The Elite Dressage Auction, which includes foals selected for their elegance, their gaits and their genetics for the great sport and breeding.
Access the 3 catalogues here: https://bit.ly/2XUAnIN
Overview of the Elite Showjumping catalogue:
- Foal to be born - Chacco Blue x Baby Fee des Hazalles, CSI 1.50m with Grégory Wathelet, full sister of Venue d'Fee des Hazalles winner of CSIO5* 1.60m and ranked in Grand Prix with Eve Jobs, also daughter of Reine-Fee des Hazalles, 2nd in Grand Prix 1.60m
- Foal to be born Male - Your next Don VHP! Diamant de Semilly x Zora VHP, CSI 1.50m and sister to Harrie Smolders' European Vice-champion and winner, Don VHP!
- Frozen embryo - Rare direct bloodline of Quasibelle du Seigneur and Ta Belle van Sombeke! Tokyo medalist Quel Homme de Hus, with Cibelle du Seigneur CSI 1.45m, dam of 3 approved stallions, sister of 3 performers 1.50m to 1.60m and daughter of Oak Grove's Heartfelt!
- Filly - Unique daughter of Lima de Muze, clear in Grand Prix CSI 1.45m with Julien Épaillard, sister of 8 performers 1.45m to 1.60m also granddaughter of Narcotique de Muze II!
And let's not forget the Summer Sale catalogue novelties :
- Damline of Quabri de l'Isle and Fleur de L'Isle CSI 1.60m ! Mylord Carthago with a winning dam Top 7 1.35m in 2021, also sister to Violette de Launay Grand Prix CSI 1.45m and Best de Launay GP 1.40m-1.45m
- Direct bloodline of Ifrane X ! The vice world champion Orient Express with the niece of Peps de Chalusse CSI 1.55m and Obscur de Chalusse CSI 1.45m, damline of Fragance de Chalus, Morgat JO de Séoul with Hubert Bourdy, Lord If de Chalusse 1.60m with Cassio Rivetti:
The Dressage catalogue awaits you with exceptional bloodlines; foal by Bonds x Fürst Romancier, filly by Bon Coeur x Florestan, filly by Total McLaren x Sandro Hit and many more!
The auction is 100% online and with no reserve price for the Summer Sale only, it will close lot by lot, minute by minute tomorrow, Wednesday 25th August at 9pm (French time).
Don't forget to create your account and/or update your details on the website to access the catalogue and bid on the auction: https://bit.ly/3zbU6Br
Information and price estimates from the Ekestrian team at +33.7.86.32.75.17 or [email protected].