Einstein de Hus is moving to Quentin Judge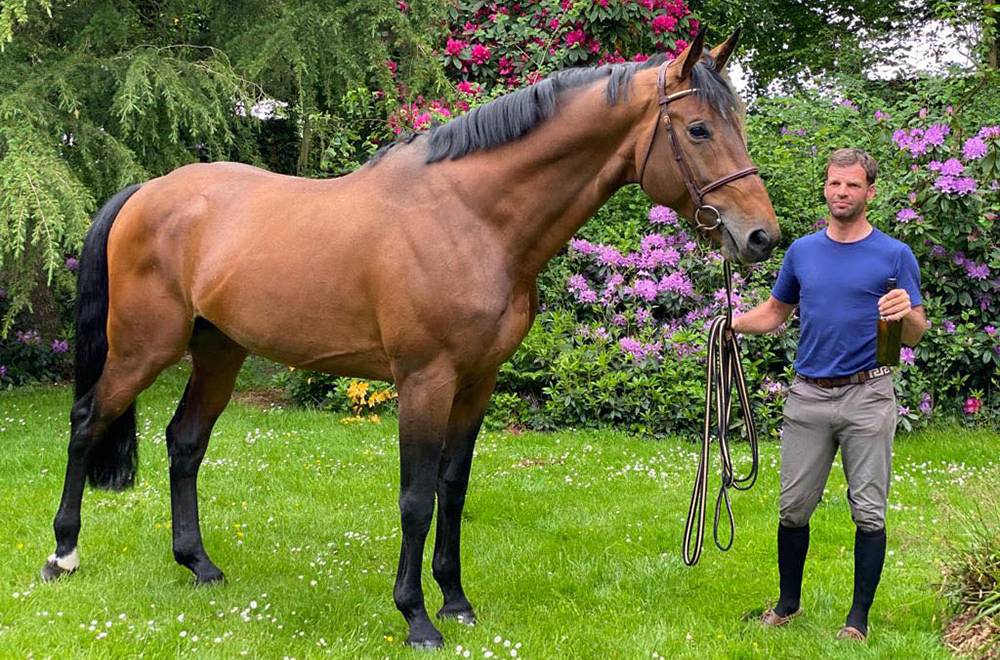 14 June 2021
The 7-year-old Selle Français stallion Einstein de Hus (Baloubet du Rouet x Diamant de Sémilly x Quito de Baussy) will now be ridden by Quentin Judge, on the advice of Ludo Philippaerts. Having been acquired at 18 months old by Raynal Gras, he grew up at the Élevage du Thot where he started his career under the saddle of Florian Noel, before joining the stables of Grégoire Hercelin in the October of his 5th year, who has perfected his preparation until today.
"The objective with Einstein was not to market him but to train him for the son of her owner, Clément Gras. We did very few competitions with him but a lot of training because he was a very big, late maturing horse with extraordinary ability. Lately, we have received many offers for him and in the end, we had to decide what to do. As we have been working with Ludo Philippaerts for some time and we have a good relationship with him, I gave him the opportunity to try the horse. He immediately told me that he thought he was a real championship horse!" explained Grégoire Hercelin, adding "I am a rider that trains horses. I have been lucky enough to ride some very good horses, but they have often been sold on. Obviously, I hope to one day be able to take them a little further, but I think that the sale of horses of this caliber will help me to have a financial base that will allow me to do so."
Despite his return to the saddle in the last few months, Ludo Philippaerts is still a great horse dealer: "We are always looking for good horses, whether it's for my children, myself or clients. We have bought a lot of horses lately, but I think that Einstein will really allow Quentin Judge to jump in some very nice classes. As for me, I'm having a lot of fun riding horses right now. I jumped the 3* Grand Prix in Cabourg last weekend and now I'm going to ride in Knokke for three weeks. The objective is obviously to train horses for my children... but if I have the opportunity to ride at the high level again, why not... never say never..."
In breeding, a solid strain holds few surprises. Einstein de Hus is a son of Quindy de Kreisker. This daughter of the former French 7-year-old Champion Jumpy de Kreisker is a full sister to the international performers Quito de Kerglenn, Quandice de Klerglenn, Shanna de Kerglenn and Quaresse de Kreisker. Their dam, Jumpy de Kreisker was also a maternal half-sister to the stallion Fakir de Kreisker as well as to the performers Kirfa and Once de Kreisker.