Egypt wins in Rabat and scores their Olympic place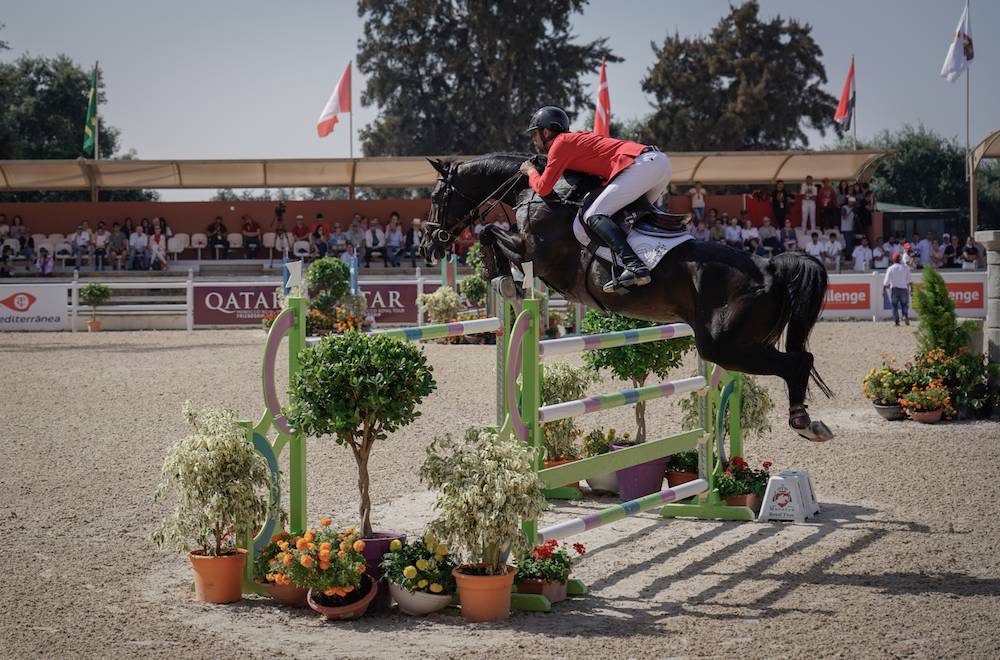 14 October 2019
Egypt has been waiting 60 years to line up a team for the Olympic Games and will do so in Tokyo next year thanks to the bravery of Mohamed Taher Zeyada, Nayel Nassar, Abdel Saïd and Sameh El Dahan. Obviously on paper, this team was the most experienced, with several riders regularly riding (and winning) on the 5* circuit. Yet, as all four of them admitted, the pressure involved in the Olympic qualification challenge was huge. "We wanted to qualify so much, it was such a big dream for us, that we had never felt so much pressure," said the four riders, supported by Rob Hoekstra, a former British team manager.
Under a blazing sun, the CSIO4* Nations Cup in Rabat kept all of its promises. Of course, the Olympic ticket that was being fought over by 6 nations kept riders and spectators in suspense. Alan Wade knows how to prepare a subtle course, where mistakes can occur anywhere, without seeing very high penalty scores.
After the first round, the Egyptians seemed to be off to a good start and they repeated the performance in the second round. Nayel Nassar posted a very nice double clear round with Lucifer V (Lord Pezi), giving the impression that it was a real walk in the park for them. The Evergate rider had come with this objective in mind, having taken only one horse to Morocco, and only riding him on the Thursday to prepare him.
Abdel Saïd also had two almost-clear rounds with Quidam de Revel's daughter, Venise du Reverdy, being penalized by just one time-fault in each round.
Sameh El Dahan went clear in the first round but couldn't avoid a small mistake from her bouncing mount, Suma's Zorro (Douglas), winner of last year's Spruce Meadows Grand Prix, in the second round.
Mohamed Taher Zeyada, the team's lesser-known rider, set his teammates on the right track by completing a 2-fault lap in the second round with Vizalaty (Newton de Kreisker).
Just behind this brilliant team from Egypt, is the Swiss team, holders of the Rabat Nations Cup title in 2017 and 2018. Switzerland was the only nation to have fielded two double-clear rounds, with Elian Baumann and Anthony Bourquard. In the end, it was 4 points for Egypt, and 5 for Switzerland.
Elian Baumann was part of the Swiss team last year in Rabat (his record was 4+0) and he proved once again his potential and that of his son of Contact van de Heffick, Campari Z, has with his atypical style of jumping.
As for Anthony Bourquard, he put in two rounds of classic Swiss precision, leaving nothing to chance with his accomplice Tum Play du Jouas (Querlybet Hero), who belongs to Daniel Etter and who was ridden at the beginning of the year by Ryck Hemeryck. The pair, who have only known each other for a few months, are constantly producing top results, placing in all the Grand Prix events that they've taken part in (Lausanne, Albführen, Crans-Montana, Verbier, Humlikon, Busto Arsizio and Tetouan). Let's hope they can continue to progress and grow together, as the Guerdat stable rider has shown that he's able to keep a cool head despite the pressure of a Nations Cup.
It was also Marc Röthlisberger's first Nations Cup with Agatha d'Ecaussinnes (Schilling), and he had two 4-fault rounds, notably barely tapping the delicate plank after the water jump (as is so often the set up in Nations Cups!). The friendly Bernese rider, Switzerland's recently crowned Elite runner-up, admitted that he had never ridden such courses before.
Alain Jufer achieved a one-fault round on his first run and dropped a pole in the second round with his mount, Cornet MM (Cornet Obolensky). "I'm really proud of my troops," said Andy Kistler.
Anthony Bourquard added: "When I was in Junior and Young Riders, I really enjoyed riding as a team, but I didn't always get the expected result. So I'd been hoping to be get to wear the Swiss team jacket again for some time, and to have a double clear round here, it's fantastic. My colleagues were great, and Alain Jufer helped me a lot. I hope this result is just the beginning. Tum Play and I get along really well. We're a real pair. Next week, I'm going to take part in the El Jadida competition. It will be my first indoor with this horse, and if everything goes well, the CHI Geneva will be one of my main goals for the end of the year."
The Italians and the Brazilians followed in the placings. Both nations were penalized by 14 points each, but the Transalpine riders were faster, so they took third place, with Roberto Arioldi and Chiclone (Cornado I) in their ranks, while Philippe Guerdat's protégés were fourth.
Friday's Grand Prix winner, Bernardo Alves achieved one of the 4 clear-rounds of the day with his phenomenal mount El Torreo de Muze (Taran de la Pomme), who didn't touch a rail all weekend!
Fifth place went to Canada, led by the excellent Kyle Timm and Vagabond des Forêts (Corofino): 4+0.
The Polish riders also turned in a nice performance for 6th place, with two clear-rounds from Jan Bobik (above) on Chacco Amicor (Chacco Blue) and Wojciech Wojcianiec on ChintaBlue (Chintan).
But there was more disappointment on the French side. They weren't able to do better than 7th place, despite Olivier Perreau and GL Events Venizia d'Aiguilly's clear round.
A second Olympic ticket for Qatar
In the run-up to the Olympic Games, the Qataris, under close watch by Jan Tops, were able to count on a good one-fault round from Bassem Mohammed and Gunder (Thunder Vd Zuuthoeve), securing their ticket to Tokyo.
Thanks to this result, they deprived the Moroccans of a place. The Morrocans were understandably disappointed, but they should be proud of their rounds, missing out by a hair's breadth of just 3 points. They also had the unfailing support of their audience. A wave of young spectators, Moroccan flags in hand, followed El Ghali Boukaa (above) to the end of the track to congratulate him when he had a clear-round on his second lap.
Abdel Saïd: "It's really incredible for our team. The Olympics is a long-held dream. I'm grateful to have been able to compete alongside these great riders. This is the first time we've been on the same team and that motivates us for the future."
Nayel Nassar: "I'm very proud of Lucifer. He has been very consistent for several seasons. He has his own character, but when he gets in the arena, he knows what he has to do. Today, he really felt the importance of the event. The goal was to qualify for the Olympics, but winning the Cup as well was the icing on the cake."
Joanne Sloan-Allen, Suma's Zorro's (above) Irish owner, told us about her protégée: "Zorro is fantastic. She has won all the important events we have asked of her. I'm really happy. She is determined, very strong minded and she has a huge heart. She will now compete in a 4* in Samorin. As she is 15 years old, it's important to manage her season and her competitions in the future, so that she will be in good shape, with the ultimate goal being the Olympic Games. After Slovakia, Zorro will return home to Ireland. It's a long way from Europe, but she settles well there. It's just uncertain with Brexit and this unstable situation. But Zorro was born in Ireland, so that's where she feels at home."
The CSIO4* in Rabat therefore ends on a high note. Most horses and riders will continue on to the 3rd and final stage of the Morocco Royal Tour, the great horse show in El Jadida, next weekend.