Edwina Tops-Alexander and California Star in LGCT Grand Prix of Miami Beach CSI5*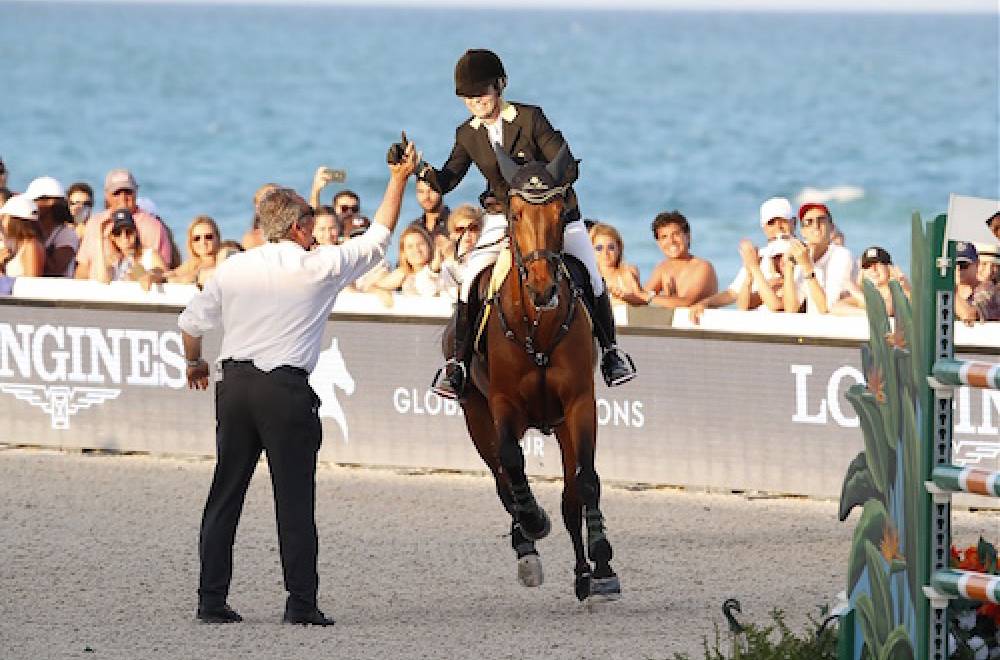 08 April 2018
This time last year, Edwina Tops Alexander of Australia wore beach clothes to the Grand Prix of Miami Beach and watched from the sidelines. Pregnant at the time, she spend much of the 2017 out of the tack, but on Saturday, April 8, 2018 it was quite a different story, as the mother to Chloe Tops rode to the best finish in this year's edition of the €300,000 Grand Prix of Miami Beach CSI5* on the Longines Global Champions Tour.
Tops Alexander rode California, the 11-year-old KWPN mare (l'Esprit x Libero H) that came to her from Abdel Said in 2016. She won the 2017 Saut Hermès Grand Prix with California, and while the story of the day was that the mare hadn't been feeling her best the week in Miami, Tops Alexander and her team made the last minute decision to jump the grand prix, and with some help from chiropractor Steve Engle, California bounced back to top form.
The week that the LGCT comes to the Miami Beach, Florida, is easily one of the biggest weeks for show jumping in the United States, and as the only international competition featuring in North America this weekend, all eyes were on the horses and riders that came to compete in the elite location.
Saturday's day of jumping was another lengthy day of sport to accommodate the Global Champions League Final, which went up against the start of the Grand Prix. With 60 entries in the single round, CSI5* GCL Final, competition began at 2pm while the sun was still high in the sky.
That class was of utmost importance to anyone who wanted to ride in the grand prix, as only the top 35 from the GCL Final qualified for the Grand Prix of Miami Beach.
Therefore, the cutoff was right at the 8 faults mark, with Egypt's Abdel Said coming in onto the start list on 8 eight faults with Jumpy van de Hermitage.
However, only five riders managed to go clear in round one of the grand prix. Uliano Vezzani's track was made even tougher by the change in shadows that cut the ring in half as the sun began to set behind the VIP tent. Riding from full sunshine into shade is always a topic of conversation at Miami Beach, now in its fourth year.
But, much like she did in 2016, when she also won the Grand Prix of Miami Beach, that year with Lintea Tequila, Tops Alexander rode last in the jumpoff and came in well under the 2nd placed time of Bassem Mohammed and Gunder for Qatar.
Ireland's Darragh Kenny had the winning time with Cassini Z, but a rail down relegated him to 3rd place. Pieter Devos of Belgium was 4th with Claire Z, and Eduardo Alvarez Aznar of Spain placed 5th with Fidux.
"Obviously, being at the end was an easy spot," Tops Alexander said. "It paid off to be in the position. I think Uliani did an unbelievable job the whole weekend. There were faults everywhere, he's great at what he does and knows his job very well. With a course like that, you have to ride your own horse and try the best you can."