Eduardo Alvarez Aznar wins in Grimaud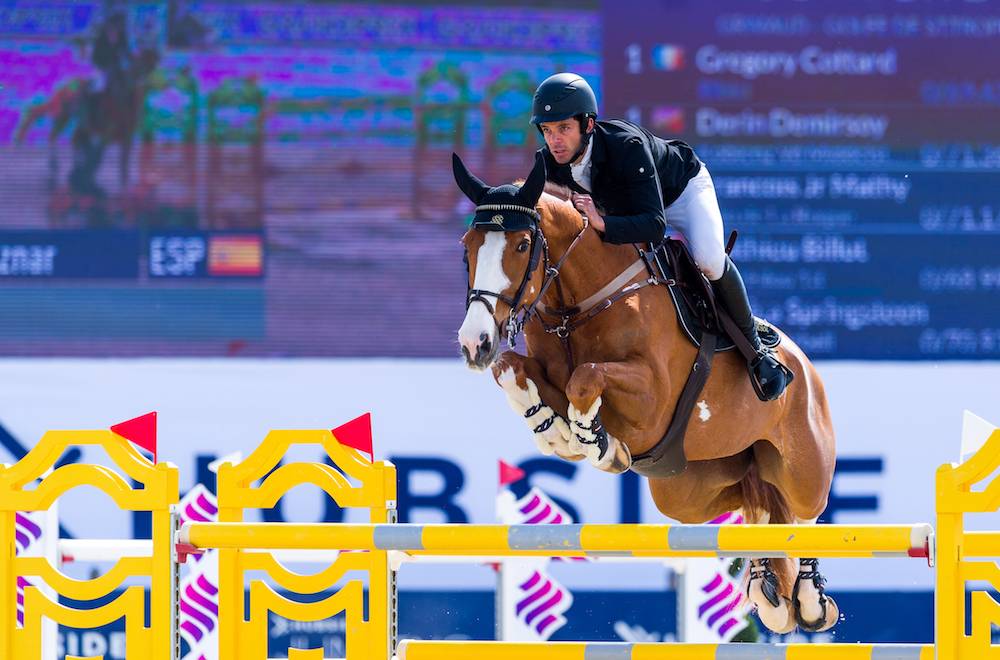 03 May 2021
Even though there was no 5* this weekend, we still had some great sport. We'll take you to France, Italy, Germany, Mexico, Austria, Belgium and the Czech Republic to find out which riders excelled.
Grimaud CSI4*
Many riders made the trip to Grimaud for the Hubside Spring Tour this weekend. Though the competition had to cancel some classes on the first day because of a storm, the 4* Grand Prix lived up to all its promises under a shining sun. Ten riders qualified for the jump-off and Eduardo Alvarez Aznar was the fastest. The Spaniard rode his 10-year-old mount, Legend (Ogano Sitte). "This is Legend's first 4* Grand Prix so I couldn't be happier than I am today! He jumped very well in the first round. In the jump-off, I knew that there were still some very fast combinations behind us, so I took the maximum amount of risk and it paid off," said the winner.
The podium was completed by two female riders: Pénélope Leprévost placed 2nd with Excalibur de La Tour Vidal (Ugano Sitte), and Luciana Diniz took 3rd with Conchento PS (Conthargos). The Frenchwoman was above all proud of her daughter, Eden, who also took 2nd place in the 2* Grand Prix a few hours earlier: "It's a wonderful day for us! I'm proud of Eden who rode her 2* Grand Prix very well and managed to be among the best at the awards ceremony. This is an important day for her! As far as the 4* Grand Prix is concerned, I'm very happy with Excalibur. He's just returning to competition after a winter of rest and a few runs at the Sunshine Tour earlier this year. This was his first competition and I think he's in really good shape! I took some risks at the last jump with one less stride, which I think surprised him a bit, but he jumped really well! I don't think we could have gone any faster in this jump-off, so I'm thrilled with second place!"
Without his four faults, Kevin Staut would have won with Toledo de Mescam Harcour (Mylord Carthago*HN), but finished in 5th place. Grégory Cottard, who took over our Instagram account to show us behind the scenes this weekend at the Hubside Tour, hit a rail over the last obstacle, securing 6th place with Bibici (Norman Pre Noir).
In the 2* Grand Prix, only Grégory Wathelet managed to lower Eden Leprevost Blinlebreton and Une Etoile Landaise's (Balougran) time with the promising son of Baloubet du Rouet, Cocktail de Talma. The riders will meet again in the beautiful Grimaud arena on Thursday for a CSI5* event.
Mannheim CSI4*
The CSI4* Grand Prix in Mannheim will be held on Tuesday, but this Sunday was the Championship round; a 1.55m event counting toward the rankings and the rider line-up present in the rankings looks no different than a 5*. Peder Fredricson won with Catch Me Not S (Cardento). The Swede even allowed himself a lead of more than 3 seconds over Mark McAuley on Thunder G Z (Tyson). Third place went to Christian Ahlmann with his 9-year-old son of Emerald, Mandaton van de Neerheide.
Azelhof CSI3*
The victory in the CSI3* Grand Prix in Azelhof went to Luxembourg thanks to Charlotte Bettendorf. Riding Nababette Z (Nabab de Rêve), she came in ahead of Yves Vanderhasselt and his faithful mount Jeunesse (Eldorado). The podium was completed by Moroccan rider Abdelkebir Ouaddar on Istanbull v.h. Ooievaarshof (Casall), who would have won without his rail.
Lamprechtshausen Young Riders CSIO
The young generation met in Lamprechtshausen, Austria, for a CSIO. In the U25 Grand Prix, the victory went to Mel Thijssen on Florida Balia NL (Bustique). The daughter of Leon and sister of Sanne also proved that the Thijssen family will continue making noise. Actually, Mel Thijssen was part of the winning team at the Nations Cup for young riders where she competed with Mans Thijssen, her younger brother. In the Young Riders category, Austrian rider Marie Christine Sebesta won the Grand Prix with Obora's Sherbet (Sir Shutterfly), coming in ahead of Swiss rider Shirel Schornoz with Obama du Soufflet (Ogano Sitte).
It was an Italian triple in the Junior Grand Prix with Maria Vittoria Martari placing ahead of Beatrice Bacchetta and Giorgia D'Angelo. The Nations Cup victory went to Germany, who came in ahead of Switzerland and Holland.
Lou Puch won the Children's Grand Prix with Vitalhorse Un Amour La Goula (Lando). The Swiss rider and daughter of the Paralympic Games multi-medalist Pepo Puch, also made her debut with her new recruit, Cornet 39, Anthony Bourquard's former mount.
In the Nations Cup, the Dutch team were again the strongest in the Children's category.
Logan Fiechter won the Grand Prix Pony event with Pablo. The two Dutch teams took the first two places in the Nations Cup.
U25 Grand Prix Results
Young Riders Grand Prix Results
Young Riders Nations Cup Results
Junior Grand Prix Results
Junior Nations Cup Results
Children Grand Prix Results
Children Nations Cup Results
Pony Grand Prix Results
Pony Nations Cup Results
Busto Arsizio CSI2*
Another nice victory went the way of friendly French rider Nicolas Deseuzes and Stella de Preuilly (Baloubet du Rouet). They lead by more than two seconds in the jump-off, and he came in ahead of the German rider Simon Widmann with Maldonado E (Numero Uno), and Irishman Jack Ryan with BBS McGregor (Cardento).
"I am very happy with this victory. Stella jumped really well. She proves to be in great shape. The plan for the next few weeks with her is to go back to Busto the second week. Then, she'll have a week off. Afterwards, I hope to be selected for the CSI4* in Bourg-en-Bresse. That way, she alternates between 2* courses at 1.45m and once in a while a 3* or 4*", said the winner Nicolas Deseuzes (you can read our report last autumn at his place here).
Fontainebleau CSI2*
In the CSI2* Grand Prix in Fontainebleau, the French took out the top six places. Max Thirouin and Utopie Villelongue (Mylord Carthago) were the fastest of the 5 runners-up. Second place went to Alix Ragot with Coldplay EJ (Zilverstar) and 3rd went to Michel Robert and Emerette (Diarado). Seven combinations achieved clear rounds, but were caught out by the time.
Opglabbeek CSI2*
Sentower Park was again the scene of an international competition with a CSI2*. The Italian anthem rang out at the end of the 2* Grand Prix with the victory of Giampiero Garofalo and Gaspahr (Berlin). Second place went to Matthew Sampson with Curraghgraigue Obos Flight (Obos Quality) and 3rd place went to Dutch rider Michael Greeve with Fernando (Harley).
Prague CSI2*-W
In the 2* World Cup Grand Prix in Prague, Ales Opatrny won with Gentlemen vh Veldhof (Quite Easy), coming in ahead of Jaroslaw Skrzyczynski with Jerico (Wieland) and Krzysztof Ludwiczak on Niko (Numero Uno).
Puebla CSI2*
In Puebla, Mexico, the victory went to Nicolas Pizarro on Oak Grove's Enkidu (Ensor vdh Pleville), ahead of Wylder Francisco Rodriguez Silva on Chogui LS (Chapultepec La Silla) and Manuel Gonzalez Dufrane with Martialis.
Italian Championship
This weekend the Italian Championship were held and it was Luca Marziani who won gold. Tokyo du Soleil's former rider rode Lightning (Gitano) and came in ahead of Giulia Martinengo Marquet and her brilliant mount Elzas (Diamant de Semilly). The rider, a member of the Scuderia team, won the first round. The bronze went to Fabio Brotto with Vanita'Delle Roane (Berlin).
Giulia Martinengo Marquet didn't stop there as she also won gold in the lady rider division, this time on Starlett (Stakkato).
Featured photo: © Marco Villanti - Hubside Jumping