The Dutch win at home in Rotterdam!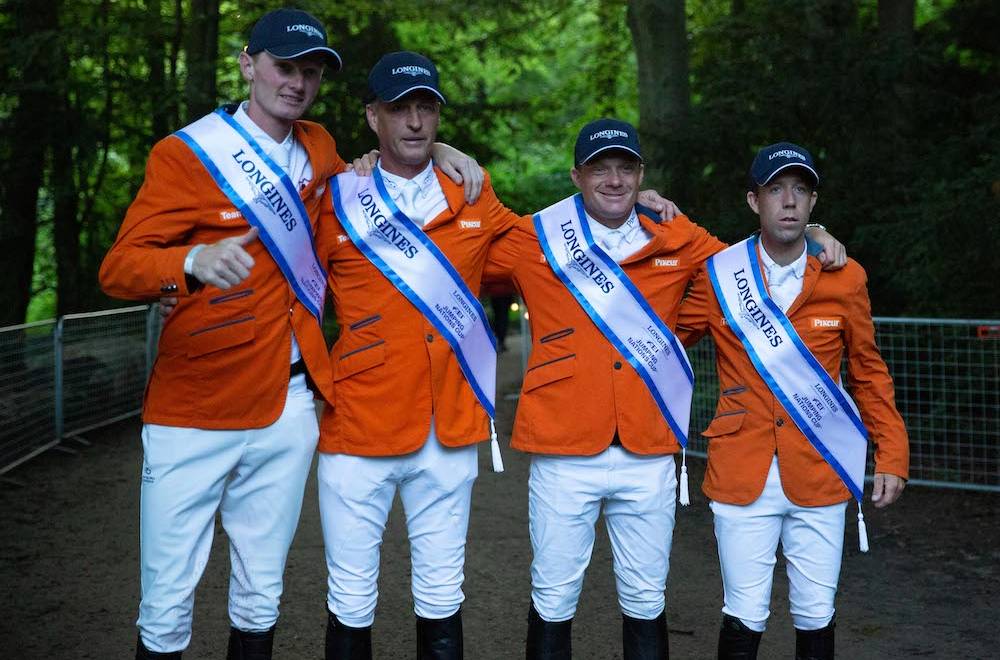 02 July 2021
This weekend, Rotterdam hosted the last stage of the European Division 1 Nations Cup circuit. It also means it is the last round of the 5* team competitions for the riders before the big events to come, namely the Tokyo Olympic Games and the European Championships! Here is a look back at one of the key events of the weekend, the Nations Cup!
While we already know some of the selections that will fly to the land of the rising sun at the end of the month, others such as Switzerland, Germany and the United States are still unknown. This late afternoon event was an opportunity for the Chefs d'équipe to see their horses and riders perform in a typical event one last time before making their final Olympic choices.
Ten nations started over the course designed by Spain's Santiago Varela, which was composed of 12 obstacles and 15 efforts. Switzerland's Bryan Balsiger, riding AK'S Courage (Chepetto C), was the first to start. Caught out at vertical number one, he also knocked a second rail to the ground during the course, but it's worth noting that it's the first Nations Cup for this duo together at this level. The first perfect course was offered up by France thanks their second starter, Penelope Leprevost, who rode Excalibur de la Tour Vidal (Ugano Sitte). Freshly selected for Tokyo, Bertram Allen and Pacino Amiro have confirmed their form and also followed the trend by achieving the clear for Ireland. Though time ended up catching some out, the course didn't prove to be very fault-heavy, allowing four teams to have a blank score for this first part.
In the second round, Bryan Balsiger didn't want to finish his course like the first time, kicking off this second part of the competition by achieving the clear round this time! American Lucy Deslauriers, the youngest of her team, secured another great result with her faithful mount Hester (Wandor Van De Mispelaere), who achieved a double clear round! The final battle was first played out between France and the United States, both of whom had to keep the score clear. But a rail from German rider Christian Kukuk, Beezie Madden's non-start, Kevin Staut and McLain Ward's eight points have reshuffled the cards.
Maikel van der Vleuten's Netherlands team took advantage of this and secured the victory at home! Sweden, led by the duo selected for Tokyo, Rolf-Göran Bengtsson and Ermindo W (Singapore), took second place, preceding France who had a total of 12 points.
Photo credit: CHIO Rotterdam - Danielle Vink