D'Umbra de la Hart Z, the Queen's latest jewel!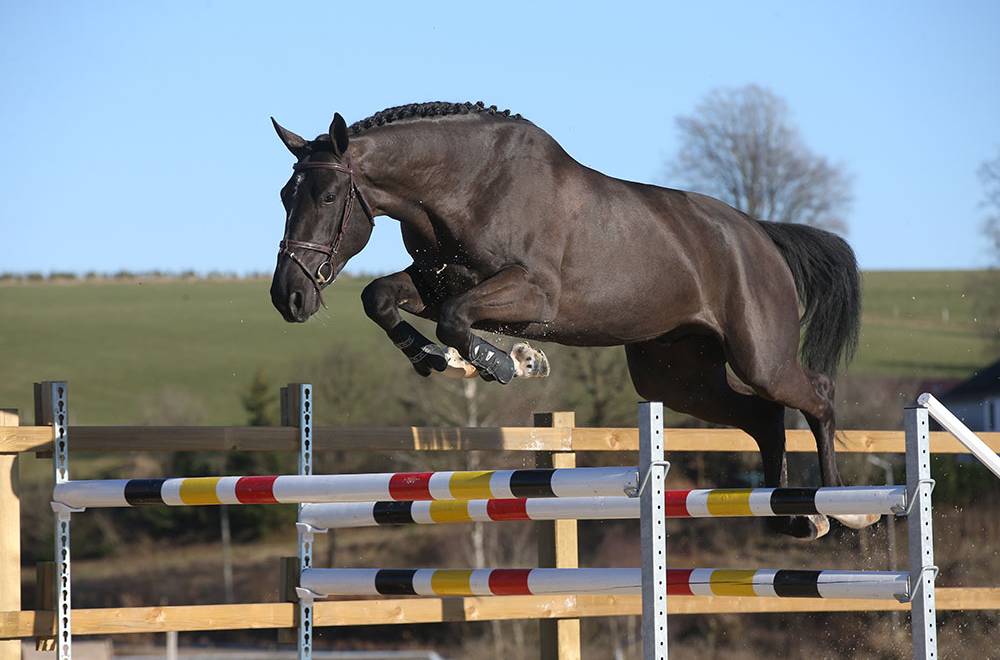 12 March 2021
The year of 2021 has been very different in more ways than one and this EHV-1 rhinopneumonitis health crisis has disrupted the three Belgian sporthorse studbook's stallion approvals. The SBS's decision to admit all the stallion candidates for a period of one year has surprised many, and has also disappointed some stallion owners who hoped that their protégés would make a name for themselves during the Selection Show.
Among them, there is the last offspring of the famous Umbra van Reigersdonk (Non Stop x Concorde), who is none other than the dam of the stallions Dark de la Hart, who allowed Dominique Joassin to make his return to the highest level before continuing on with Quentin Judge, and Unpulsion de la Hart, a great international winner with Philippe Rozier. She is also the dam of the great international winner Energie de la Hart, who is progressing well under Italian colors, and Best de la Hart, who allowed Sarah Toussaint to make a name for herself among the elite with an impressive 4th place at the 7-year-old World Championship!
Though the phone is already ringing to book in his first coverings, his owner David Dehez' only regret is not having been able to present him to breeders. "The decision to cancel the Selection Show is not open for discussion! It had to be done! However, I don't think that admitting all of the candidates was the right solution. I am a strong supporter of the SBS, I'm all for defending the interests of a Walloon studbook, and I'm delighted with the kindness and dedication of the staff working there, and I will make special mention of Anne-Françoise Fabry who has always helped me so kindly to overcome my administrative shortcomings. When I received this news, it left me with a bitter taste in my mouth, even though obviously I'm happy that my stallion can cover mares. Nevertheless, in these conditions, I would have preferred that the SBS find another solution, even if it would have certainly forced us to wait a little longer. This decision makes a decision to admit a stallion seem less important. This health crisis is really a pity and I hope that things will get better in the next few years."
But D'Umbra's story is above all a story of trust between two families. It started a long time ago between Christian Mauss and David Dehez with Umbra's offspring, such as Caletta de la Hart, who progressed on the international scene under the saddle of Mark Armstrong in 1.50m classes, and of course the stallion Dark de la Hart, but also many other offspring from other lines. It's a relationship that has continued with his son Kevin Mauss. "I'm really happy that D'Umbra was able to come to us," says David Devez. "I think life is good. We started working with Christian and continued with Kevin, his son, who took over the breeding side of things. Together, we have known highs, with some exceptional moments, but also some lows with our fair share of misadventures. Kevin had some requests for D'Umbra from abroad and I'm really happy that we were able to come to an agreement to keep him. I have always been very fair to them and I guess life is paying me back by allowing me to welcome the last offspring of this star mare. It's a fantastic story that is continuing on. I'm even more flattered that this is a horse that Kevin was very attached to. Umbra, the star mare at the start of the whole story, died when this stallion was foaled. It was a very painful moment for him and to part with the mare's final foal was also difficult. I have always respected Kevin's decisions and I thank him for allowing me to acquire him. It's a wonderful story for the horse and a beautiful gift to our province because I think he's a horse that will please breeders, that will cover many mares. It's right and fitting that he is here in the region rather than on the other side of the world. It's nice that this outstanding de la Hart breeding can be highlighted, and that the last offspring of this illustrious mare can cover the mares of all of this farm's fans in the area."
D'umbra de la Hart Z over a jump, and then with his happy owner David Dehez.
Even though spectators have never seen him in action before, interest in the Dehez Stables' newest big prospect is ever growing. "I'm really amazed at the number of calls I'm already getting about the horse just because people have looked at the catalog and because of the fact that I've already told a few people I know about him. Every year there are stallions that are admitted that don't cover any mares and this may be the case even moreso in 2021. This particular year will require an even more important relationship of trust between the breeders and stallion owners. With so many stallions on the market, breeders are being forced to make their own choices. I don't really consider myself to be a stallion breeder, but I want to dedicate myself to this with D'Umbra in a professional way. This is something I have always been interested in, but that is difficult to do alone. In fact, especially for him, I have decided to surround myself with good advisors. I had my first experience with Cœur de Cachas where I was very happy with the number of breeders who trusted me, and I think they were all very happy to have used him. The feedback has been positive. With D'Umbra, I don't think I have ever had a stallion of this quality. That's why I hope to give him a real chance at breeding."
Obviously, this 4-year-old black stallion has some serious assets. With his imposing size, he's the spitting image of his sire, Dominator 2000 Z. "Personally, I find him to be flawless. I've been lucky enough to have crossed paths with many very good horses. Some of them are now jumping at a very high level, and even though the road is still long for a 4-year-old horse, I sincerely place a lot of hope in him. I hope that we manage to allow him to express all of this potential."
The two full brothers: above, Unpulsion de la Hart (Kashmir van't Schuttershof x Non Stop) in the 5* Grand Prix at the Longines Masters of Hong Kong and below, Dark de la Hart in the Sires of the World Lanaken.
The line is especially well known to the Ardennes horse trader who has worked with many Umbra offspring in his stables. "I think that her dam line is obviously one of her strong points. This mare's progeny are outstanding. She has produced nothing but top performers with a strong will and all of them are big winners at their level. Energie de la Hart wins events every weekend in Italy at the 1.45m level, she is exceptional. Bliss, who has progressed through the levels with her breeder, made the whole region dream, and here we find all this quality in the daughters of Best, Arka and Jalys. They have the arena intelligence and the respect for the rails. They're really good horses. Joris de Brabander said the other day that he believed in the diversification of breeding lines. I think he's right, because when some strains are highly publicized and people rush to them, especially by means of ICSI, we miss out on some other very nice lines. Obviously today, in order to breed, we've got to rely on good mares from good lines, but I'm convinced that there are many very good mares that have been less well used and promoted that could become truly great strains. Personally, I believe very strongly in this "de la Hart" line. I've had horses from different lines in my stalls, but this strain has always given me the biggest thrill."
Above, Best de la Hart in the final of the World Championship for 7-year-olds in Lanaken and below, his daughter Arka de la Hart Z in the Belgian Championship Final for 6-year-olds in Gesves. Both under the saddle of Sarah Toussaint.
The Dehez family has had plenty of great moments with Best de la Hart (Kashmir van't Schuttershof) who finished 4th in the 7-year-old World Championship in 2014 before taking her place in the Grand Prix. Unfortunately, an injury disrupted the mare's career, and at the same time, put a damper on her rider Sarah Toussaint's career. "We made big sacrifices to keep the mare and her injury was a real blow both financially and competitively for the whole team. But now, that episode is behind us. Thanks to this experience, we have realized that we need to build more of a solid base before taking this kind of risk. I think I would regret it more today if I had made the decision to sell Best too early, than I do today regarding her injury. Today, I hope that the mare will give us many foals to continue the story, but her health and comfort will remain our priority. This has been a life lesson for us. We have had some great moments in competition, and I am convinced that if we got to do it all over again, I would make the same decisions. When you know the outcome, it's obviously easier to say that you could have done something different, but when I made my decisions, I knew that things could go wrong. In my career as a horse trader, it's by taking the biggest risks that I was able to quickly move forward in my early years... unfortunately with Best, it was one risk too many. It could have gone so well... but it didn't. We have no regrets. It's through these horses that Sarah Toussaint and her partner have built a reputation, thanks to Best, horses such as Cœur de Cachas, Ushi, Balou's Ramona, Couros, Carmina, Vitalis Go, and more recently Exquise du Pachis and About A Dream. They have contributed to our reputation even though these horses haven't all been marketed. They've allowed us to travel, to make contacts and to show that we know how to select quality horses. I'm very proud to have a mare such as her in my breeding program today."
Best de la Hart with David Dehez, Sarah Toussaint and their son Maxence.
Sarah Toussaint with her three mares: Arka de la Hart Z (Arko III) and Jalys de la Hart DS (Cœur de Cachas) with their dam Best de la Hart.
Moreover, hope has now been reborn just outside of Libramont: "Having D'Umbra in the stable gives us stars in our eyes. This year, he will fully devote himself to his stallion career, even though he will participate in a few 4-year-old competitions as well, because I think it's necessary. We have already collected him because we wanted to test him before offering him for breeding. We got an embryo from him. His semen really is of very good quality and the horse is extremely kind and really easy to handle. We are going to work in collaboration with veterinarian Didier Blommaert for his marketing. We believe in him and we invite breeders to come and see him in the flesh as the selection could not take place."