A dream weekend for Luc Tilleman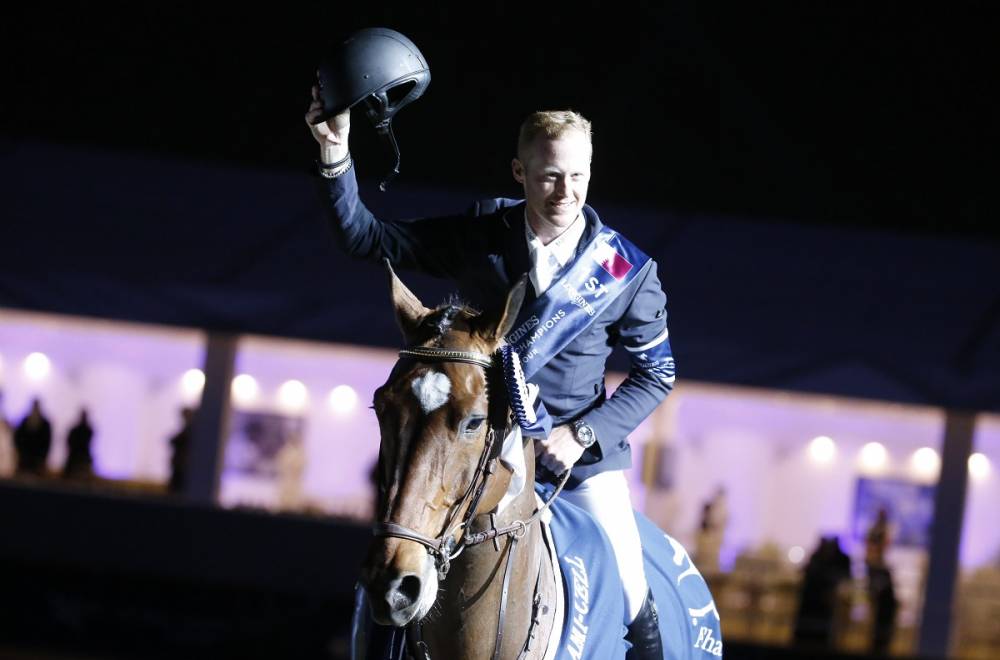 09 March 2021
They grazed the same grass since they were born and until the age of two, before being trained in the same stable and finally finding themselves at the Grand Prix awards ceremony - on the podium - during the Global Champions Tour in Doha. This weekend, Delux van T&L and Dieu Merci van T&L did their breeder Luc Tilleman proud. Together with Studforlife, Tilleman looks back on their journey and forward to a promising future.
"It was a great weekend! Two sons of Toulon on the podium of a 5* Grand Prix. This is something beautiful but when both horses were born at home, it's even better. Delux and Dieu Merci were born in the same meadow and very quickly stood out from the crowd. It was immediately noticeable that they had outstanding balance. We decided to castrate Delux at two years of age because he was getting very hot with the others. Even though he was a nice horse, I was afraid that he would become hard to handle when covering. In addition, we had Dieu Merci in this same generation. He was incredibly beautiful and had outstanding athletic qualities. I have to say that we didn't need to present two sons of Toulon.
Delux van T&L (Toulon x Landetto)
They both successfully passed my selection protocol, since they were extremely respectful horses with a great canter. When I test them, I don't make them jump very high, but I still want the bars to stay on top of the obstacles! It's very important to have respectful horses, because nowadays we ask them to arrive at full speed over the obstacles. You really do need quality! Dieu Merci is an incredibly reliable horse. I think he must have 90% clear rounds on his international courses. I don't know if any other horse in the world can boast such a percentage.
These two horses started their sporting career with us. We sold Delux when he was six years old while Dieu Merci stayed with us until last year. Obviously with Covid, it was only supposed to be his tenth or twelfth ride with Eric Lamaze.
Dieu Merci van T&L (Toulon x Corrado I)
I am really happy for our customers who placed their trust in us by buying these horses and also for those who trusted us by paying for coverings. They have been well rewarded as are we. I feel the same pleasure and stress when I see them jump today, as when they were with us. They are still our horses. We have seen them grow and evolve. This weekend was really exceptional. Even I have to admit that emotionally Dieu Merci's victory in the Beervelde CSI3* Grand Prix with my son-in-law, Frédéric Vernaet, was a great family victory.
It's for moments like these that we work hard and try to do a decent job. Results like the one we achieved this weekend show us that our philosophy is right. We have already experienced many beautiful things with Toulon himself and then horses like Halifax or Houston, whom we have also sold, have made their new owners very happy.
It's true that at the beginning, I was always interested in breeding , but without doing too much of the breeding myself. Then, in 2008, when the crisis hit and many people stopped or reduced their breeding activities, I decided to get involved in breeding myself. I find today that a lot of people are still breeding so I have decided to slow down my production a bit. That's the way I am, it's part of my character, I like to go against the tide.
Orak D'Hamwyck, finalist of the Belgian championship for 6-year-olds, is one of the novelties in the T&L catalog.
Delux' dam is now at the Van't Paradijs breeding stables with the Rooms family where last year she produced a sister to Delux. Dieu Merci's dam gave a filly by Quatre Mai L (Corydon van T&L x Toulon) last year and is again in foal to this stallion. We have a lot of hope in him. I think that we have already experienced some wonderful things in our lives, but our future looks just as good because we still have the opportunity to produce some very good young horses at home. This year we are also proud to welcome the stallion Orak D'Hamwyck (Tobago Z x Toulon) in our stables. In addition to being ridden by Frédéric, he will complete our already well-stocked stallion catalog.
Toulon is now retired with us. He's now only available in frozen. He's the king of the stables, and he gave us everything, so we must treat him like a lord and offer him the retirement he deserves today."
Toulon, here with Hubert Bourdy, is enjoying a happy retirement after having performed at the highest level like many of its offspring.
Photos: Julien Counet