A double win for Boyd Exell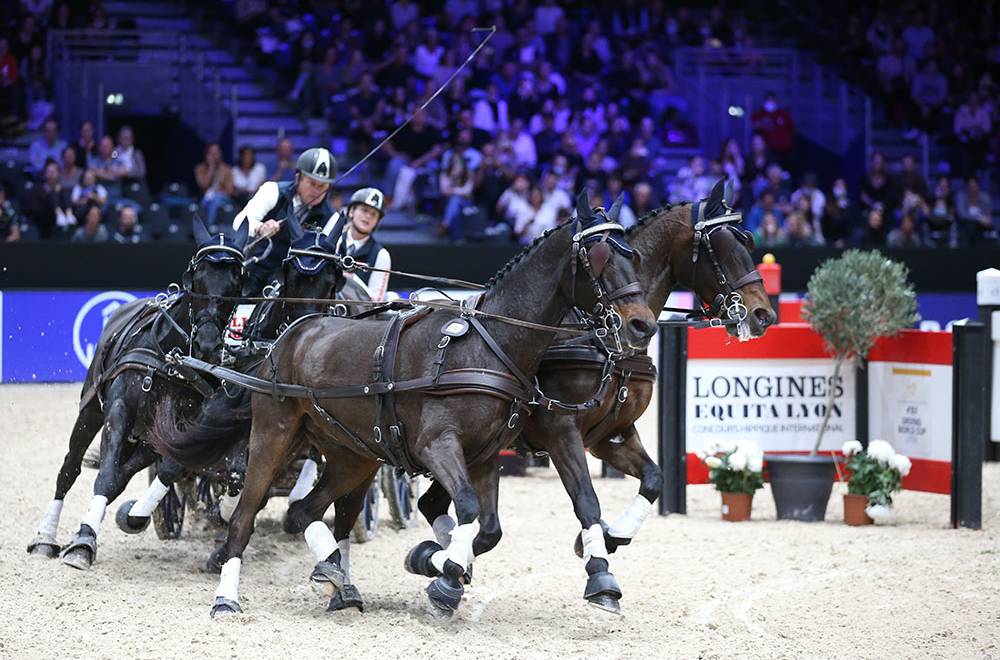 04 November 2021
A second win at two venues for the Australian, but Belgian Dries Degrieck made his mark!
Driving is starting to make its mark in Lyon. On Sunday evening, after the World Cup Grand Prix, the venue was 75% full. While the Jumping Ponies' Trophy was sold out on Saturday afternoon, it was all the more so when placed at the end of the weekend. Obviously, the organization of such a busy schedule with so much diversity is very difficult to manage. Should we leave the driving in a less enviable place, where it still finds quite a few fans... or should we put it in a time slot that would ensure better visibility... but which would penalize another discipline far more? It's a very difficult choice for the GL Events team. What's certain is that the leaders of the sport want to promote their sport and that they feel strongly about it. We can't blame them... but we have noticed that the interest in driving in Lyon has only intensified over the past three editions.
Benjamin Aillaud and his Lipizzaners
The only Frenchman to start, Benjamin Aillaud was defeated by the tenors of the discipline, but he wasn't worried at the end of the competition. The driver, along with his owner, chose to acquire several Lipizzaners for indoor competitions while keeping his team of Arabo-Friesians for outdoor competitions. This new team is nevertheless still in learning mode... which explains their driver's reaction.
Jérôme Voutaz and his Franche Montagne horses, the 100% Swiss team!
It also wasn't Jérôme Voutaz's weekend. The winner of the Lyon stage had problems with his brakes and some inaccuracies that cost him dearly!
There were two Belgian drivers vying for a place in the final... In the end, it went to the surprise winner of this World Cup stage, Dries Degrieck who managed, with a fantastic time and despite the 8 seconds of penalty time for two faults, to beat his elder competitor, Glenn Geerts, by a few tenths of a second.
Dries Degrieck
Having already secured a win on the first day, Dries Degrieck really impressed. He was invited to Mechelen one year as a Wild Card, and he was competing here in his first World Cup stage as one also, and the least we can say is that he didn't miss the mark! For the final round, the young man came back and he didn't bend under the pressure. On the contrary, he achieved a round without any penalties, in 147.62 seconds, putting the maximum amount of pressure on his opponents.
The only problem is that his next opponent was Boyd Exell, the undisputed star of the discipline. The Australian isn't afraid of anyone, and the precision of his competitors just allows him to raise the bar and keep this incredible motivation up. Under intense pressure and with no room for error, the World No. 1 lowered his time by almost two seconds... and this time he didn't clock up any penalties! 144.83 seconds.
Boyd Exell
Koos De Ronde knew that he would have to surpass himself because, among the three drivers, he was the slowest in the first round... but he was the only one to have completed the course without penalties, allowing him to clock a time identical to that of the Australian. But this time, the Dutchman had a lot to do because his two opponents didn't have any faults! He had to hit hard - which the Dutchman did - in a gate that he took with him, clocking up 24 penalty points: game over! But it took a lot more than that to make the Dutch driver forget his great satisfactions of the weekend. "I changed my team after the first day and I think I really had the best team possible today. I wanted to go fast, I made a mistake, it's as simple as that but it doesn't change anything. I think that today we saw that the level of the competition was very high despite everyone having a year off. You can see that we all continued to train, after all. I think it's in a year like this that you realize that you don't just drive for the competitions, but just because you like it," concluded Koos De Ronde.
Koos De Ronde
The real surprise of this World Cup stage, young Belgian driver Dries Degrieck remained modest... and concentrated on the future! "It's very new for me. I had already been lucky enough to be selected, but the competition was cancelled because of the pandemic. I go to Boyd Exell's to train from time to time and in general, I watch all my opponents, I dissect their videos. I'm passionate about it and I'm always looking to learn more. I just try to do my best and then what happens is what happens. I'm not someone who suffers from pressure. In 2011, I started competing in singles. I rode in my first championships at 16, but my dream has always been to drive a four-horse carriage. In my real life, I'm a farrier, but I also trade and showcase driving horses."
If the performance surprised the uninformed, it wasn't the same for the patron of the discipline who, despite his victory, appreciated the arrival of the up-and-coming Belgian that he has known for a long time: "Dries is a real horseman. He participated once in the Mechelen stage as a Wild Card and he already placed second. His performance isn't a surprise! Driving is a bit like the mafia: there are the old hands like me and the young ones who show their teeth and try to make a place for themselves! Personally, it was a good start to the indoor season. The infrastructure here is fantastic. Our only regret is that it was our turn to go at 8am on Saturday and at the end of the day on Sunday, even though there were a lot of people here tonight. I think that the show that the driving produces deserves better timing. I'm very happy with my horses. It was quite hot in the warm-up ring but that suits my horses very well as they have a lot of blood. I pushed them pretty hard in the first round, but they responded well again in the second."
Still, it's difficult not to mention how unequal the disciplines are. The drivers travel to Lyon with at least five horses for two events with a substantial amount of equipment, numerous personnel including two grooms to go on the carriage... for a World Cup stage endowed with 20,400 euros, the equivalent of a 2* Grand Prix. Yet, the 5* riders are able to benefit from several very well-endowed events during the same weekend. Earlier in the afternoon, the World Cup Grand Prix was endowed with 300,000 euros! Nevertheless, in Lyon, the drivers can now count on a sponsor of choice because, while the Laiterie de Montaigu has made a name for itself in show jumping in recent years, its general manager is a real driving enthusiast. It's through this kind of partnership that a sport can grow. Let's hope so.