A double for Margaux Rocuet in the 7-year-old category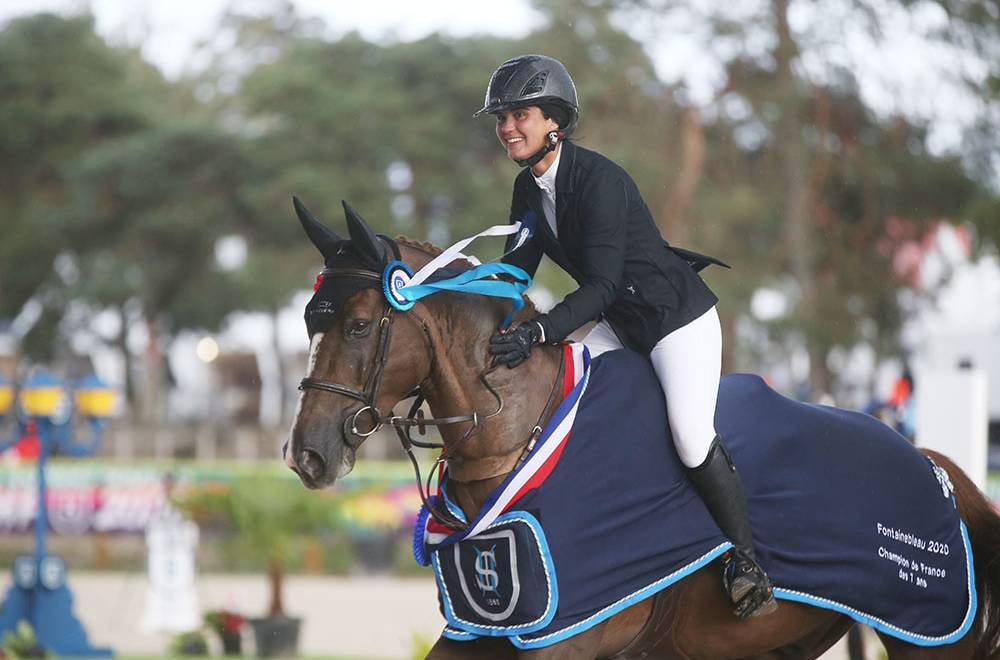 10 October 2020
Under the umbrella of the FFE and not the SHF as 4-, 5- and 6-year-old horse categories are, the French Championship for 7-year-olds is much easier to follow because in this category, males and females compete against each other... and even foreign horses have the right to come and challenge the Selle Français. Moreover, you can see that the measures put in place to discourage investors from buying abroad have worked well, since only one horse from "another studbook" was among the twenty best horses allowed to go into the final round, otherwise the quality of the Selle Français doesn't justify the differentiated categories in the younger categories. It depends on the direction taken.
Under the saddle of Allan Pacha, the SBS stallion Hapilly du Seigneur (Conrad de Hus x Ogano Sitte) was also noticed for his huge amount of ability, but he was still a little young, getting a little playful in the final round.
It was the last round that was made all the more difficult for the horses, as the change in planning requirements forced the organizers to make this category of horses jump three days in a row! A decision that was dictated in this case by force majeure and accepted by all because everyone was well aware that it was already an opportunity for the whole sector to succeed in organizing such an event during the crisis we're currently going through... but this should in no way become the new normal.
We saw a few more horses tested than is the norm, and there were many mistakes and a lot of suspense... with the best saved for the end.
From the first round, the rankings were turned upside down and the cards were reshuffled. Of the last nine to set off: none of them made it through the course without a penalty! Among the big surprises, Philippe Rozier and his BWP stallion, fresh from his approval by the Selle Français Studbook, Night Light van't Ruytershof (Gemini x For Pleasure), he is the first son of a clone to be approved as a stallion in France from the line of the now famous Carthina Z. There was a big misunderstanding from the first obstacle and the pair completely miss out on the final. The provisional leader, Baptiste Bohren knocks a rail down and falls back to 4th position with Dagada des Grevis (Cardento x Heartbreaker).
The second round was also full of surprises. The horses were tired and the faults began to rain down all the more as the pressure of the championship came in to play again. After a magnificent first round which brought him up to provisional 3rd place, Jean Le Monze missed his goal and a rail relieved him and Darius de Kerglenn (Mylord Carthago x Diamant de Sémilly) from the final. The story could have been rather interesting, since in 2013, the Breton won this championship with Shana de Kerglenn, who is none other than the dam of Darius!
With a beautiful clear round in this second round, after four faults in the first, Robin Le Squeren managed to climb onto the 3rd step of the podium with Dorado de Riverland (Untouchable M x Argentinus) who confirmed his class, having already won the title of 5-year-old French Male Champion.
The only rider to still have three horses in the 20-some final, having started with four in the first round, Margaux Rocuet went a little earlier with Djibouti de Kerizac (Quaprice Bois Margot x Le Tot de Sémilly), and achieved the first double clear of the final!
In the end, there were no more to be had as the young Breton rider returned to the track with her latest pupil, Dubai du Cedre (Baloubet du Rouet x Diamant de Sémilly), the uterine brother of the stallion Estoril du Cedre, who is competing in the Netherlands and is out of a sister to the star performer Quickly by Kreisker, as well as Kouros d'Helby and Javelot d'Helby, among others. The rider was already assured the victory... it just remained to be seen on which horse... but the suspense didn't last long, because a rail dashed the hopes of the chestnut's entourage, but the young rider was nevertheless able to achieve the double as she secured 2nd place just behind her stablemate, Djibouti de Kerizac.
It was another great week for Bruno Rocuet who won the 5-year-old Champion title as well as the double in the 7-year-old category with his daughter riding also, excuse me! "I think the 5-year-old Champion has the same quality as Djibouti. I bought her at 4 years old and I entrusted her to Alexandre Bosc who rides a few horses at home for me. The flawless rounds incredibly came one after the other. I often hear that there are few places that give chances to a young person like I do, but for me, it made no sense to not entrust the horse to Margaux for the final; she did all the work in the preceding 6 months, so it was quite logical that she is given the opportunity to ride in Great Week. She did a great job and I was really happy for her above all! It's a luxury to have owners like Mario Zindel, who is a co-owner as Djibouti and trusts me. We were lucky enough to win so much that we could afford to push ourselves. There are people who come here in Fontainebleau as if it was their world championship; we see it as a step. For the past three years, we've been lucky enough to be able to count on Mario and Denise. They appreciate Margaux, who loves competing.
They have invested in several horses in the stable and what we're able to do today is thanks to them, because the phone keeps ringing for Djibouti, and without them, I couldn't refuse such offers. I also just bought his 1- and 2-year-old brothers. Often, Quaprice horses are eccentric, but he also has Le Tot de Semilly on his dam's side, which gives him a perfect mind. He did his initial training with Valentin Besnard, in a rather masculine, very closed style of riding. For the last 6 months, Margaux has been riding him without a bridle with his head in a higher position and he has adapted well to that. He only wants to do well, and the funny thing is that he doesn't know he's that good! He does his job, then he goes out and eats his grass as if nothing has happened. He doesn't stress about anything. He's not a fast horse, so obviously here, having to chase the time, he had to overcome that handicap. We've seen a lot of faults, but I think the second round was too easy and allowed horses that didn't have the ability through to the final. Today, I'm happy because even though we have won many championships, there are horses we won with... I'm not saying they had hang-ups... but we didn't always believe in them. However, with this one, from the very beginning, we saw that he had something," Bruno Rocuet reacted.
His daughter was equally happy after her double win: "Djibouti is a big horse that I sometimes still have a little trouble managing. We knew that the speed would be the most difficult thing for us; I concentrated hard and I think it was our best ride of the year... even though we finished quite far back, his consistency in notching up the clear rounds gave us the victory. The program was modified a little and to do three courses in three days is really tough. Dubai du Cèdre, who belongs to her breeders, was in the lead and finished second in the championship. She's an incredible warrior, with a heart as big as her and huge ability. She's a mare that I particularly appreciate. I'm not disappointed that one or the other won, but I was really trying to get a clear round in the second round, and unfortunately, fatigue came into play, yet Djibouti didn't even realize that he had done four courses in three days! It didn't worry him. He's a horse that you just can't be indifferent about. We don't see many horses using their backs like he does. He has an ease over the obstacles that makes him not even realize what he's doing. He's more mature this year, he has solidified his experience. Today he has shown his ability and his incredible respect for the obstacles. His only flaw is that you have to take the time with him to tackle the obstacles. He is still a little slow but with training and work, that will improve. He has a great mind and nothing bothers him: rain or shine, it's the same to him. This victory today is particularly special because I won the 5-year-old French Championship with Dana de Kerglenn (Mylord Carthago) in 2018, the 6-year-old with Dadja de Moricerie in 2019, and today the 7-year-old with Djibouti de Kerizac! Secretly, I wanted to succeed in this challenge with this generation... without knowing which horse," said Margaux Rocuet.
The weather was finally kind to everyone during this final... except for the men in the arena who had to put the second round's obstacles up under a nice shower of rain... and the awards ceremony was well-watered! For the rest, almost all of the competitors were able to stay dry!