Dollar du Rouet is staying in Belgium!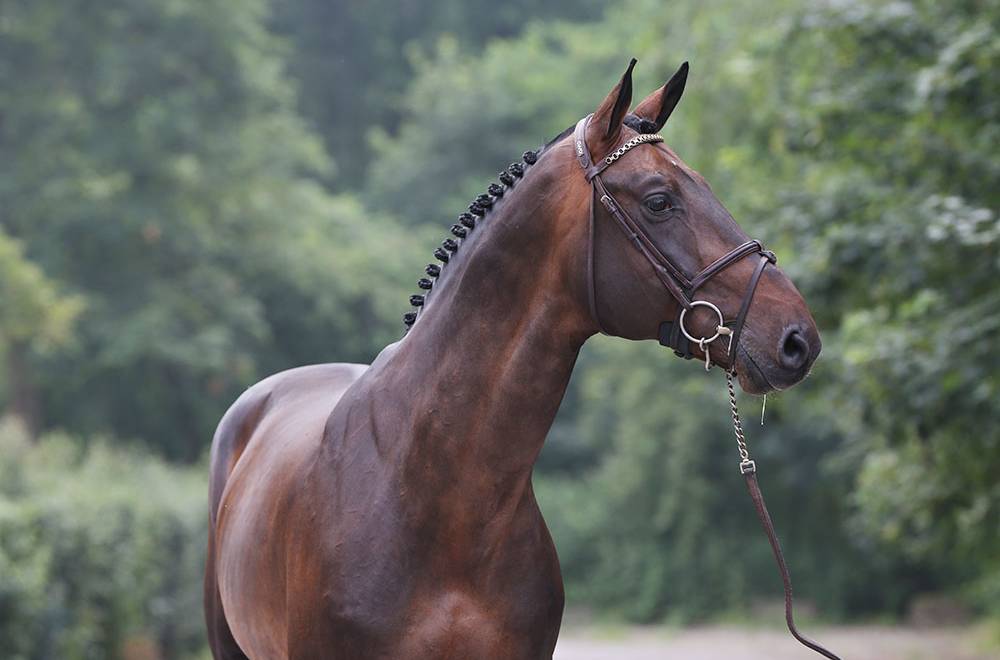 03 January 2022
While he only joined Gregory Wathelet's stables two months ago, the colossal French stallion has unfortunately been injured. To preserve the physical integrity of their protégé and in view of the quality of his offspring, his owners have decided to devote him solely to breeding! Nevertheless, the giant bay will stay in Belgium and join Xavier Hanneton's breeding station.
Aged 9 years old, his offspring attracted everyone's attention in Saint-Lô a few weeks ago where he was represented by two progeny from his first two years of breeding... With two podiums coming as a bonus! Inesh d'Adrier (dam by Apache d'Adrier) took second place in the French Championship for 3-year-old males, while Junesco de Riverland (dam by L'arc de Triomphe) won the title of French Champion for 2-year-old males and was subsequently sold to Switzerland for 93,000 euros at the Fences Christmas sales. He will be reunited with Iliade de Laume (dam by Baladin du Manoir), who sold for 38,000 euros at the Nash sales. A few months earlier, during the Fences Elite sales, it was Illico des Iris' turn (dam by Limbo) to be the star of the show, having sold for 72,000 euros! In the meantime, Jinja Mouche took 9th place in the French Championship for 2-year-old females.
Dollar du Rouet (Chacco Blue x Quaprice Bois Margot) is a grandson of the full sister to the iconic Baloubet du Rouet. He was at the forefront of sport under the saddle of Gilles Botton, and had a fantastic season at 6 years old in particular. Having been dedicated to breeding at 7 and 8 years old, he made his return to competition last year, once again showing off his enormous ability.
"Such a decision is always difficult to make but the integrity of our horse is paramount. Seeing him compete was obviously a dream for us but when I see the quality of his progeny, it's certainly a blessing in disguise. We are breeders above all. He has demonstrated his quality, this strain has nothing to prove... as shown by the offspring from his first crops. We decided to let him breed in Belgium at Xavier Hanneton's for just the one season because of the numerous requests we have received. Gilles Botton and myself think that he will be very well suited to the Belgian broodmare band but he will come back to France afterwards," said Yannick Fardin.