Dollar du Rouet, the Dollar of tomorrow?
Photos & Vidéos (1)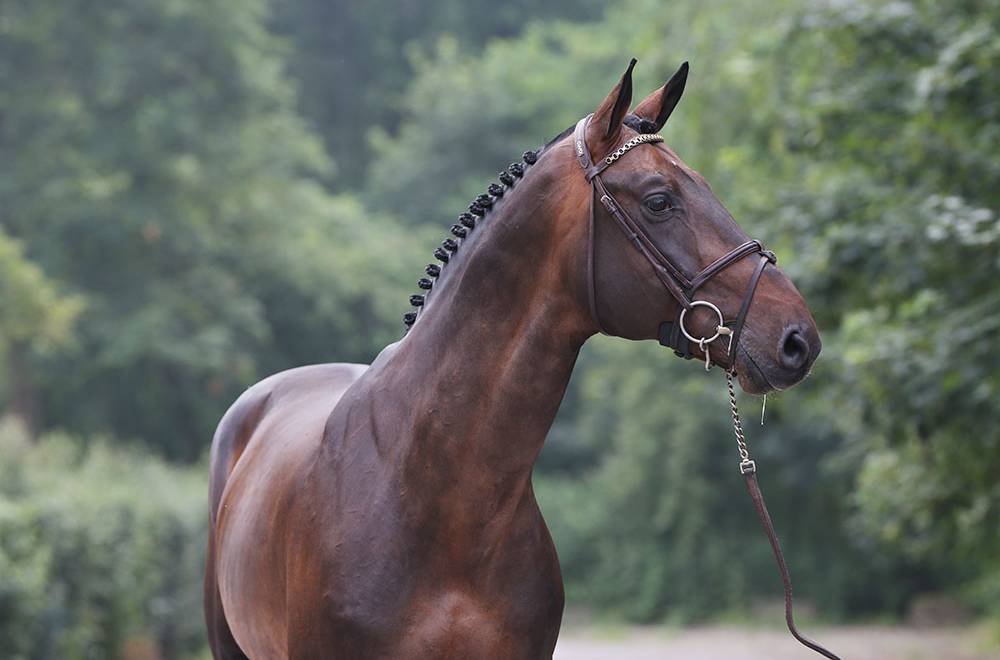 05 July 2019
In 2002, Dollar du Murier and Dollar de la Pierre gave France the gold medal at the World Championships in Jerez de la Frontera. Today, another Dollar, who's also a Selle Français stallion, is making his breeder and rider dream of the same destiny: Dollar du Rouet. Now 6 years old, the stallion continues to progress and attract the eye. Son of the highly regarded Chacco Blue, from a daughter of the late Quaprice Bois Margot - Baloubet du Rouet's own sister - his pedigree makes you dream, as does his athletic ability.
That's all it took for Studforlife to take an interest in him for you.
How did you choose Chacco Blue?
Yannick Fardin: "I have a friend, Christian Planchon, who had been in Germany and who had told me a lot of good things about this stallion, so I bought some frozen straws that he brought back for me. I hadn't seen too much of the horse myself. It was random... but as I often say in many interviews, I think that many great horses are a bit of a coincidence."
Why did you use the straws on that mare?
Y.F.: "Because she was a very good mare that Rudy Cock rode up to 145 and that I kept in breeding because I am passionate about breeding and I don't sell my good mares."
When the foal was born, did it meet your expectations?
Y.F.: "I was very lucky because with this insemination of Chacco Blue, I had two embryos to harvest, and I had two foals: a filly and Dollar. Unfortunately, the filly, who was beautiful, had an accident and she is no longer with us. They were two very good foals."
When did you see he was different from the other horses?
Y.F.: "When we made him jump at two years old. He has always jumped very well. Always the same way, the best he can and with great scope. I presented him in the stallion competition at three, and he was admitted by the Selle Français. The first year, he made about fifty mares, last year about a hundred and this year, he is also being used quite a lot abroad: in Belgium, Holland, Italy and Sweden. I really don't know how many mares he will have this year because in France alone we are already at 100 mares for the year."
Does that make you happy?
Y.F.: "Yes, it's really a great adventure."
What is the objective today?
Y.F.: "To continue in competition and only make frozen straws. He will compete at Fontainebleau and then go back to have his semen frozen. Next year, he'll go back to Gilles Botton's place, and then we'll see. If all goes well, Gilles thinks that he could be entrusted to Gregory Wathelet for the top level. One thing is certain, the horse is not for sale and I'm keeping him."
His rider of two seasons, Gilles Botton, is no less complimentary of his protégé.
What was the feeling he gave you the first time you rode him?
Gilles Botton: "A feeling of great quality with a lot of ability, but not a very practical horse with a huge canter and he's a little difficult which is reflected in his mouth. Nevertheless, he had great natural ability over a jump. We just had to train him a bit and we always knew that was going to be the case."
Is his work starting to progress?
G.B.: "Yes, and all the more so because one of his greatest qualities, on top of his ability, respect for the jumps and jumping skill, is that he has a very good mind. He always wants to work. He's had a good five-year-old season in which he's already made significant progress, and what's very encouraging is that he's maintained his achievements. Despite three months off for collection, during which his semen was frozen, he came back and hadn't forgotten anything, we were able to start training again right away. Everything's going really well, he's training well and moving in the right direction."
What do you like about him? What are his qualities?
G.B.: "He's really the complete package because he has a lot of respect for the jumps and huge ability. His technique isn't perfect yet but that's not a problem in itself. His biggest quality for me is really his mind, his desire to work and do well. He always wants to be perfect, even if it's not a problem having 4 faults. He gives his rider a lot."
What can you expect from him?
G.B.: "I hope to take him as far as possible, we've got the green light. I think he deserves a big-league medal, whatever the league."