Diamant de Semilly's sons were very successful on American podiums this weekend!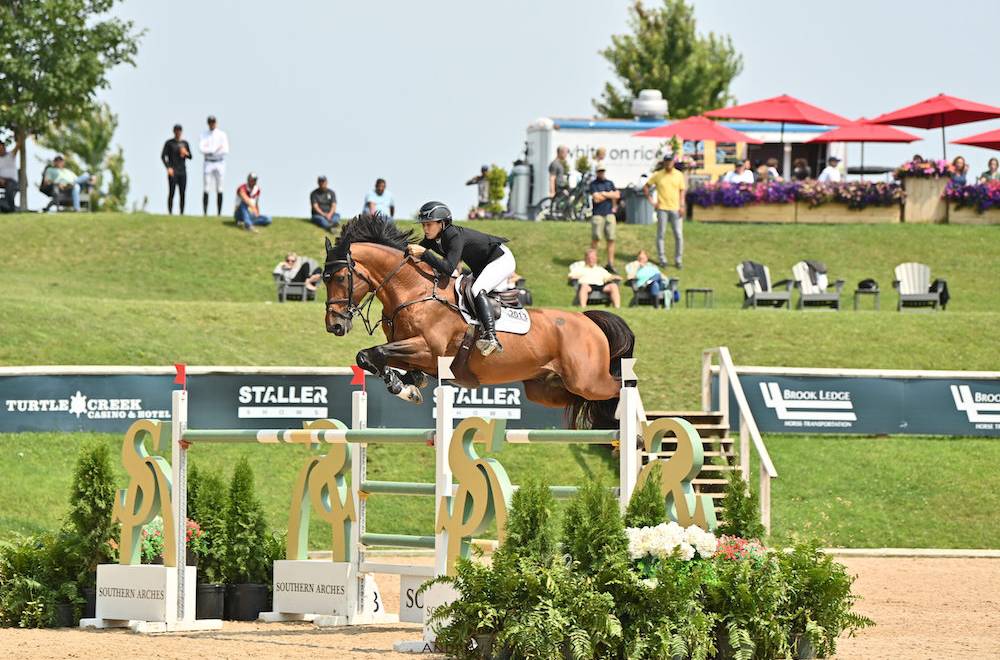 09 August 2021
While most of the attention was focused on the Team Final at the Olympic Games this weekend, other riders were on competition grounds in Europe and the United States in search of experience and victory. We take you on a tour of this weekend's results!
Saugerties CSI4*
The HITS Saugerties Series tour is in full swing in the United States. This weekend, the 4* Grand Prix was won by Rowan Willis of Australia, on Blue Movie (Chacco-Blue). Conor Swail and Vital Chance*de la Roque (Diamant de Semilly) were again on the second row of the final placings. The pair's form is noteworthy, having already won the 4* Grand Prix last week at these same facilities. Third place went to Jordan Coyle and Centriko Volo (Centadel).
Traverse City CSI3*
In Michigan this time a CSI3* was held. Brazilian course designer Guilherme Jorge's course allowed ten combinations to find the key to the clear round to reach the jump-off. California's Bliss Heers won the double clear with the Selle Français Antidote de Mars, Pierre Cimolai's former mount. "Antidote is incredible. He has the biggest heart. He has all the talent in the world and he just wants to do good. It's not just about having a nice horse in my string. Antidote was basically what brought me back when I was coming back from my bad injury and we built up a relationship together. In all honesty, I have a relationship with all my horses, but he is really, truly one of my best friends," said Bliss Heers in a statement. In 2018, following a fall with a young horse, the American rider indeed broke her L1-L5 vertebrae, dislocated her hip and breaking her pelvis. After spending the winter on crutches at the Winter Equestrian Festival, Ireland's Stevie Macken advised her to ride this famous son of Diamant de Semilly.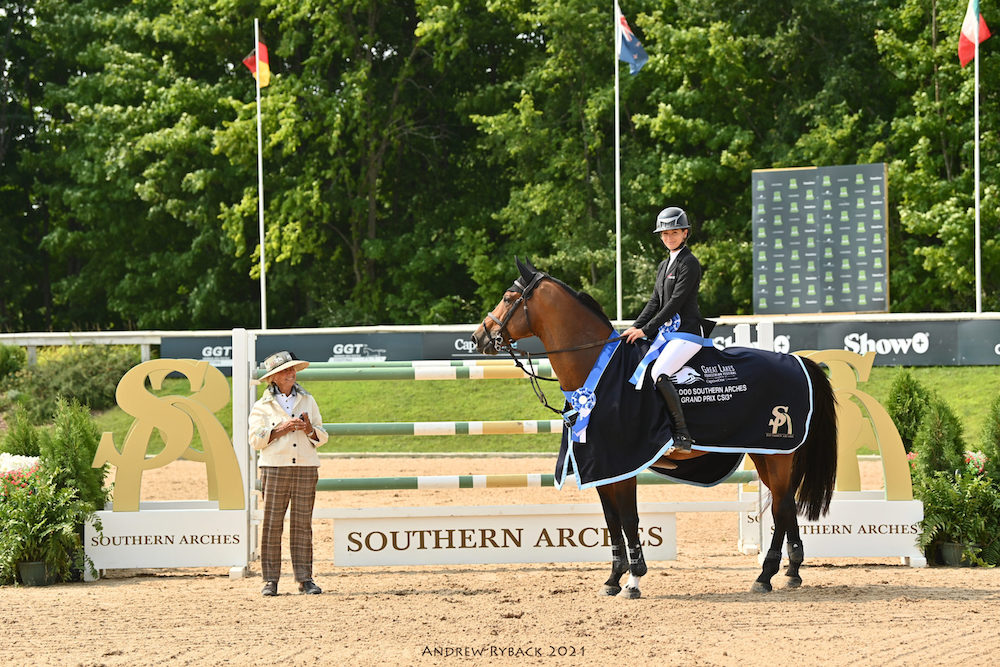 Bliss Heers and Antidote de Mars. © Andrew Ryback Photography
Natalie Dean, who rode Don's Diamont, another son of Diamant de Semilly, was not able to go faster than the previous pair and had to be satisfied with the second step of the podium. Ailish Cunniffe placed third with the slowest double clear on Vivaldi du Theil (Quaprice Bois Margot), Mark McAuley's former partner.
Saint Lô CSI3*
It was a 100% foreign podium in Normandy! Luxemburg's Victor Bettendorf won his first 1.50m 3* Grand Prix with Pasha du Gue (Dollar de la Pierre) ahead of the Dutch rider Jack Ansems and Fliere Fluiter (Zirocco Blue). Irish rider Shane Breen completed the trio on Compelling Z (Chellano Z).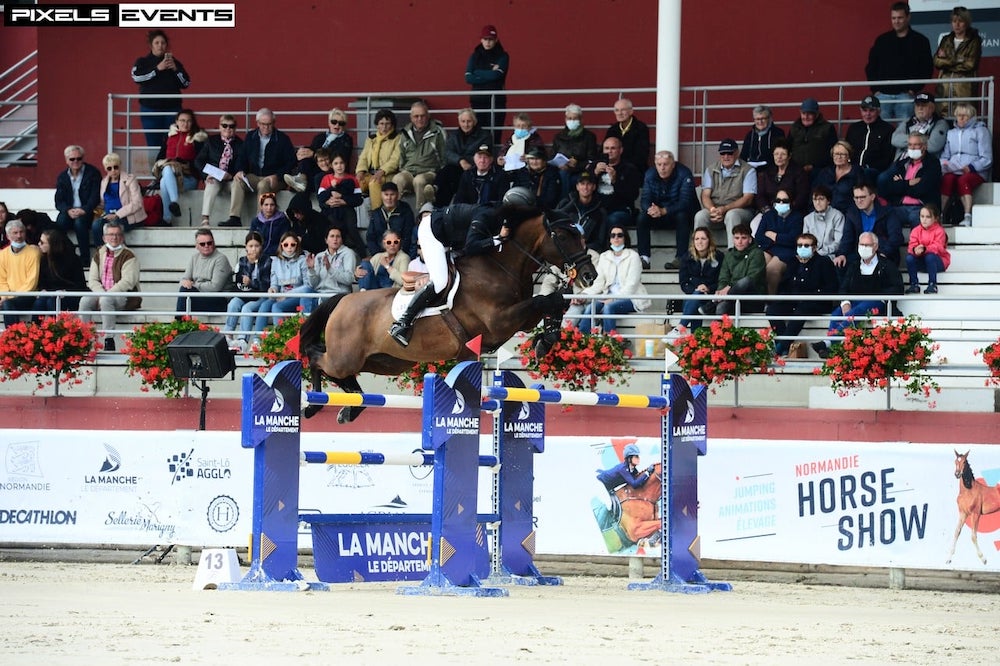 Victor Bettendorf and Pasha du Gue, still in good form at 18 years old! © Pixel Event
Opglabbeek CSI2*
In Belgium, the Stephex stable marked its territory in the 2* Grand Prix by taking two places on the podium. The victory went to one of their leading riders, Lorenzo de Luca, riding Calinka de Boyer (L'Arc de Triomphe). This 9-year-old mare has only been ridden by the Italian since last June in competition, the duo achieved their first victory here together. Second place went to Irish rider Abbie Sweetnam and Brown Star Z (Big Star JRK Z). Emilie Conter, Stephan Conter's youngest daughter, took third place with her faithful stallion Legolas Ter Wilgen (Emmerton), with whom she has been competing for three years.
CSI Youth - Valkenswaard
This weekend, the young generation was invited to Jan Tops' facilities in The Netherlands.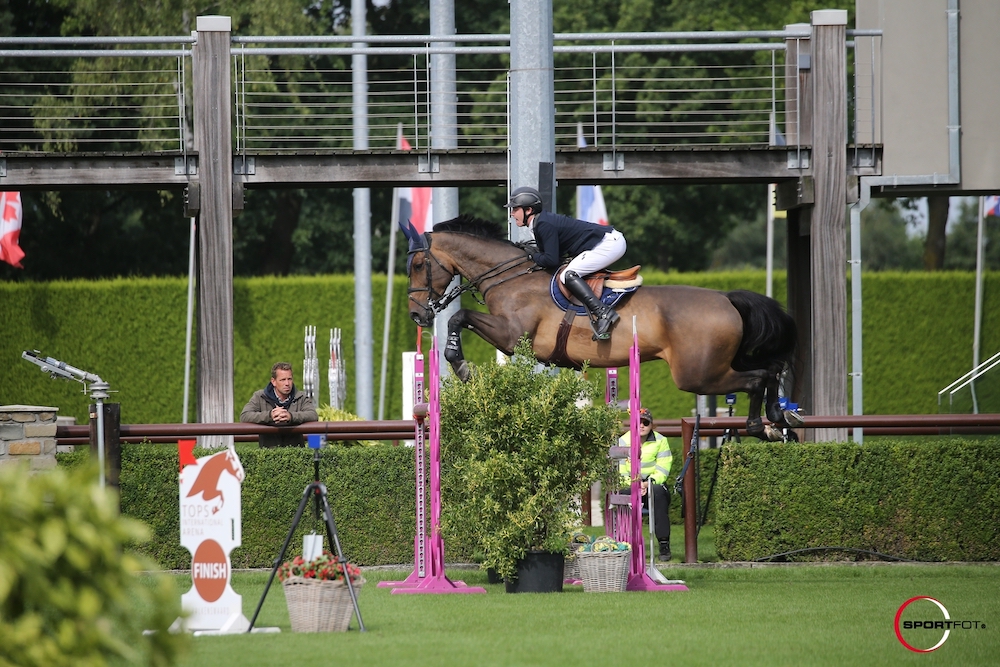 Michael Pender and Calais (Cavalier Royal) © Sportfot.com
In the U-25 category, Michael Pender (Calais) and Thibault Philippaerts (Derby de Riverland) finished first and second respectively. Tali Dejong settled for third place with Vaillant de Belle Vue (Calin du Plessis).
America's Tali Dejong took her revenge in the Young Riders Grand Prix with Heavenly Star (Van Gogh). She is the only jump-off rider to have achieved the double clear. It seems that she is liking her first summer in Europe! Second place went to the 16-year-old Belgian rider, Bart Jay Junior Vandecasteele and Mac Jack Courtier (Indoctro). Germany's Hannes Ahlmann finished third with his 9-year-old mare Caracas 105 (Casall).
In the junior class, Czech rider Mariana Michlickova won a 13-person jump-off with Leeve Jung (Lazaro 10) ahead of Lisa Maria Funke on Lionheart (Carenzo). Bart Jay Junior Vandecasteele, who was once again in great form, closed out the top three with Esprit de l'Esprit Z (Elvis ter Putte).
Photo credit: © Andrew Ryback Photography