The Deslauriers dominate in Wellington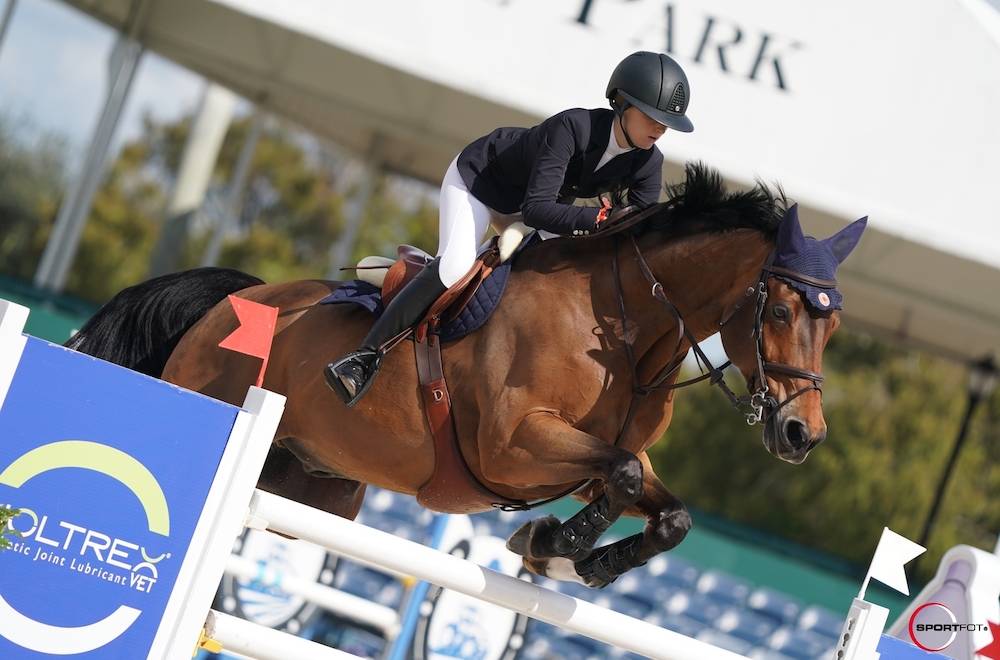 30 November 2020
A transatlantic CSI4* in Wellington, a CSIO3* in Vejer de la Frontera, and several other CSIs were held around the world. We take you on a tour of the weekend's winners.
Wellington CSI4*
The 1st clear round was a long time coming, but four riders still managed to make it into the jump-off of the 1.50m Grand Prix, major event of this CSI4* in Wellington, Florida. Jessica Spingsteen and Don Juan Van de Donkhoeve (Bamako de Muze) managed to come between the Deslauriers family to secure 2nd place. It is indeed Lucy Deslauriers who, on Hester (Wandor Van de Mispelaere) took 1st place. Mario, her father, then climbed onto the last step of the podium, on Bardolina 2 (Clarimo).
Vejer de la Frontera CSIO3*
This weekend, most of the attention was focused on southern Spain where the last Nations Cup of the year was held, which ended with a German victory. The Winter Sunshine Tour 1.50m Grand Prix was won by Britain's Holly Smith and Denver (Menphis). The author of a double clear round in the Nations Cup, David Will, again rode C Vier 2 (VDL Cartendro), and placed 2nd by turning in two more rounds with no poles hitting the ground! He was followed by Ireland's Denis Lynch and Cristello (Numero Uno).
Oliva CSI2*
Eighty-five starters set off on this difficult Grand Prix during the first week of competition at the Autumn Mediterranean Equestrian Tour, with only four riders finding the key to a clear round to make it into the jump-off. Edwin Smits scored the only double clear, taking gold with Farezzo (Arezzo VDL). Silver went to Germany's Richard Vogel and Floyo VDL (Baltic VDL), a duo that also made the podium last weekend at the CSIO3* Grand Prix in Vilamoura. His teammate Katharina Offel won bronze with the stallion Chaning Tatum (Canturano).
Ornago CSI2*
This weekend's Italian Grand Prix was full of Italian riders and they secured the victory! Youth riders made themselves known in this event as the victory went to Filippo Marco Bologni and his quick mount Quidich de la Chavée (President). "I'm really happy with this result. My horse Quidich jumped incredibly well. It's really nice to win an international Grand Prix and get some Longines Ranking points at the end of this complicated season and year. I still have two more international competitions left before the end of the year. I hope that in 2021 we'll be able to do some more important competitions," said the Italian rider.
Germany's Hans-Dieter Dreher on Prinz 1293 (Perigueux) followed him on the 2nd step of the podium, and Swiss rider Niklaus Rutschi and Quinao de Chandor Z (Qlassic Bois Margot) took 3rd place.
Barcelona CSI2*
The Barcelona Christmas Tour 2020 started this week and was punctuated by the French victory of Wilfrid Prud Homme and his mare Une Sauterelle (Gentleman IV) in the Grand Prix. Madagascar's Vanessa Norblin came in 2nd on Tender Bride (Quaprice Bois Margot). At one point, Jesus Garmendia Echevarria was sitting in 1st place during the initial round, and he managed to close out the podium with Valut 2 (Valentino 240).
Opglabbeek CSI2*
The Christmas Tour also started this weekend at Sentower Park in Belgium! The victory went to Dutch rider Ruben Romp on Bugatty GO (Concorde), ahead of Danish rider Soren Pedersen and Chico Z (Clinton 1). Swedish rider Wilma Hellström placed 3rd at the reins of her faithful grey, Cicci Bjn (Ci Ci Senjor Ask).
Riyadh CSI2*
The combination of Abdullah Alsharbatly and Freestyle (Cantos) excelled at home, in this international Grand Prix held in the capital of Saudi Arabia! Second place in the 1.45m Grand Prix went to Jordanian rider Ahmed M.N Mensour on his KWPN mare, Estoril de Vardag (Vaillant). Saudi Arabian rider Ramzy Al Duhami closed out this podium with Manola LS La Silla (Manzanillo LS).
Featured photo: Sportfot.com