Denis Lynch, winner of the Hong Kong Grand Prix!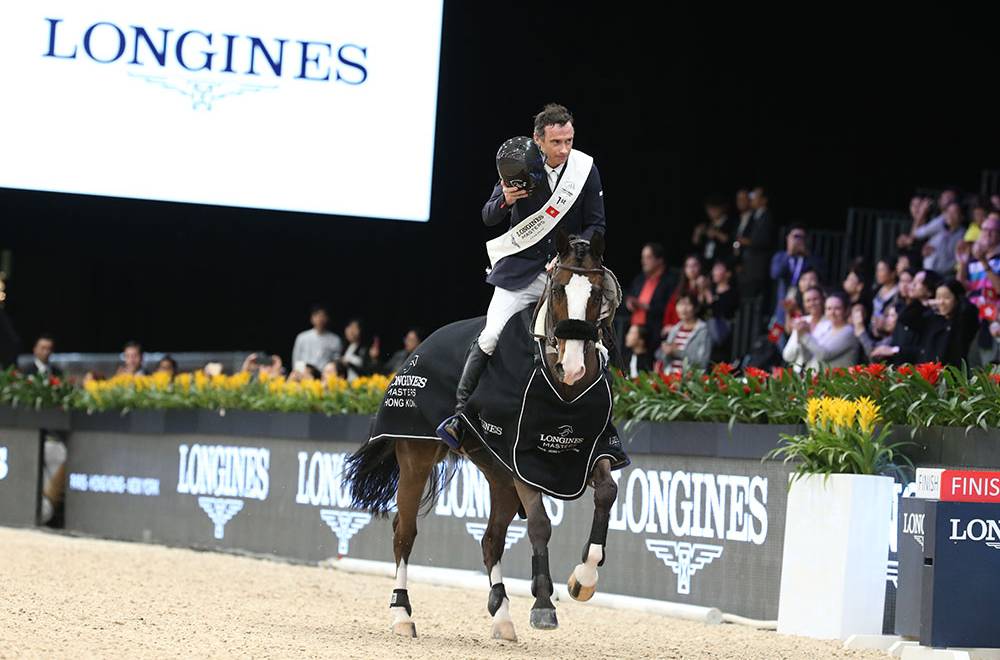 17 February 2019
At the end of the first round, things were very clear: only three riders had managed to complete without penalty the course designed by Frank Rothenberger, but 12 would start again in the second round to compete on time for the final placings, to the dismay of You Zhang of China, coached by Dirk Demeersman, who was competing in his very first Grand Prix at this level and finished 13th with five points. It was a fantastic result for this young man, who is currently combining his university studies with his passion for riding in Belgium.
The only Asian to have qualified for the second round was Hikari Yoshizawa of Japan on her fantastic Conrato (Caretino), but who unfortunately made a mistake in both rounds, as did the French riders Roger-Yves Bost on Vino d'Espinet (Elan de la Cour) and Patrice Delaveau on Urcos de Kerglenn (Toulon), who continues to improve.
This was also the case for the young Pieter Clemens, who placed himself between these same two Frenchmen on the podium of the previous event but who could be satisfied with his performance on his very pleasing Icarus (Querlybet Hero).
"It's really a shame about the fault in the second race, because it was really a very small touch. The bar rolled three times before finally falling. But I think I can go home very satisfied with my horse's performance, this is only his second Grand Prix at this level, and he jumped really well all weekend. I think it's a good omen for the future. I am really very happy to have been invited to take part in this competition and I really hope to be able to come back in the coming years because it is really a wonderful competition with an incredible public that shows a lot of enthusiasm," said the young Belgian from Jos Lansink's stables.
Finally, it is Max Kuhner with Cornet Kalua (Cornet Obolensky) and Luca Maria Moneta on his very experienced Connery (Cordobes), now 18 years old, who did things right with clear rounds in the second set to put pressure on the first three, while Gerco Shroder, who was competing in his first 5* with his brother's former mount, Davino Q (Vingino), and the unexpected Mike Patrick Leichle of Germany on Zara (Baloubet du Rouet). Both were penalized by five points in the first round and both opted here to ensure their result by adding an extra time point that moved them up to seventh and sixth place. It was an incredible performance for this German rider who received his invitation at the last minute. "I was able to take advantage of Edwina Alexander's forfeit. I was supposed to accompany two students here in Hong Kong and I had just received this horse, with whom I'm riding here in only my 3rd competition. I am obviously delighted with this result. It is wonderful for me," said the German.
In front, things began to get interesting. After the appetizers, here was the main course: the moment when victory is decided. Denis Lynch went first with Chablis (Couleur Rubin), and the Irish rider not only managed to improve Max Kuhner's time, but he also ran clear: 39''35, the first benchmark time.
Simon Delestre showed his intentions clearly – he wanted to complete a clear round with Ucello de Will (Marlou des Etisses), without going after the Irish rider's time. And after his great run on Friday, he ensured himself a place on the podium of the Grand Prix! Mission accomplished!
There was therefore only one rider left with a chance of winning, but he was certainly going to try. Pius Schwizer shot off with About A Dream (Clinton). They were going very fast, but then the bar on the last fence of the combination fell. Denis Lynch could rejoice (anything's possible), he had won this Grand Prix. But Pius did not slow down the pace because he still wanted to finish on the podium. It was 38''56, the best time of the race, and third place for the Swiss rider.
"I am very happy because Chablis is a new horse for me and honestly, I didn't think I could win here. He is a horse that has always been very competitive with his former rider Robert Murphy in Grand Prix 2*. This is obviously not the same level, but I know he can be fast. Now, I'd like to imagine the next step with him, but after this weekend, there is a lot of interest so he's likely to be sold. There has certainly been a lot of movement in my stables in recent weeks, it's the nature of the job. We'll see what happens next. In any case, I'd like to thank Christophe Ameeuw because I have been coming to this competition for several years and it is really a great pleasure," said the Irishman.
Runner-up Simon Delestre was no less happy: "He is a horse that has only been in my stables for three months and I am extremely satisfied with his behaviour here. My strategy was simple: to ensure a clear round! Yes, it may seem risky, but today it worked. Ucello is a very powerful horse but not very fast so I think it was better to be confident than to go fast and finish with one or two faults that would have made us go down in the ranking. This is my seventh visit here. I haven't missed one edition, and the development of this contest is fantastic, as is the enthusiasm of the audience. It is a real pleasure to come back every year."
Third after coming so close to winning the Grand Prix, Pius Schwizer could have been disappointed: "No, that's the game. She is a fairly young horse that still needs a little protection. I am happy with her performance and I really thank Christophe Ameeuw for this competition, which is simply unique in the world."