Denis Lynch outperforms the Germans at home!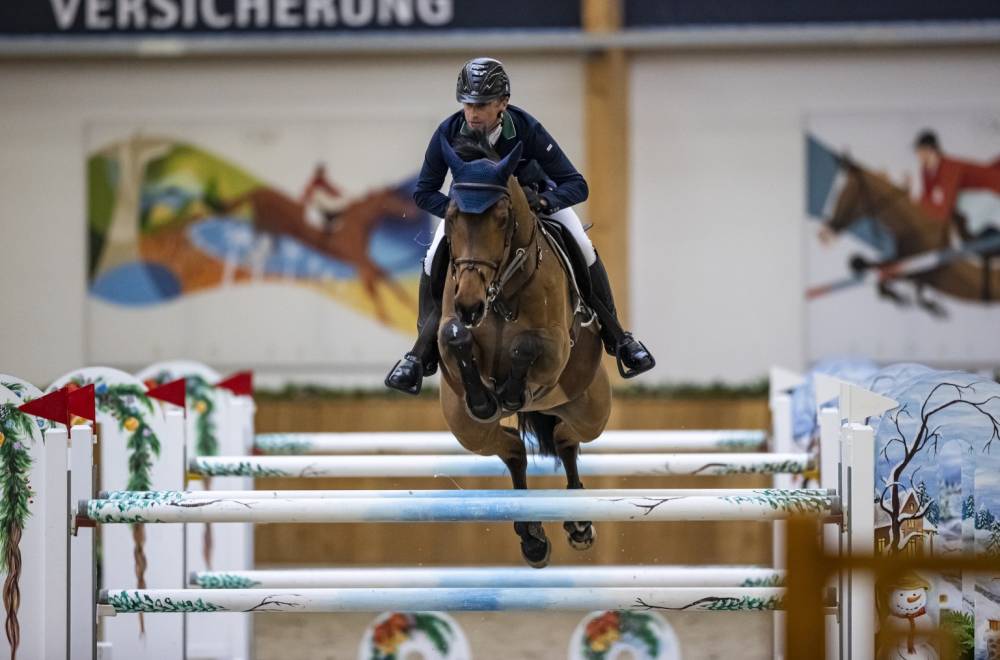 07 December 2020
Bryan Balsiger in Ornago, Wilfrid Prud Homme in Barcelona, and Philipp Weishaupt was named the German Champion... An overview of all the results of the international competitions from the weekend!
Riesenbeck CSI3*
The most important international competition this weekend, the CSI3* in Riesenbeck that was held at Ludger Beerbaum's, and welcomed 53 starters in its Grand Prix 1.55m event. Contrary to the norm, this major event was run in a single round without a jump-off since the German Championship was held in parallel, which crowned Philipp Weishaupt and Asathir (Diamant de Semilly). However, Ireland won the Grand Prix thanks to Denis Lynch who rode GC Chopin's Bushi (Contendro II). Two Germans completed the podium at home: Maurice Tebbel and his mount Don Diarado (Diarado), and Christian Kukuk with Quintino 9 (Quinton).
Barcelona CSI2*
Some good sport took place in Barcelona where a CSI2* was held as part of the Barcelona Christmas Tour. Having given us all a live behind-the-scenes look at her competition day on our Instagram account, young French rider Sara Brionne took 5th place in the Grand Prix 1.45m with Eganix du Seigneur (Ogano Sitte). "It was a very well-designed course, with an easier time than in last week's GP, but still quite tight because you had to ride quite quickly though! The triple at the end was one of the major challenges", told us the young French rider after her performance. France was the most represented nation in the Top 10 with four riders, and secured the first two places on the podium: Wilfrid Prud Homme and Une Sauterelle (Gentleman IV), and Olivier Robert and Eros (Querlybet Hero) finished 1st and 2nd respectively, just ahead of local rider Natalia Ramirez Galvez in the saddle on Macao (Baloubet du Rouet).
Ornago CSI2*
A 4th Grand Prix win this season went to Bryan Balsiger! The young Swiss rider won the CSI2* Grand Prix today in Ornago with Dubai du Bois Pinchet (Kashmir van Schuttershof). Italian Filippo Marco Bologni finished 2nd after a double clear round in the saddle on Diplomat (Kashmir van Schuttershof). Barbara Suter completed the podium with Aurora (Toulon).
Oplabbeek CSI2*
Eleven pairs managed to qualify for the Grand Prix jump-off which took place on Sunday afternoon at the CSI2* in Opglabbeek. Among them, the Netherlands did well thanks to Michael Greeve who rode Guan Gjb (Namelus R). Denmark's Soren Pedersen took 2nd place with Chico Z (Clinton 1), just ahead of Belgium's Niels Bruynseels and his Echo Van 'T Spieveld daughter, Luca Van 'T Eigenlo.
Oliva CSI2*
Back in Spain with the new CSI2* in Oliva, in the 1.45m Grand Prix event, Ireland won with Richard Howley on Arlo de Blondel (Tlaloc M), ahead of 82 starters! The relentless John Whitaker placed 2nd with Unick du Francport (Zandor), ahead of Koen Vereecke and his mount Kasanova de la Pomme (Bamako de Muze).
National ESP Year End Awards din Wellington
A 25,000$ Grand-Prix was offered to the riders present the whole winter in Wellington, United States. Seven pairs competed in a jump-off and all seven achieved a double clear round! The fastest of them was Darragh Kenny, in the saddle on Belo Horizonte (Baloubet du Rouet), just ahead of Kent Farrington who had chosen to bet on Orafina (For Fashion). Spencer Smith completed this international podium with Lord Up (Lordanos).
Featured photo: Sportfoto-Lafrentz.de