Delstar Mail for Edward Levy.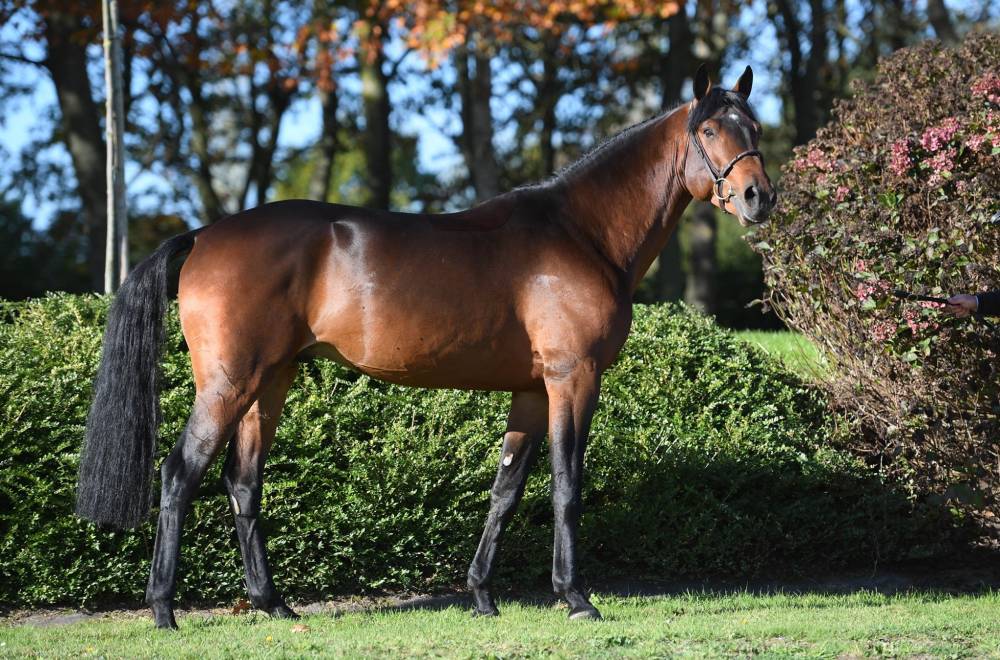 18 October 2019
Champion of the CIR in Normandy and of France's four-year-olds, as well as a finalist at five under the saddle of Grégoire Hercelin, the Selle Français stallion Delstar Mail (Utrillo vd Heffinck x Calvaro x Laudanum xx) left his training rider to join Edward Levy's string. The young Norman rider began his international career at a very young age in the stables of Patrice Delaveau at a time when his head mare was none other than Katchina Mail – Delstar's dam.
Levy also announced last week the arrival of another six-year-old stallion, Dubai de Soie (Quaoukoura du Ty x Heartbreaker), runner-up among French six-year-olds this year with Christophe Grangier.
"It is a real pleasure for me to welcome young stallions who have already shown their qualities as young horses and have an emerging breeding career. Breeding is really something that I am more and more passionate about. That's where it all starts, and even if I don't claim to be a connoisseur, I'm interested in the discussions. When you have to look for horses for customers and you are a little more interested in the origins, you realize that there are lines that keep coming back and are really appreciated.
With regard to Delstar Mail, the parallel between his arrival here and his dam's career at Patrice Delaveau is obviously funny and touching. I was a trainee at Patrice's when his dam was there and I regularly saw Bernard come to view her at the stables, and today her son is part of my stables. It is even more enjoyable as Bernard has a very human side and also a great loyalty towards his riders. When the first talks started, I immediately talked to Patrice, who is still very close to me and whom I continue to see every week. I used to ride Katchina on the flat when Patrice was competing with other horses. Today, I've already found many similarities with his dam, especially his eyes. He is also a horse with a very modern physique that has a lot of suppleness, and he has his dam's back, with the same ease of execution.
I also have to thank Gregoire Hercelin, who has ridden him so far and who has been great. He explained a lot about how he works and how he does things, which allowed me to have a good sense of him from the off. Now we have no short-term plans. Delstar has just returned from a month's holiday at the seaside, he will slowly find his place in his new stables and the objective will be just to be ready to start the seven-year-old season outdoors," explained Edward Levy.
"I have always liked Edward, whom I have known since he was very young. I was looking for a rider like Patrice who loved horses with blood. It is a choice that seemed logical and obvious to me. With Grégoire Hercelin, we made a little game by each taking a piece of paper and writing the name of the rider we were thinking of... the same name came out on both sides. He is a smart boy who is pleasant to talk to, which is also important when you entrust a horse to someone, because having a rider with whom you have nothing in common when you risk spending many weekends together... can be annoying. Here, he has just installed magnificent facilities and the context is designed to make everything go well.
I think that around the age of seven or eight, it is important for a horse to join the stables of a five-star rider. Patrice had always told me this and I think he's right: it is not the same sport, not the same tracks, not the same course designers... But you also have to deal with the emotional side – it's not easy for a rider who has trained a young horse to see him leave. He feels that the owner is depriving him of his only chance to reach the top level. However, when there is only one horse, it forces the horse to prove itself in two-stars and then three-stars for several years before reaching the five-stars. When you entrust him to a five-star rider, you get him in the swing directly, and you can see very quickly if he meets the level or not. In this case, I really want to thank Gregory, who was great because, at the end of the five-year-old season, he told me that we would have to think about another rider. He wanted the best for a horse he loves very much and even if he does have several seven-year-olds for next year, I think it was the best decision. Edward may make his debut with Delstar in Bordeaux. I'm not focused on that, but that could be a first objective", said Bernard Le Courtois.
Photo: Coll Brullemail / Les Garennes