David Will wins the best event of his career!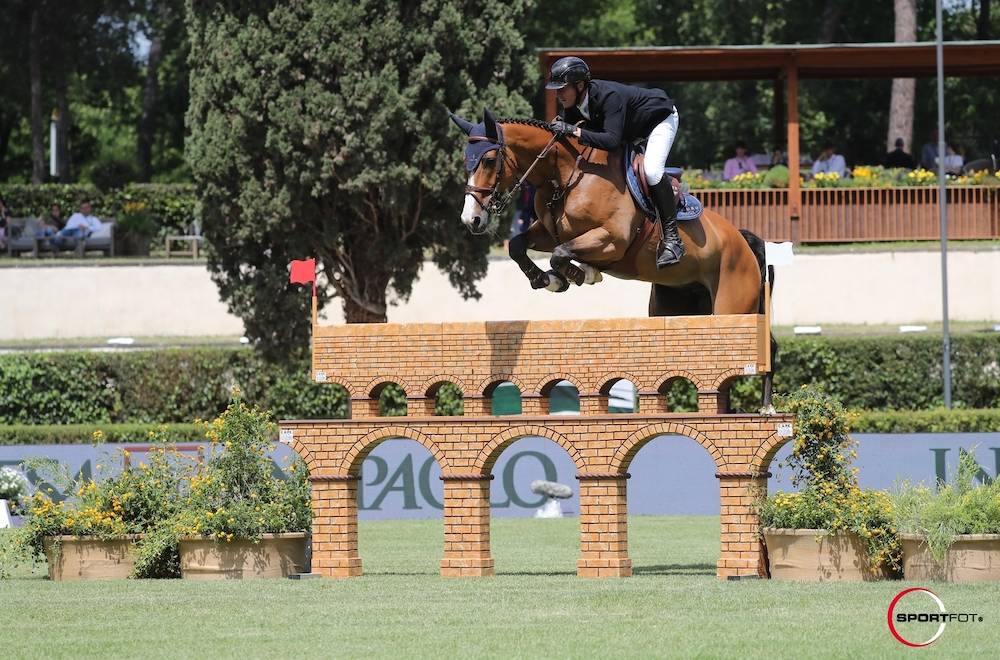 31 May 2021
Great sport was on the program this weekend! If it wasn't the riders from each nation fighting it out like gladiators in the Nations Cup in Rome, it was the Global Champions League teams in Saint-Tropez! Let's have a look at the results of the weekend.
Rome CSIO5*
The Piazza di Siena hosted its legendary annual CSIO5* this weekend. On Friday, Belgium won the Coupe des nations, but the Grand Prix was won by Germany! David Will and C Vier 2 (Cardento 933) have made a meteoric rise to the top in the last few months! The pair is victorious in the highly-prized Rolex event, beating Laura Kraut by two seconds in the jump-off. She rode her recent recruit Baloutinue (Balou du rouet). The third step of the podium also went to an American; Jessica Springsteen and her faithful mount Don Juan van de Donkhoeve (Bamako de Muze).
David Will came back on his victory: "I feel absolutely incredible. C Vier was in great shape these last two weeks. In St. Tropez he was already feeling great. Here he was even better, I knew he was ready to win something big. I couldn't be happier that it happened in Rome! The course was high and had many technical difficulties, but Uliano Vezzani managed to design it beautifully. Even though it was so difficult, it could really be ridden well."
Saint-Tropez CSI5*
The Global Champions Tour circuit stopped off in Saint-Tropez, on the French Riviera this weekend. If there was one rider who was in great form during these past three days of competition, it was Sweden's Peder Fredricson! Find the results of the Global Champions League and the Grand Prix in our dedicated article.
Tryon CSI2*
Tryon hosted a good number of riders that had remained in the United States for its CSI2* event. The $73,000 Grand Prix went to America's Hunter Holloway, riding Pepita Con Spita (Con Spirit 7). Second place went to Canada's Erynn Ballard on her 9-year-old mare Classic Penny, and third place went to Conor Swail on Vital Chance*de la Roque (Diamant de Semilly), with all three going double clear in the jump-off.
Peelbergen CSI2*
At the end of a 16-rider jump-off in this Grand Prix, young rider Michael Pender won on Hhs Calais (Cavalier Royale) ahead of the fast German rider Christian Kukuk on Creature (Colestus). Third place also went to the German team with Tim Rieskamp-Goedeking and his 12-year-old gelding Coldplay (Chacco-Blue).
Michael Pender and Hhs Calais at the Peelbergen Grand Prix jump-off.
Bonheiden CSI2*
The victory went to the British in this Grand Prix! Guy Williams turned in the fastest double clear with his Selle Français stallion Rouge de Ravel (Ultimo Van Ter Moude). Second place went to Kim Emmen and Warriors Glory (Warrior), while third place went to Belgium's Vincent Lambrecht on Catcalk Harry (Verdi TN).
Budapest CSI2*
It was a 100% Hungarian podium in this 1.45m Grand Prix! Dömse Tamas took one second off the clock and took the victory with Conquistador (Contendros). Second place went to Alasztics Aliz and Concordia HB (Cassini II), ahead of Jarmy Vince on JB Koronaör (Keve).
München-Riem CSI2*
The Germans didn't let any other nation set foot on the podium, though five countries lined up at the start of this jump-off! Simone Blum won with DSP Cool Hill (Corlensky G) ahead of his teammate Maximilian Schmid on Guardiola - N (Vigo D'Arsouilles). Frederic Tillmann closed out the podium with By Balou (Balou du Rouet).
Photo credit: Sportfot.com