David Will, a rider of unfailing willpower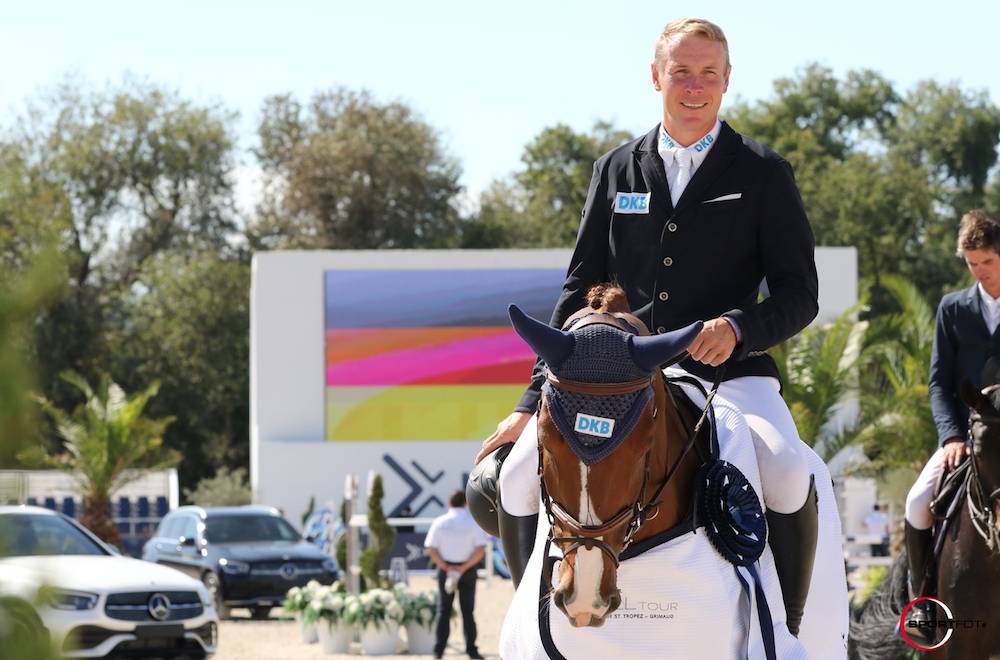 22 January 2021
At the end of 2020, David Will had won the two Nations Cups in which he participated. In Vilamoura and Vejer, where he posted a double clear round with C Vier, the German rider proved that he was an asset to the German team. It must be said that the 30-something hasn't just made it to the top level. With Colorit, who we would later see under Christian Ahlmann's saddle, David Will won the Den Bosch Grand Prix in 2013 and placed in several World Cup stages. He has also been associated with Mic Mac du Tillard, with whom he had won many events, notably in the Al Ain 5* Grand Prix and a big event in Aachen.
Even though he comes from a family of riders, it is through sheer willpower, hard work and tenacity that he has reached the top level. David Will made his debut with the German horse dealer Dietmar Gugler - who was to be his Chef d'équipe in Vejer. When he started working in this large trading stable, he worked as a groom and drove the trucks, while the star rider, Angelica Augustsson Zanotelli, rode at a high level. David Will also worked for her as a groom for the European Juniors and Young Riders. His boss then encouraged him to join the German army program where he continued to improve as a rider. After Angelica Augustsson's departure, it is his turn to become the stable's No. 1 rider. It didn't take much to see him excel at a high level.
Since then, David Will has decided to stand on his own two feet. He is now based in Dagobertshausen, an hour's drive from Frankfurt, where he has teamed up with Richard Vogel, a former Beerbaum rider who was also part of the victorious German team in Vilamoura, and Nicola Pohl. With new owners, quality horses and magnificent facilities, the German rider has continued his career at the highest level. Below is our interview with a promising rider who has just entered the world's Top 50.
When did you decide to become a professional rider?
It wasn't really a conscious decision, because it was always clear in my mind. Coming from a family of breeders and riders; my mother rode dressage and my father jumped, so I started riding early. When I was 10 years old, I started to take it more seriously, even though all I wanted to do was jump, every lesson!
However, you left the family stables to improve your skills...
Yes, I left when I was 17. I did an apprenticeship with Uwe Schwanz, a dressage rider who is also a friend of my parents. It was extremely formative. I then joined Dietmar Gugler and his wife Silvia at their facilities in the south-east of the country. Dietmar was a coach for the German Juniors and Young Riders, and was a fantastic coach for me - who hasn't exactly been successful with the up-and-coming riders.
Where does your riding style come from?
From several influences! I watched my father ride a lot, of course, and then Uwe Schwanz as well. I've trained with Dietmar Gugler a bit less, but he helped me progress a lot. First of all, on the technical side, by regularly having me work without stirrups, for example, but I also learned a lot about managing a commercial stable. A lot of big names in show jumping have passed through his stables.
You are now settled in the Dagobertshausen stables...
I have been there since April 2019. Richard Vogel and I both rent several stalls in this superb facility, which belongs to my student's father, Nicola Pohl. It's a beautiful place, I have a lot of fun riding there. In addition to the Pohl family, I also have several owners who support me. Normally I have between eight and nine horses in my stables. It's not a lot, but I want to do it right and give each of my horses the time they need.
David Will and Colorit (Coriano) in Wellington in 2012. The pair then went on to win the Den Bosch Grand Prix, before the stallion joined Christian Ahlmann's stables.
Who were the most outstanding horses in your young career?
The most important horse of my career was certainly Don Cesar (Drossan). He really started my career, allowing me to compete in my first Nations Cup, my first Grand Prix, my first Aachen... It was the greatest chance of my sporting life to be able to ride him at that time. Then there was Colorit (Coriano), of course, who I didn't ride very long before he left for Christian Ahlmann's stables, and Mic Mac du Tillard (Cruising).
With the unusual and bouncy Mic Mac du Tillard (Cruising), David Will has notched up many results and has taken part in several stages of the Global Champions Tour here in Miami.
Tell us about your string of horses...
Currently, my best mount is undoubtedly C Vier 2 (by Cardento and Concorde). I haven't been riding him for very long, but we get along well and have already had some great results together. There's also Never Walk Alone, who is very talented. I'm also trying to think about the next generation with Junior Kannan, a 7-year-old (Kannan x Diamant de Semilly) and Babalou, an 8-year-old (Balous Bellini x Newcastle), who will still need some time.
C-Vier, David Will's new asset. The pair won the two Nations Cups in which they participated in 2020.
How was your experience of the unexpected events of 2020?
It was special for everyone. I had left for the Emirates at the beginning of the year, then went on to Oliva. I had drawn up a schedule to prepare for my season, to allow my horses to get up to speed in anticipation of the big event deadlines... then it all stopped. We were lucky to still have quite a few national competitions in Germany, but of course, the horses did much less than expected during the year. This lent even more value to the two Nations Cups I was able to participate in at the end of the season.
Two Nations Cups where you shone, by the way...
Yes, I am very grateful to Otto Becker for sending me to Vilamoura and Vejer de la Frontera.
The winning German team in Vejer at the end of 2020: Marc Bettinger (left), Janne Friederike Meyer-Zimmermann, Davis Will and Maximilian Lill, with Dietmar Gugler. © Juan Luis Cabrera Garcia
Is being selected for a very selective German team a particularly proud moment for you?
I think it's something special to be called to be part of a national team, no matter which country you come from. This kind of challenge puts you under different pressure. For me, that pressure is always positive, it pushes me to do even better for the team.
What are your plans for 2021?
It's hard to say, as the calendar is still very unclear. Until March, Nicola, Richard and I plan to go to Oliva and then the Sunshine Tour to prepare for our season. Then, we will see how the situation evolves.
Featured photo: Sportfot