David Will challenges the formidable Swedes in Riesenbeck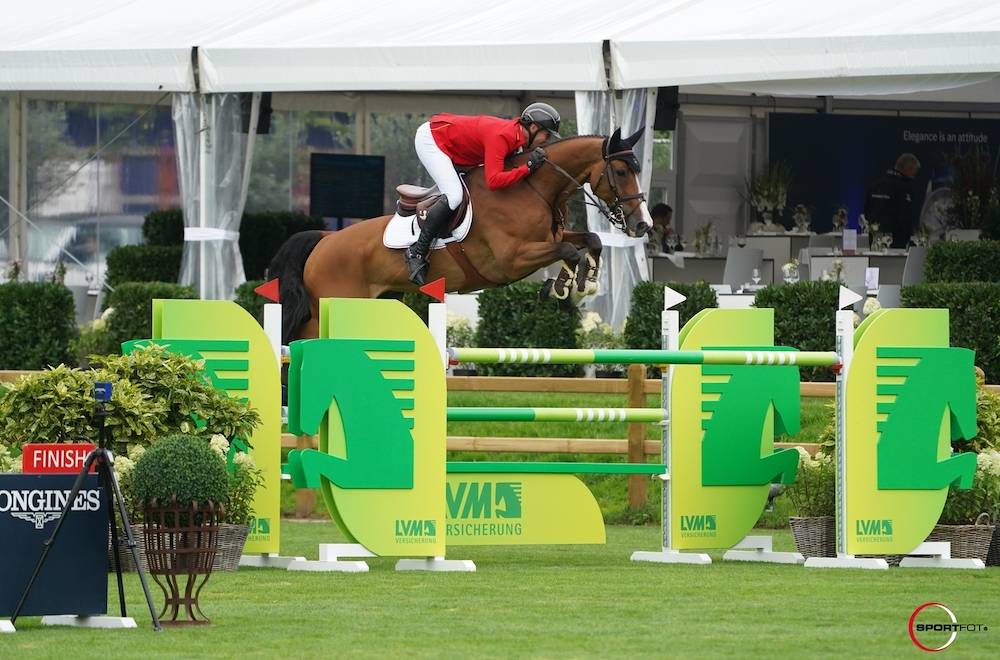 01 September 2021
The European Championships have started in Riesenbeck, Germany, at Ludger Beerbaum's home facilities. The German national anthem was played after the first round. The Swedes are once again in the hunt for the team championship.
Due to the Covid-19 pandemic, Budapest chose not to host the 2021 European Jumping Championships. Taking advantage of this free slot, Ludger Beerbaum and his team took on the crazy challenge of organizing the event, just one and a half years before its start. So it's in the green setting of Riesenbeck, a huge complex owned by Baron Heereman a little more than half an hour from Münster, that the Europeans are taking place. Yesterday, tractors and machines were busy assembling the final elements. Today, everything was finally ready: comfortable facilities for the horses, a large grass arena, numerous relaxation areas, an exhibitors' village... And everyone seems to be satisfied with the warm reception.
David Will starts the competition in the best way
What better way to start these championships than with a German victory? Against all odds, David Will beat all expectations and won the first qualifier with C Vier (Cardento). The 30-year-old is competing in his first European Championships and "…to be honest, the plan wasn't really to win on the first day, I wanted to prepare my horse for the upcoming courses, but I must say that he was fantastic. He didn't touch a rail, it almost seemed easy to me," he said at the press conference.
David Will & C Vier
This event counted not only towards the individual rankings but also towards the team rankings, of which Germany is in second place with 4.77 points. Despite the withdrawal of Maurice Tebbel, whose stallion Don Diarado (Diarado) is apparently suffering from a hoof abscess, the German team could count on Marcus Ehning. "It's pretty good to have Marcus as a reserve," David joked. The centaur wasn't riding his formidable partner Comme Il Faut (Cornet Obolensky), who is competing in the CSI3* one last time before retiring, but Stargold (Stakkato Gold). In the absence of his team pillars Daniel Deusser and Christian Ahlmann, Otto Becker is able to count on Andre Thieme and Christian Kukuk to compete for a new medal.
Sweden is there, once again
But before they can win gold, the Germans will have to outdo the Swedes, who are currently leading the team rankings with a total of 3.59 points. Not content with being crowned Olympic Champions a month ago, the Swedes seem ready to do it again. Leading the way is Peder Fredricson, this time teamed with Catch Me Not S (Cardento) who won the London and St Tropez Grands Prix this season. Though Peder doesn't consider himself to be one of the favorites, he's obviously among the best once again. He finished second in this year's first qualifying event, just ahead of his compatriot Douglas Lindelöw. He has been a little more discreet since the sales of Casello and Zacramento, but the sympathetic rider seems to have found a good replacement with Casquo Blue (Chacco-Blue) which he has been riding for three years. Alongside the experienced Rolf-Göran Bengtsson and Angelica Augustsson Zanotelli, the Swedish team has every chance of winning the gold medal that eluded them in Gothenburg in 2017. However, nothing is done yet: the two team rounds, which will take place on Thursday and Friday, are still to be run.

Douglas Lindelöw & Casquo Blue
Germany and Switzerland are less than a pole apart from Sweden. Disappointed with their fifth place at the Tokyo Olympic Games, the Swiss are keen to have their revenge this time. The Swiss have put their faith in the experience of Steve Guerdat and Martin Fuchs, combined with the talent of two riders who are competing in their first European Senior Championships, Elian Baumann and Bryan Balsiger (whose reaction can be found below). The team, led by Michel Sorg, finished this first round with a total of 5.47 points.
Photo credit: Sportfot.com