Daniel Deusser and Killer Queen VDM win in Aachen!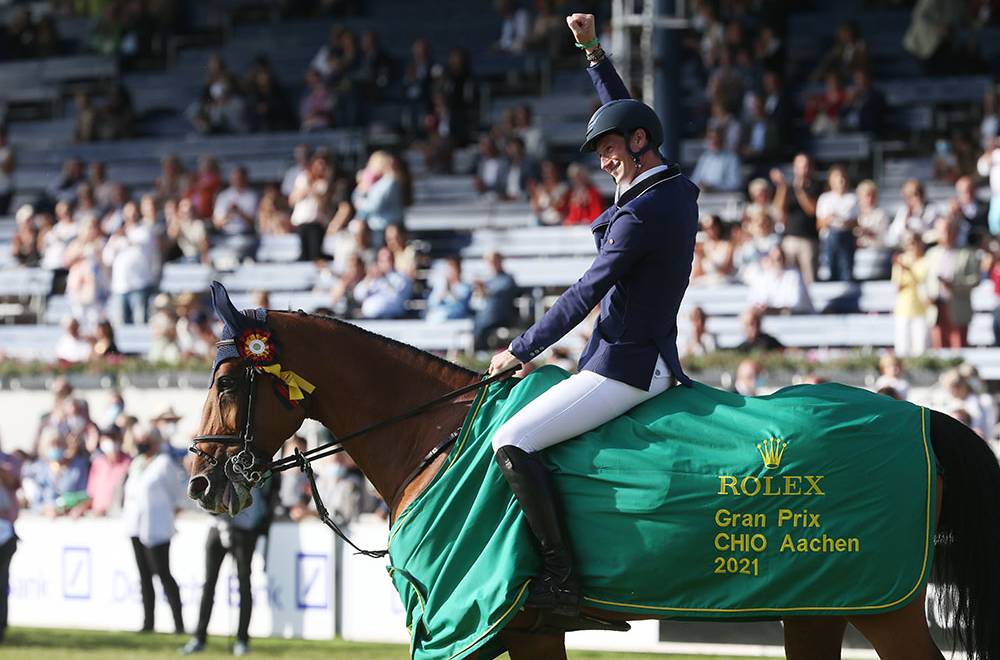 20 September 2021
Even with only half of its audience, Aachen remains an exceptional and special event. Frank Kemperman and his team have once again shown their determination and their organizing skills in a period where it is very difficult to anticipate the standards in force at any given time. Despite that, this 2021 edition has taken place in very particular conditions, but it was far from being a cut-rate affair.
There were a few surprises in the list of 40 starters for the mythical Aachen Grand Prix which, like the Nations Cup, has a 1-million-euro prize pool! But all of them had earned their place because just participating in the Aachen Grand Prix is already an event in itself for many riders, however professional they may be.
Among them, some achieved the feat like the German rider Philipp Schulze Topphoff who achieved a magnificent clear round with Concordess NRW (Congress), but who was caught out by the double water tray obstacle during the second round, though there was very little damage.
An immense joy filled Patricio Pasquel when Babel crossed the finish line of the first clear round, and even though the second round was less successful, it was a pleasure to finally see expressive riders for whom this feat is not the norm. For some of them, despite the clear round, the expressions on their faces were quite hard to read... But it must be said that often, those riders had a very different objective: to inscribe or re-inscribe their name on the Aachen scoreboard and nothing else! For that, the road was still a long one!
The second round was very cruel for Christian Ahlmann and Clintrexo (Clintissimo Z) who seemed blunted during their round.
It was also a huge disappointment for young German rider Geritt Nieberg. Lars Nieberg's son was caught out by the first obstacle in the first round, before riding a smooth course with Ben 431 (Sylvain)!
As for Steve Guerdat, he took a crazy gamble. Victorious last weekend at the Spruce Meadows CSIO5* Grand Prix, he started this Sunday with the same mount, Venard de Cerisy, in Aachen. After a magnificent first round, the Swiss rider was very close to reaching the jump-off... But the rail of the Turkish Airlines vertical, placed in second to last position, fell; Aachen still resists the former World No. 1s attempts.
Nevertheless, there were seven combinations to fight it out in the jump-off. This is quite a large number after these two delicate rounds at this extraordinary show!
The only German still in the running, Daniel Deusser was the first to start. The rider decided to put the maximum amount of pressure on his pursuers even though we know that, to an extent, his role as an opening rider is never really an advantage. The World No. 1 managed a lap without fault in 41.85 seconds.
After him, it was very simple: there were only big names. Jérôme Guery could once again count on Quel Homme de Hus (Quidam de revel) who was in great shape, but unfortunately their dream quickly collapsed with a rail falling at the beginning of this long jump-off.
The 2017 winner with Korea, Grégory Wathelet attacked with Nevados S (Calvados Z). They had a clear round but unfortunately, it was a bit slower than Daniel Deusser's time!
Although Laura Kraut has won the Nations Cup twice, the American rider hasn't yet won the Grand Prix, unlike her partner Nick Skelton, who is one of the legends of German competition with no less than four victories. The American started with Baloutinue (Balou du Rouet) but couldn't avoid knocking a rail even though their time was faster than the World No. 1's!
The new Olympic Champion, Ben Maher, was the great favorite. The only rider to shuttle between Aachen and Rome this weekend, seemed to be holding all the cards... but mid-course, a rail fell! he had the best time of the jump-off, more than one second ahead of Daniel Deusser, but with four faults!
The 2015 winner with Hello Sanctos (ex Sanctos van't Gravenhof), Scott Brash could only dream of a second title with Hello Jefferson (ex Jerenmias van het Hulstenhof; Cooper vd Heffinck) who is coming back to an area not far from his first exploits since his first rider, Charlotte Philippe, is situated barely 50km away from the stadium... but for them, it was the exit of the double that fell!
There was only one rider left to compete: the young American Brian Moggre. The young man impressed this weekend, having gone double clear in the Nations Cup, like Daniel Deusser. Having been extraordinary throughout the week, Balou du Reventon (Cornet Obolensky) confirmed his form again and again, notching up a third round without penalty: 42.16 seconds, slower than the German... But at 20 years old (find Brian in our last episode of the Rising Star video series), the young man can only be satisfied with this fantastic second place, pushing Grégory Wathelet down to the third step of the podium. "When I got Balou du Reventon, I put myself under a lot of pressure, because it was the first time I had had a horse with such a record. His owner, Ann Thompson, has always been great to me. The only thing that matters to her is the well-being of her horse. Balou is really the most amazing horse I've had in my short life. To be second here is incredible. When you're a kid, you watch videos of the Olympic Games courses and the Aachen Grand Prix..." Brian Moggre said.
Relegated to third place, Grégory Wathelet was as always very realistic: "Of course, I want my name on the wall again, especially since I know the feeling it represents. Two other riders were better than me today. I can only be very happy with this third place because my horse jumped really well, and I am very happy with his performance."
After several close calls, Daniel Deusser came to Aachen as the World No. 1: "Finally! Today it's a dream come true. It's really a great goal to win here. I thought it was a disadvantage to go first, but in the end, I managed to put pressure on the others and I must admit that when I saw Ben Maher and Laura Kraut make a mistake, I was happy... I think we're like a big family, we meet at competitions every week, we give each other advice... But today was my day! We do this sport to experience these emotions. Winning Aachen is a childhood dream come true! Killer Queen is an exceptional mare. It's hard to rank her against other horses I've ridden because in my career I've been lucky enough to ride some incredible horses like Cornet d'Amour and Tobago Z. Despite her record, Killer Queen is still young, and I'm counting on her a lot for the future. Today, only 50% of the audience was here, but for us, it is a real joy to ride in front of spectators again and this competition remains something very special. I can only thank the organizers for putting this competition together despite all the challenges."
However, this afternoon's scenario could have been very different because the plan for the Grand Prix wasn't the one that was planned at 8 o'clock this morning. The German course designer, Frank Rothenberger, who is criticized regularly, but who was flawless this week with faults appearing everywhere and courses that were the subject of great reviews, explained after the Grand Prix: "This morning, looking at my jump-off, I wasn't happy so I recreated one that I liked better but as a result, I had to change all my courses so that the sponsors' obstacles could match their expectations and finally, I am satisfied with these changes even though we had very little time to do it," said the course designer.
"I am also very happy with these changes," concludes hilariously the ever-responsive Double D.