Coros, the unquestionable 6YO World Champion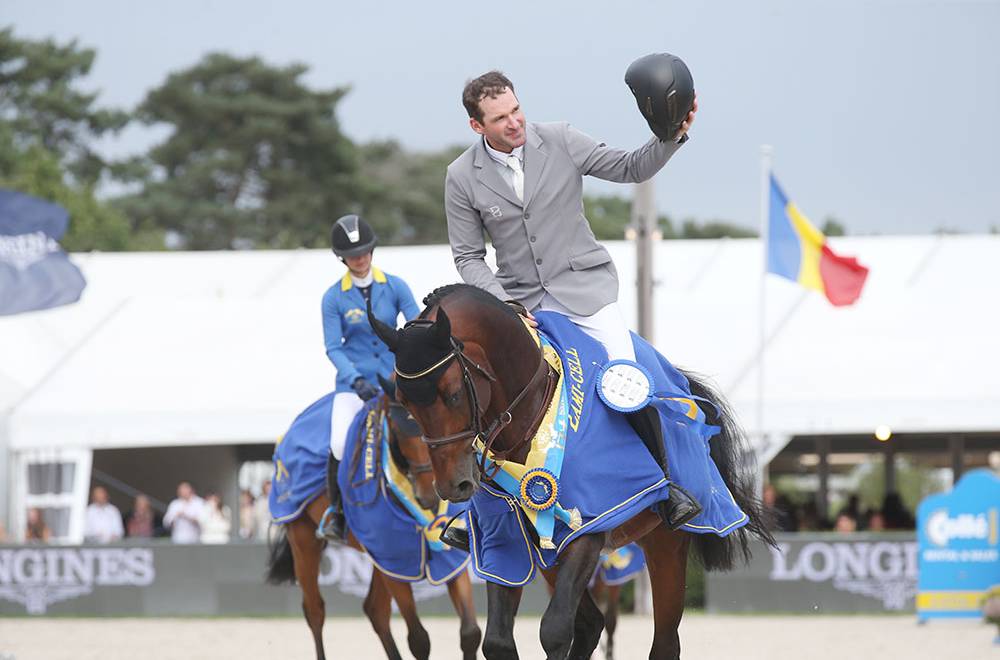 18 October 2021
There were 40 that started but in the end 11 made it to the jump-off. It was a jump-off where we can't say that the suspense was intense. First to start, Philipp Weishaupt obliterated the competition with his fantastic stallion Coros (Cornet Obolensky x Arpeggio). Many tried, but there were only two places left on the podium.
"This is my first time in Lanaken... and I have to admit that, even though I brought other horses, I came for Coros. We already finished second in the Bundeschampionat... and I didn't want to finish in that position again. You can never say that a jump-off is over, especially when you leave the arena first. I've already had some disappointments thinking I had won some events, but here I knew that if someone was to beat me, they would have to achieve something special. I didn't know much about the qualification system for this final. I was told, "You get two clear rounds and you're in the final." So on the first day, I did a nice quiet clear round... but in the evening, I looked at the placings and realized that I was... 94th! I told myself that I had to do better the next day and we took 5th place! Coros is already well known in Germany, but I decided to bring him here to let the foreign breeders get to know him too. I spotted him in a regional show at 5 years old, but his owner didn't want to sell him. I insisted and we finally came to an agreement. I think that he's an incredible horse with a great future," explained the Beerbaum stable rider.
And obviously, the bay was amazing and is undoubtedly the revelation of these championships! After him, the only hope was to be a runner-up.
The Selle Français stallion Fancy de Kergane (Berdenn de Kergane), who was very much in the limelight during the qualifiers and even during the first round of this final, tried his luck under the saddle of Jonathan Chabrol but unfortunately, the pair couldn't avoid having two rails, although they put in an honorable performance. He is undoubtedly one of the horses to follow from this championship.
A third stallion from this generation will also make his mark; the beautiful and powerful gray Calvador Z (Comilfo Plus Z) who, under the saddle of Jason Foley, completed a magnificent double clear round to finish at the foot of the podium. Rejected by the BWP jury at 3 years old, the gray didn't hesitate during his return to Belgium and we can only regret this mistake. Having been a little too ambitious in the 5YO championship, his young pilot remained wiser this time. "Calvador covered a lot in Ireland for his first year with no less than 50 mares. So he doesn't have much experience in the sport and isn't used to speed. He is a talented horse, so I decided to bring him here and I'm very happy with our performance. I think he's really a horse of the future. I came fourth in the 5YO Championship where I was very fast, but I had no luck over the last fence, so this time I thought the horse jumped a really fantastic first round, but he has so little experience that I didn't want to do anything stupid. He jumped like a super star and that makes me very happy. We were close to a medal, but that's the way it is," said Jason Foley.
Shortly before him, the Ahlmann stable rider, German Angelique Rüsen rode the astonishing Crowny Z (Crown Z) who, without putting on a show, has shown the will to always remain clear. They placed second.
It was a performance that pushed Arnaud Gaublomme a little further with the very impressive Chica VV Z (Comme Il Faut) who is none other than a daughter to the international performer Kerbie VV, herself a maternal half-sister to Tinka's Hope, Chouchou of Colors, Egie of Colors, Calimero of Colors and so many others from the Itot du Château line.
"I've been riding her for two years, but she didn't compete at 4 and 5 years old. We only took her out for training competitions. We took our time and today she's just amazing. I really think that she's a horse with a bright future. I really think I achieved a perfect jump-off. I couldn't have asked her to go any faster today, I'm very happy with that," said the young man who had a very good day.
At the very end of the competition, Virginie Thonon started with Parequita VH (Jamal vd Heffinck). The rider did her best without taking every risk and secured herself her first podium in Zangersheide, just six hundredths of a second behind second place!
"This is the last time I will ride the mare, so I'm really happy to finish on a good note on a podium that I've never managed to reach before. I didn't put any pressure on myself. I know that she's a very good mare who is easy to ride. I have a little bit of regret here; I think I could have taken a stride out between 1 and 2 but I didn't dare because she doesn't have a great action and I let her go a little too much in front of the double and there, I think there was a way to win a place and get the silver, but I have no regrets, I'm very happy with this result," said Virginie Thonon.
After winning the title at the 6YO Belgian Championship with Quinta W, the Liège-based trader Fabien Schreiber took bronze with Parequita VH: "I spotted this mare during the first cycle of the season. She was ridden by the Gaublomme brothers who had decided to sell her. They gave me a price the next evening, and on Tuesday morning I went to try her. The visit was done on Wednesday morning, she was paid for by noon Wednesday, and she was at my place the same day because I was afraid that someone else would spot her. I think I was the only one to view her, which is amazing because I thought she was really good. She's the only mare to have done all 6 courses of the cycle clear. Her only rail of the season was in the second round of the Belgian Championship. Two weeks ago, she went to Bonheiden where she was again placed every day, and I think she's one of the only ones who didn't hit a rail at home between her last competition and here. She's really a mare with an incredible natural quality. When I bought her, I had just separated from my partner, so I didn't have a new rider yet and Virginie Thonon helped me out as she had already done several times by riding her at short notice for the whole season, which makes this performance even more exceptional. We had agreed that she would keep the mare until the World Championships and now my rider is going to take it easy with her during the winter. She's a very sought-after mare because she's exceptional, but my goal is really to take her as far as possible... even though everything is always possible, we are only human. I'm really pleased, we had a great season."