Cordial, everything comes to those who wait (3/3)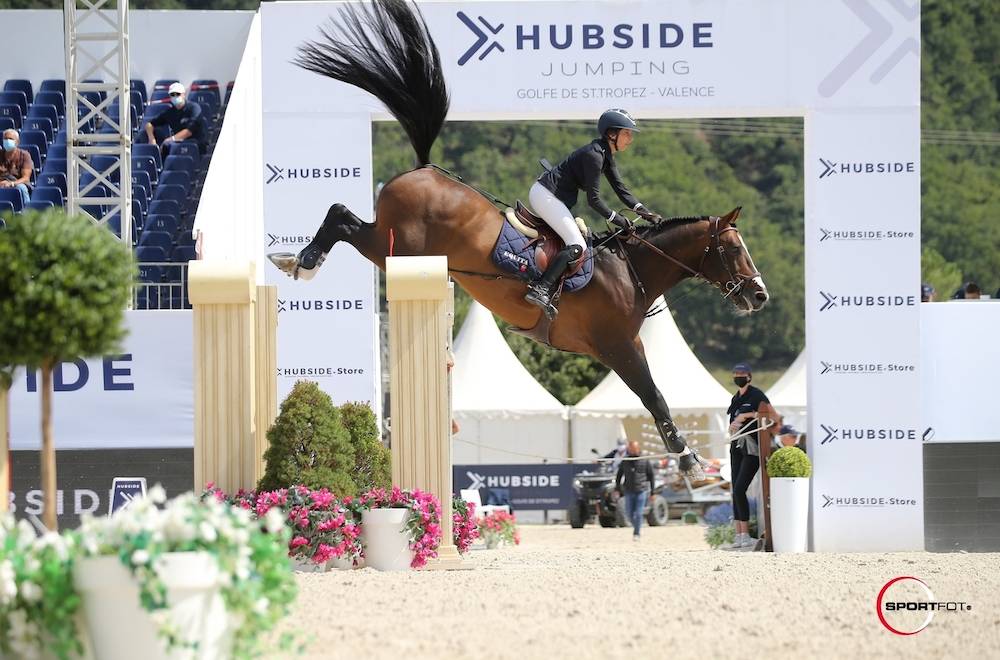 06 January 2022
He's one of those horses that stand out. Throughout his training and even today, Cordial has never ceased to attract attention, thanks to his type, his power and his innate jumping qualities. He was a good finalist in the 7-year-old French Championship in 2016, and since the beginning of 2021, he has jumped a series of 5* Grand Prix events with disconcerting ease. Studforlife wanted to know a little more about the full brother to the stallion Cashpaid J&F. We are at the Haras de la Côte, at Laurent Guillet's, with his rider Mégane Moissonnier.
Cordial can boast that he has blood from the "mare of the century" Ratina Z, since his dam's sire, Chicago Z (Caretano x Cor de la Bruyère), a 1.60m performer, is none other than a grandson to the legendary daughter of Ramiro. Interestingly, Cordial has a double-dose of the blood of one of the pillars of the Holstein studbook, the stallion Caretino (the latter being the sire of Casall and grandsire of Chicago Z).
Cordial's pedigree, representing ancestors that have performed at 1.40m and more
According to Laurent, "The family is exceptional." Indeed, Cordial is not the only Unshuld progeny to stand out. His full brother, Cashpaid J&F, born in 2011, made a splash under the saddle of his trainer Nathan Budd, before joining Karl Cook at the end of 2020. In addition to the strength and ability inherited from their sire, the two brothers share other common points. Laurent and Mégane define Cordial as "A cream of the crop horse, identical at home and at competitions, attentive to the care and attention of his rider," while in an interview with Studforlife, Nathan Budd described Cashpaid J&F as a "…very nice horse, very kind, with a very good character," and added "Cashpaid has that class that horses at the very top level have, with class, a canter and presence that are quite difficult to describe when you've never ridden a horse at the very top level." For Laurent, Cashpaid could seem lighter, "But Cordial has been refined over time and he has never lacked blood." Mégane completes this point: "He is a horse with a lot of bone, but he is also supple and very light. Feeling him move under saddle is a delight. Everyone sees him as a bit heavy... Of course, he's not the fastest but it's a mistake to think that he lacks energy."
Regularly classified at 1.40m under the saddle of the Belgian rider Nathan Budd, Cashpaid J&F is Cordial's full brother. © Sportfot.com
"We also have two maternal half-sisters," adds Laurent. Girly, born in 2016, by Lord Fauntleroy (Lord Pezi X Contendro), dam of the superb Cordiale, a filly by Casall (so a ¾ sister to Cordial), sold for €45,000 in 2020 at the Fences sale, will be dedicated to breeding (two embryos by Casall and one by Diamant de Semilly having been harvested in 2021). Chance J&F Chamblanc Z, born in 2017, by Cantesini (Cascadello X Cassini I), is the second maternal half-sister to Cordial acquired by Laurent. Having foaled a filly by Candy de Nantuel in 2021 and waiting for a foal by Cooper vd Heffinck (Caretino again!), Chance should then resume her sporting career because "she jumps really well".
Cordiale, ¾ sister to Cordial, by Casall, sold for €45,000 in 2020 at the Fences sale © PSV Morel Coll Fences
Born in 2018, Sunday JM also caused a sensation. A maternal half-brother to Cordial by Ermitage Kalone (Catoki X Kannan), he made a name for himself at the 2021 BWP Stallion Selections, finishing in third place.
For all these reasons, for a long time Cordial has caught the eyes of many breeders. However, he has only one breeding season (2018) under his belt. "Béligneux Le Haras is only two kilometers away. The Neyrat family therefore collected him with the aim of covering 60 nomination cards, which were quickly sold." For the time being, although he is approved by the Selle Français studbook, priority is given to sport. "His owners haven't asked for him to be put back on the phantom," explains Laurent. Only about 30 foals are currently registered with SIRE, with the oldest turning three in 2022. His first offspring all appear to be quite nice, strong underneath, with bone, and many of them have a little peculiarity, namely "quite a bit of white on the head and legs". "I have a Cordial colt out of my show mare Quinoa du Bosq and Laurent has bought several," says Mégane.
A 2020 Foal, by Cordial and Quinoa du Bosq (Rosire x Feu sacré) © Mégane Moissonnier
So his offspring are confidential but highly anticipated. "His first offspring will start jumping and they will be watched, for sure. If they seem to be good, it's possible that in two or three years he'll stop his sporting career to devote himself to his stallion career. Nothing is set in stone, everything is possible, at the request of his owners. In any case, I can't wait to see his first offspring jump," explains Laurent. Breeding isn't immediately important, but Laurent and Mégane imagine that it would be preferable to send Cordial mares with blood, that are not too large. "That said, we must have a look at what he has produced already, because sometimes there are small stallions that produce large progeny and vice versa... Breeding is another thing, it's a job. It's a long process and it's often an inexact science. You really have to remain humble," concludes Laurent.
A filly by Cordial and dam by Old Chap Tame x Cornet Obolensky © Private Collection
For the moment, Cordial has always been able to satisfy the ambitions that were placed in him. It remains to be seen what will happen to his offspring, but on this subject Laurent reminds us once again that, "It's important to wait and not to rush."
Thomas Danet - Featured photo: Sportfot.com