Cordial, everything comes to those who wait (2/3)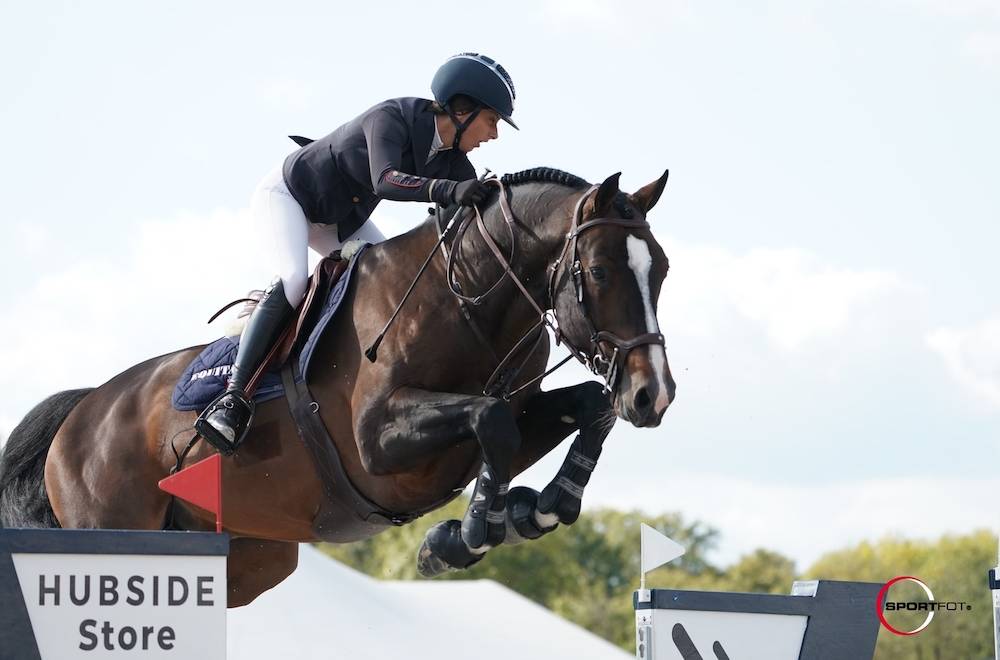 05 January 2022
He's one of those horses that stand out. Throughout his training and even today, Cordial has never ceased to attract attention, thanks to his type, his power and his innate jumping qualities. He was a good finalist in the 7-year-old French Championship in 2016, and since the beginning of 2021, he has jumped a series of 5* Grand Prix events with disconcerting ease. Studforlife wanted to know a little more about the full brother to the stallion Cashpaid J&F. We are at the Haras de la Côte, at Laurent Guillet's, with his rider Mégane Moissonnier.
The Haras de la Côte's purpose remains clear nevertheless: trade; and Cordial is no exception. "At the beginning of 2020, Cordial and Mégane finished 4th in the Oliva Grand Prix with great skill. That same evening, Ulrich Kirchhoff, coach of Rebecca Pohl, a young German rider starting to make her mark in ranking events, came to ask me about him. It was the logical thing to do. From the very beginning, I had offers after each of his rides." Two days later, the trial was conclusive. "The horse was tested on a Wednesday. On Thursday, he passed the vet inspection and on Friday he was paid for." Cordial became the property of his new rider and of Seven Equestrian Gmbh. He then went to Germany, with the aim of taking his young owner to the highest level. You could have imagined that the story would end there, but fate decided otherwise...
"Covid arrived and the competition circuit froze for six months. In October 2020, I received an email informing me that Rebecca had to stop riding for the time being. Her new owners then asked me if I was interested in taking the horse back and having Mégane ride him again," explains Laurent. Once again, Cordial was back! To be sold again? "People keep asking me for the horse, but for the moment, the question is not on the agenda," curtails Laurent.
Mégane and Cordial have taken the next step in 2021. The pair, who finished fourth in a 4* Grand Prix at Hubside Jumping in Grimaud in June, took part in their first 1.60m Grand Prix, often just missing out on a place in the rankings by a small margin. "For Lyon, I admit that there was a bit of stress, because competing in the World Cup Grand Prix, moreover at home, put a bit of pressure on me, but after the course walk I knew that there was no reason to worry. I must admit I was a little disappointed because we had three faults in a row. Cordial has the small defect of sometimes shifting to the left, it affected my stride line when entering the triple. I found myself too far to the inside, but they weren't big faults and I learnt from it," debriefed Mégane.
Cordial has been taking a winter break since the CSI5*-W in Lyon. The 2022 return to competition will be in Oliva, with the goal being to progressively increase his strength and aim for a participation in the French Championship. "A result in the championship would allow us access to some very nice competitions. We still hope to achieve a milestone. We took the time to familiarize the horse at 1.60m this year, not to rush him," analyzes Laurent. "He was still a little slow and jumped so high that it often caused us to miss out on some great places of honor. We hope that in 2022, with the gymnastics work done at home, time will no longer be a concern."
Regarding a possible participation in the French team, the desire is there. "If things have to be done, they will be done. There must always be a reward for the expected results, and the results are there." However, the trio is not ready to accept anything at any price. "To be honest, we have already had offers to participate in CSIOs in the second league, but sometimes the dates didn't match up, sometimes we knew that it was for Mégane to be a reservist, because of her U25 status. Honestly, considering the pair's results, it seems logical that we could hope for a little better. Today, we prefer to go to beautiful 5* competitions, like Grimaud, where the facilities are top notch, where we can take several horses and where we are sure to compete in the Grand Prix against real competitors, rather than taking part in a 3* competition with one horse, at the other end of Europe, as a reserve rider." Concerning other circuits such as the Global, there too, respect for the stallion comes first. "For this type of circuit, having only one horse is not enough. Three or even four Grand Prix horses are required. And it's this type of horse that we are constantly looking for, because the very highest level remains our objective. Cordial obviously is a beautiful showcase of the quality of our stable. However, when our horses are approaching the high level, there is a demand, and it's then logical that we sell them. Today, we wish to widen our panel of horses and try to keep them longer. For that, we try to invest in young horses but also in 7- and 8-year-olds of even higher quality. For the moment, we have never lacked horses to compete at 4* level. Mégane has always been able to continue placing but we must admit that the sale is always the final goal. That's how our system works."
Laurent Guillet is clear, what allowed Cordial to express himself is the time he was given. "I think that a horse has a certain number of jumps in his life and everything he jumps too much, will shorten his jumping career. Cordial is a genius, he's good and with him it's pretty easy. Whether it's on grass, sand, small or big arenas, indoors or outdoors, he's a horse that always gives his best and won't let you down. He's certainly not the fastest but he's a horse that has all the ability and an incredible amount of respect. On the other hand, a horse like him needs to be maintained daily. Since he's very easy, his work at home isn't complex. Generally, Mégane manages alone with him on the flat. However, when we plan to do gymnastics with him, I'm always there."
"We also had to take the time necessary to let him progress, without going too fast. My belief is to make horses last over time and to achieve the objectives that we set with each one. Some will disappoint, others will surprise. Then, you have to believe in them. In any case, that's how it worked with Cordial. From the start, everything has to line up: the owner, trader, rider and horse." That means knowing how to be patient. "The big advantage of this horse, in addition to his extraordinary qualities, is that his owners have always trusted us, whether that be Didier Jacquard or Rebecca Pohl and Seven Equestrian Gmbh, giving us a lot of freedom in his preparation and in the management of his competition schedule, without imposing results that must be achieved." Indeed, Laurent and Mégane are given carte blanche, "As long as things are said in complete transparency." "Via Cordial, we have the chance to go to competitions that wouldn't be so easily accessible. It's not possible to have better owners than Rebecca and Seven Equestrian."
As for asking if Laurent wants to borrow the stallion from Mégane for a show, his answer is straightforward: "You have to know your place, pass the baton and recognize the talent of the people around you."
See you tomorrow for the third and final part of this saga dedicated to Cordial and his assignments as a stallion.
Thomas Danet - Photo credit: Sportfot.com