Cordial, everything comes to those who wait (1/3)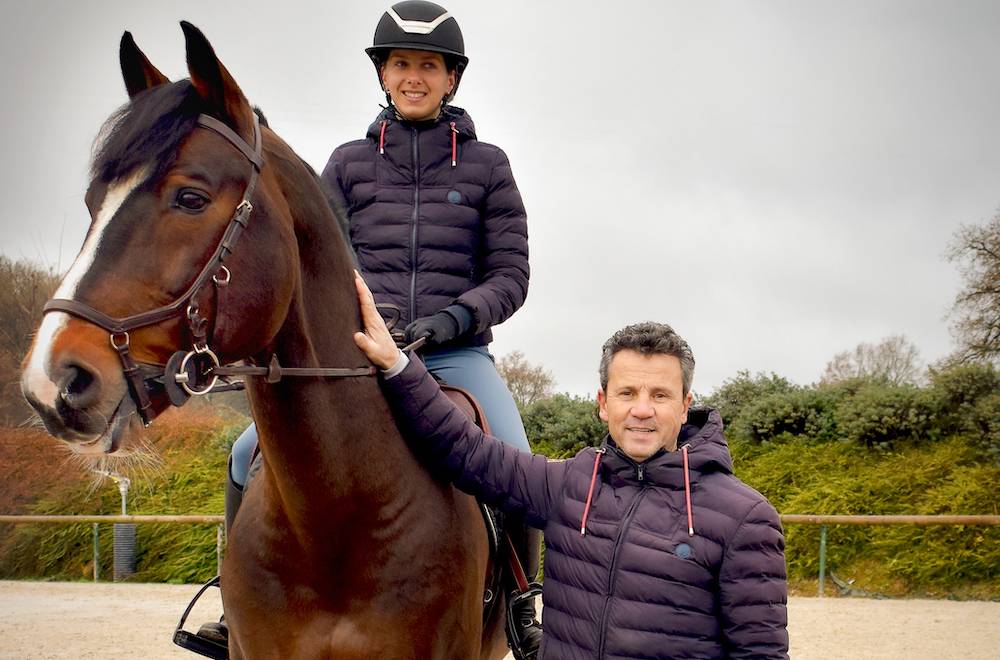 04 January 2022
He's one of those horses that stand out. Throughout his training and even today, Cordial has never ceased to attract attention, thanks to his type, his power and his innate jumping qualities. He was a good finalist in the 7-year-old French Championship in 2016, and since the beginning of 2021, he has jumped a series of 5* Grand Prix events with disconcerting ease. Studforlife wanted to know a little more about the full brother to the stallion Cashpaid J&F. We are at the Haras de la Côte, at Laurent Guillet's, with his rider Mégane Moissonnier.
A son of Casall (Caretino x Lavall I), the great performer under the saddle of Swedish rider Rolf-Göran Bengtsson and an elite Holstein sire, Cordial was bred by Hans-Hermann Gempf in Stelle in 2009. He is the second foal of the prolific, top-quality mare, Unschuld (Chicago Z x Concerto II). Presented as a 2-year-old at the Fences market on behalf of Paul Maïs of Stoeterij Van de Helle, Cordial jumped fantastically at the sale rehearsal and caught the expert eye of Emmanuel Portet, who was present at the time, and bought him. "Emmanuel then offered to buy half of him from me. We know each other very well and have worked together for a long time. I have always wanted to surround myself with people I can trust. So I didn't hesitate and I invested in the horse. I then proposed that Didier Jacquard, one of my most faithful owners, buy a half share in him during his 4th year. This gave us the opportunity to take the necessary time to train him for the high level," explains Laurent Guillet.
Having been preserved at a young age, hardly jumping at 4 years old and only doing eight courses at training level 2 at 5 years old with Emmanuel Portet, Laurent got Cordial back at the beginning of his 6th year. "At his first outing in training level 2 under Emmanuel, he was already jumping like he jumps 1.50m today. Our objective was to let him develop progressively."
In 2016, having been a victim of a fall, Laurent entrusted Cordial to François-Xavier Boudant "François-Xavier and I share the same view of things. He is also an excellent trainer of young horses." The new pair took part in the horse's objective of the season, the 7YO French Championship, and finished in a very good 8th place. Back under Laurent's saddle in 2017, Cordial attacked his first 1.50m at the CSI3* level. In 2018, again, Laurent decided to entrust the reins of Cordial to another rider. This time, Nicolas Delmotte took over the training of the stallion. With Nicolas, Cordial competed in Bourg-en-Bresse, Knokke and Brussels at the CSI4 and 5* levels. But due to a lack of space in his stables and the time necessary to continue to develop the horse correctly in view of his potential, Cordial returned to the Haras de la Côte. "Nicolas could take him to Vichy, but he was stuck for the rest," explains Laurent.
At the beginning of 2019 there was a new twist of fate, Laurent fell at Cagnes-sur-Mer at the beginning of the season. Forced to rest for a while, he was obliged to entrust his horses to other riders. For Cordial, the decision was made: he went to Mégane Moissonnier, then 21 years old. Having been born into the horse world, the rider is certainly young, but her record of achievements is well developed. From ponies to young riders, through juniors, Mégane has been performing with a string of horses that are very different from each other. Moreover, her family stable is only a few kilometers away from Laurent's.
Mégane travels several times a week to the Haras de la Côte, a few kilometers from her home, to ride the horses entrusted to her by Laurent Guillet © Thomas Danet
"I've known Megane since she was a child, as her parents and I are neighbors. At the time, she was riding ponies. Today, thanks to the horses I have entrusted to her, she can do many 4 and 5* competitions. For my part, I'm very satisfied with her results. Moreover, we share the same approach to horses and the same view of competition. And we must acknowledge that she's a hard and talented worker! She has a fine, elegant riding style, but she's still devilishly efficient in the arena, because she's a real competitor above all. And as a rider, she knows how to adapt to any horse quickly, which is essential for a commercial stable! I don't think I'm going too far in saying that the understanding between us is good and that our system allows everyone to find their place! This bodes well for the future," says Laurent.
Noticed since her pony debut, Mégane Moissonnier is still one of the best promising French riders © Thomas Danet
On Mégane's side, the speech is almost the same: "Laurent coached me a little when I started jumping 1.50m, but we hadn't gone any further at that time. It was at the beginning of 2019 that our partnership really began. He called me after his fall to offer me the ride on Ussar des Bruyères, during his recovery time. I didn't hesitate; I said yes immediately. The first competition went very well and after that, Laurent offered for me to ride Sultan du Château and Cordial, then little by little, other horses were added. We decided to carry on like this because this system suits us both and we had and still have the same objectives. I must say that riding such good horses, participating in such beautiful competitions, benefiting from a system which pushes us to the top and which allows us to work with riders like Nicolas Delmotte and Bertrand de Bellabre daily, it's an opportunity, I am aware of that. Honestly, without this great opportunity I may not be where I am today. During the winter period I am at the stables about 4 times a week, and when competitions start again, we adapt ourselves according to what is needed and the competition schedule. In general, I ride Laurent's horses in the morning, which allows me to devote myself to those I have at my parents' stables in the afternoon."
Amazing in the arena because of his strength, Cordial is nevertheless easy to ride, even for a light rider like Megane © Thomas Danet
Mégane remembers her meeting with the son of Casall. "The first time I rode Cordial, it was here, at the Haras de la Côte. From his first strides, the feeling I got on him was incredible. He's really one of those horses that are naturally above the rest," says Mégane. Did she feel any pressure at the idea of taking over the Guillet Stables' flagship stallion? To this question, Mégane answers calmly, but without hesitation: "I didn't put any pressure on myself. Besides, I'm not prone to stress by nature. I was lucky enough to have done some good events before him. In addition, the horse had already been trained. And the feeling between us came together really well. Cordial is a horse that can clearly jump everything. With him, everything is easy. To enter a five star and compete in the Grand Prix, it takes a weight off your shoulders when it's with Cordial. No matter the odds, how wide the oxers are... everything is within his reach. My job is to focus on the course, and I must admit, I rarely make mistakes with my distances (laughs)! From then on, there is no reason to fear anything." For Laurent, there was no doubt about it. "Of course, Megane is small and Cordial is big, but he's not heavy at all, no matter what many people think when they see him jump, because he is so strong. Cordial is and has always been very easy, light. Besides, this horse could have progressed without any problem in dressage! I didn't doubt for a second that the combination could easily be formed. Mégane and Cordial started competing together at the 1.35m level and then they had a rapid ascent. "In June, we were already competing at 1.55m in CSI4* events. Together, we have a routine during the season at these heights. Cordial accompanied me with Ulhan Okkomut at my very first CSI5*W in Lyon."
Two months after the beginning of their association, Mégane and Cordial were already ranked in 3 and 4* Grands Prix © Sportfot.com
Every beautiful story isn't free of twists and turns: after a successful debut at the high level, the stallion was sold to Germany... Before coming back a few months later to Laurent to reunite with Mégane again! You'll find out about this tomorrow in the continuation of our saga dedicated to Cordial.
Thomas Danet - Featured photo: Thomas Danet