Conquistador moves to France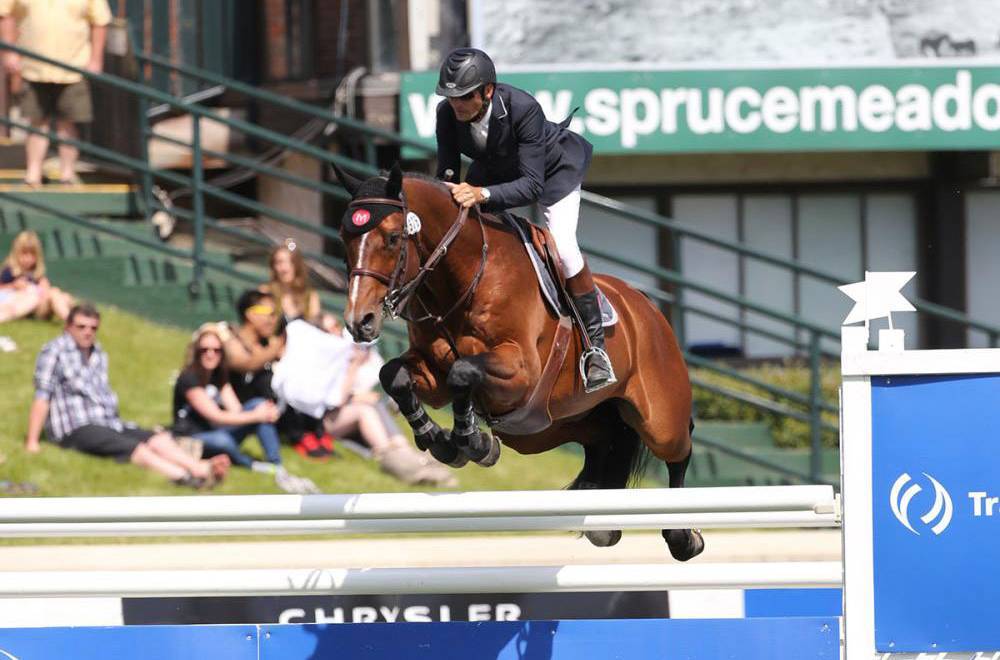 07 November 2018
Born in Belgium with Hubert Hamerlinck, Bush vd Heffinck (Clinton x Heartbreaker) was sold as a foal to a certain Chris Chugg. A true discoverer of talent, the Australian has excelled at the highest level, notably with Vivant vd Heffinck and more recently with Cristalline, two horses that he took to the very top before selling them. He would apply the same process to Bush, who followed him to Australia. He was renamed ASB Conquistador and covered a few mares, and today we find his offspring prominent on the international scene, two of them distinguishing themselves at the forefront during the Tryon World Games: Oaks Redwood, who has now joined the stables of Jos Verlooy, and Yandoo Oaks Constellation, both from Selle Français mares. This caught the attention of the France Elevage Group, which made him its priority for the 2019 season and has succeeded in bringing him back to Europe in partnership with the Keros stables. The BWP stallion will be stationed in France at the Haras de la Bouloye alongside the stars Kannan and Dexter Leam Pondi.
"We bought Conquistador before he'd been weened. He and his mother travelled together, and she now enjoys a happy retirement with us. We still have one of his half-sisters by Vivant vd Heffinck with us, who produces very well. Among other things, she gave us a daughter of Clinton. When we acquired Conquistador, we first sent him to Ireland, where he stayed until he was three years old before joining us. He is a calm horse by nature even if he can be aggressive and dominant with other horses. He was nevertheless a very pleasant horse to take care of and to ride. His qualities are his resources and his power. We find that he produces very well with French mares. We had excellent results with the daughters of Vivant because he added power while they had respect and blood. All his offspring jump with a very high bascule. He is a very well-bred horse, so it is no surprise to see him produce very well. He produces horses with beautiful expressive heads, but he can sometimes make small horses. There is no shortage of blood because Heartbreaker gave him plenty. His offspring is like him – pleasant to care for, ride and train," Chris Chugg explains.
Conquistador then continued his pilgrimage by heading for the USA and California. He joined the young Karl Cook, a student of Eric Navet, and helped him to start his career at the highest level before progressing during some competitions under the soon-to-retire master.
"Conquistador allowed Karl Cook to make his top-level debut in Calgary and on the West Coast World Cup circuit by being very successful there.

"Personally, I had the chance to ride him in some Grand Prix at the end of his career. His will, influence and genius over the bars were his main qualities.

"His owners have used him for breeding in small numbers and his few offspring seem very promising. He has produced more in Australia with great success, including two horses that competed in the Paris World Cup final and at this year's Tryon WEG.

"Of a very modern type, with an excellent pedigree (Clinton x Heartbreaker), I think he is suitable for a large number of mares," Eric Navet explains.
Moreover, Conquistador is the full brother of the stallion Utrillo vd Heffinck, who progressed in Grand Prix under Edouard Mathe and then Walter Lapertot before going to stud in France at the Brullemail stud farm. They also have a full sister who produced among others Dax van d'Abidjhoeve, who was notably world champion seven-year-old under Pieter Devos. It is also the same strain as Quel Homme, Souvenir and Bentley vd Heffinck.