Conor Swail is off to a great start on the World Cup circuit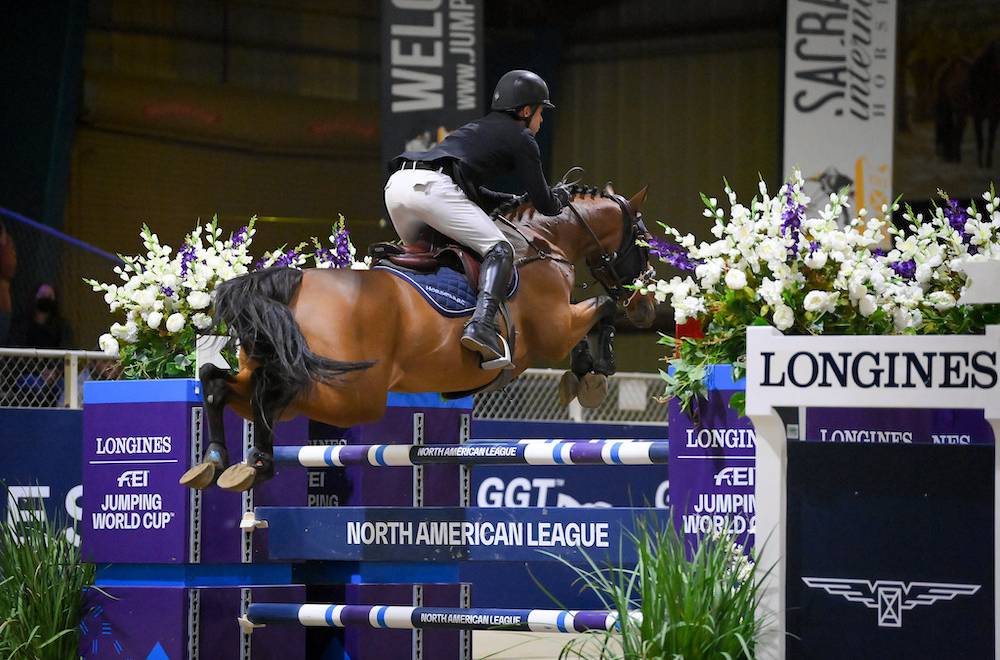 11 October 2021
There were no CSI5* events this weekend, but there was great sport with a World Cup stage on the North American circuit, a 4* in Grimaud and the tours which are in full swing under the autumn sun in different parts of the world.
Sacramento CSI4*W
In Sacramento, Ireland's Conor Swail continued his winning ways by taking the North American League World Cup Grand Prix after a four-man jump-off. The rider, who had already won the opening round of the circuit two weeks ago in Vancouver, was once again able to count on Vital Chance*de la Roque (Diamant de Semilly) who was in great shape! Whether he's competing in a big Canadian outdoor arena as he was a fortnight ago or in a US indoor arena this weekend, the horse, who has lined up five Grand Prix victories since June, had no difficulty in expressing his talent. "He was wonderful here tonight...probably one of the favourites coming in. I'm delighted he's living up to the reputation he's making for himself." Canada's Erynn Ballard, who was making her competition debut with her new mount Hubert B (Verdi TN), secured a strong second place, just ahead of American Misti Cassar, who placed third with Mylord Cornet (Cornet Obolensky).
Grimaud CSI4*
Gregory Wathelet and Edesa's Basantos ©Hubside Jumping
With 12 qualifiers in the 4* Grand Prix in Grimaud, it was a tough battle for victory in this 1.55m event on the French Riviera. Gregory Wathelet, who took part in Belgium's third place in the Nations Cup Final in Barcelona last week, this time relied on Edesa's Basantos (Casantos) to win ahead of the young German rider Kendra Claricia Brinkop and Kastelle Memo (Thunder van de Zuuthoeve). Another Belgian completed the podium: third place went to Jos Verlooy and Luciano van het Geinsteinde (Quinn van de Heffinck).
Oliva CSI3*
Michael Greeve and Guan Gjb ©Oliva Nova/Hervé Bonnaud/1clicphoto.com
The Dutch dominated in the 3* Grand Prix during the second week of competition at the Mediterranean Equestrian Tour in Oliva! Local course designer Santiago Varela, who also officiated at the Tokyo Olympics, designed a tricky and demanding course that only allowed three combinations to qualify for the jump-off. Michael Greeve was the last to start on the final timed round and was able to take advantage of the information he learned from his competitors to steer his mount Guan Gjb (Namelus) to victory. "He's 10 years old and has already jumped a few 3* Grand Prix events and won a few 2* ones with me. He is an excellent horse and has the potential to jump bigger events, he is careful in the arena and has huge potential. I'm happy to have him in my stable," said the winner. The Netherlands could have won a double if Austrian rider Julia Houtzager-Kayser on High Five (Toulon) hadn't taken second place. Willem Greve and Grandorado TN (Eldorado Vd Zeshoek) had to settle for the third step of the podium.
Gorla Minore CSI3*
In Italy too, the Dutch anthem rang out at the end of the 3* Grand Prix in Gorla Minore thanks to Leon Thijssen and Faithless MVDL's (Ukato) victory. The rider, who is none other than the father of noted rider of the moment, Sanne Thijssen, beat Polish rider Andrzej Oplatek and Irishman Mark McAuley.
Birmingham CSI3*
Youth riders won with such class in the Grand Prix! At 22 years old, British rider Harry Charles secured himself an incredible victory in front of his home audience, more than five seconds ahead on the second placed rider! Riding Stardust (Chacco-Blue), the rider took the lead ahead of his compatriot Ben Walker on Creevy Taylor (Pacino). Sweden's Angelie Von Essen managed to get on the podium by finishing third with her Heartbreaker son, Daniel.
Vilamoura CSI3*
Twenty-eight pairs took to Brazilian course designer Leandro Andreoli Balem's course in this Grand Prix, with seven of them finding the key to the perfect round to reach the jump-off. Michael Pender and Hhs Calais (Cavalier Royale) know each other so well that outsmarting the others was a breeze, and the win was theirs! Second place went to Brazilian Felipe Ramos Guinato and Bigstar (Teresa Malta Da Costa). Duarte Seabra closed out this winning trio with Hhs Washington (Tinaranas Inspector).
Opglabbeek CSI2*
The Sentower Park Grand Prix was very crowded this weekend, with no less than 55 starters! The British dominated the final placings with Ellen Withaker's feat, riding her mare Spacecake (Stakkatol), to finish first. The Dutchman Kevin Beerse managed to get on the podium, just ahead of another Englishman, Samuel Hutton, who finished third.
Bonheiden CSI2*
There was no doubt about it, the Irish were in great shape in this 1.45m Grand Prix! Richard Howley and Arlo de Blondel (Tlaloc) snatched the victory from their teammate Jessica Burke, who was associated with African Affair (Billy Congo). Third place went to the locals Niels Bruynseels and Hespro Ryal K, a stallion that has newly arrived in the Belgian's stables.
Tryon CSI2*
In the United States, the Tryon fall tour is in full swing in North Carolina! During this third week of competition, the Grand Prix victory went to the 24-year-old American, Hunter Holloway. She achieved the fastest double clear with Pepita Con Spita (DSP Con Spita), taking first place from Brazilian Fabio Da Costa on Verdi O'Merveilles (Verdi TN). Third place went to Roberto Teran Tafur and his gray Gabrovo (Grey Top).
Columbus CSI2*
Still on the other side of the Atlantic, but this time in Ohio, another CSI2* was being run. Seven combinations made it to the jump-off for a chance to win the $100,000 Grand Prix. On home soil, Kristen Vanderveen lined up the clear round with almost a second to spare and took the win with Tili's Bull Run's Faustino (Berlin). The American beat out Canadian Eric Krawitt and Irishman Cormac Hanley.
Wroclaw CSI2*
A 100% Polish podium! The riders didn't let any of the foreigners take the lead in the placings of this Grand Prix. At the end of a very tight jump-off, the winning trio was less than one second apart. The fastest was Dawid Kubiak on Anastacia III (Quidam de Revel). Marek Lewicki and Tomasz Miskiewicz finished second and third respectively.
Spanish Championship
Just back from the CSIO5* in Barcelona, Ismael Garcia Roque and La Costa (Gitano V Berkenbroeck) took to the road to enjoy the Dehesa Montenmedio facilities where the Spanish Championship was held this weekend. The duo had a major challenge to live up to: keeping their title. Indeed, since 2019 the AM Horses stables, of which the Canarian rider is part, has climbed onto the highest step of this championship's podium. That year, Ismael was victorious with Airline R, while his best friend and stablemate, Sergio Alvarez Moya, won with Valdocco des Caps last year. The title of 2021 Spanish Champion is once again theirs!
Ismael Garcia Roque and La Costa ©Real Federación Hípica Española
At the end of a tricky final course designed by course designer Javier Trénor, Ismael Garcia Roque couldn't avoid knocking down a rail in the triple. It was a fault that, with a score of just 1.76 points accumulated during the first two rounds, didn't jeopardize his place at the top of the championship. Alvaro Gonzalez de Zarate followed him with a total of 7.14 points on Carte de Blue PS (Cartoon 21) and took the silver. Mariano Martinez Bastida and Belano VD Winjhoeve Z (Berlin) finished on the last step of the podium.
Featured photo: In Sacramento, Conor Swail and Vital Chance*de la Roque achieved their second consecutive victory in the World Cup circuit this season ©FEI/Julia B Photography