Comme Il Faut, one last ride and it's over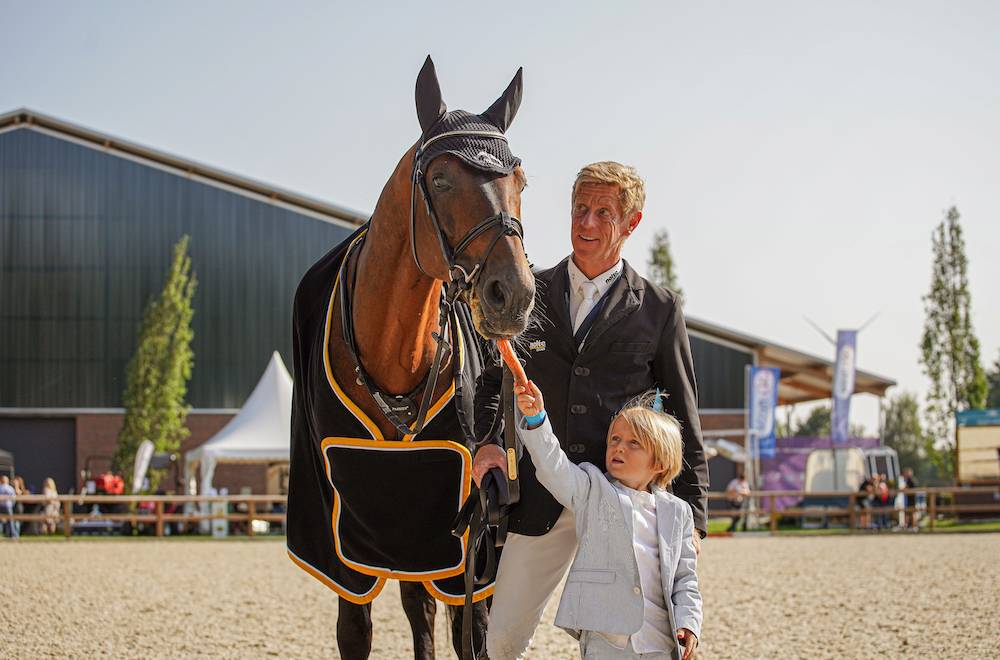 04 September 2021
At 16 years old, Marcus Ehning's little stallion has finished with sport. From now on, he will focus on breeding only, a field in which he already excels.

A few days ago, Marcus Ehning announced that Comme Il Faut would retire from sport after one last ride in Riesenbeck. The results were certainly not what was expected as Marcus decided to retire after they knocked a rail down at obstacle No. 3 of the CSI3* Grand Prix, but the bay stallion then returned to the arena one last time to bid farewell to the public, a few minutes after David Will and Quentucky Jolly (Nirvana V) won.
His rider chose Riesenbeck for Comme Il Faut's final competition and it's not by chance, since he was born here, in Ludger Beerbaum's fiefdom. He's none other than the son of Ratina Z (Ramiro Z), crowned the best mare of the last century and rightly so with her double gold medal at the Olympic Games, first for Holland in 1992 under Piet Raijmakers and then for Germany in 1996 with Ludger. She then retired with Ludger and gave birth to Crown Z (Carthago), Treasure Z (Tlaloc M) and... Comme Il Faut (Cornet Obolensky). As an anecdote, the latter could very well not have been born because Ratina was 23 years old at the time of his birth.
During the ceremony, a small video was shown to recall the highlights of his career: from his title as the 5-year-old Reserve World Champion under the saddle of Franz-Josef Dahlmann to his team silver medal at the European Championships in Rotterdam in 2019 with Marcus Ehning, as well as his victory in the Grand Prix of Madrid in 2016 at the end of a historical jump-off. Even though the little bay stallion hasn't competed a lot, he can nevertheless boast some nice highlights on his record of achievements.
He is atypical because of his size, balance and canter, but remarkable because of his style, energy and desire. Comme Il Faut is one of those horses that you look back on once you've left the arena. He quickly became one of the darlings of the public.
After the recent retirements of Cristy and Cornado NRW, another page has turned for the Centaur and it will certainly take some time to find a star like him again. However, Marcus has the resources. Wasn't he crowned a Reserve-Champion of Europe in the team competition yesterday with Stargold? In the meantime, Comme Il Faut will go back to Ukraine this winter to his owners at Zhashkov Stud Farm, before spending the breeding season in Germany with Hubert Vornholt, who trained him for the Westphalian studbook approvals as a 2-year-old.
Comme Il Faut already has a substantial amount of interesting offspring, several of which are already competing at a high level. Ludger Beerbaum also owns one of his sons, Comme Le Père, which he rides himself in competition. This weekend, several of them gathered in Riesenbeck, such as Chao Lee, the former 6-year-old World Champion, Clemens de la Lande, who competed in the CSI3* alongside his father, and Cuma 5, a member of the Austrian team during these European Championships (pictured below).
Photo credit: Léa Tchilinguirian